Small Business Saturday 2020: How To Shop Small During COVID-19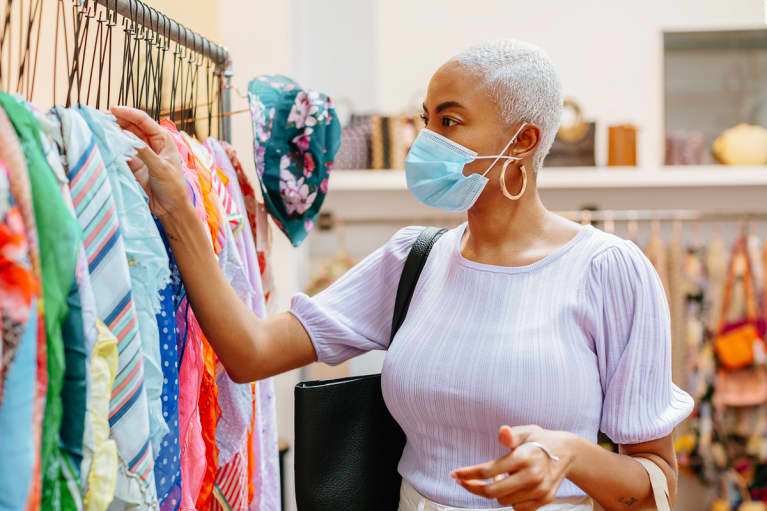 Our editors have independently chosen the products listed on this page. If you purchase something mentioned in this article, we may
earn a small commission
.
The normal Thanksgiving-adjacent shopping season certainly keeps us on our toes (or fingers digging into our wallets, rather). There's Black Friday, characterized by slashing prices, abundant big-box sales, and perhaps a bit of excess. There's Cyber Monday, which basically equates to the same thing just all done virtually. Then there's Giving Tuesday, which is about using your money in an entirely different manner, one that we adore around here: On Giving Tuesday, individuals and companies are encouraged to donate to causes dear to them.
Nestled in there is another day we highly approve of: Small Businesses Saturday. The day encourages shopping at local spots, thereby investing your money back into your community. It's also usually a great way to get out and about, meet new people in your area, and discover new stores
This year, I don't think we need to remind you, looks different; As we continue to deal with COVID-19, we're all encouraged to stay home. It's a bitter irony that has come up time and again over the past several months: At a time when it's never been more vital to put money back into the community and shop small, it's never been harder—especially when shopping online at big retailers is just so convenient. But a recent report found that in the first COVID surge, small businesses lost a reported 40% of revenue—even more upsetting, 40% of small businesses closed nationwide.
And given our recent numbers, it does seem we are likely heading back into a similar situation.
So for this year's Small Business Saturday, we encourage you to take the extra step and figure out how you can support small businesses in your area. Here, some tips to get you started.
Purchase gift cards for holiday giving.
A trend that started at the beginning of March's quarantine: Purchase gift cards to your favorite restaurants and shops so we can redeem them when we are better able. At most places, too, buying gift cards is as easy as visiting their website with the certificate being issued digitally.
And now you have even more of an incentive to buy out gift cards than you did back in March: They make for great holiday gifts for everyone from your family to your kid's teacher to your door attendant to your co-workers. Simply find people's go-to spots—like salons or coffee shops—and make a purchase for whatever amount you are able and feel comfortable with. (If that's too much work, then just give out gift cards to one of your favorite places—I'm sure people will love the opportunity to try a new spot if they haven't already.) Not traveling this year? It makes for a great gifting option for those far away, as you won't be able to hand off presents in person.
Utilize Etsy and other small-batch shopping platforms.
Etsy (and other smaller, creative-centered platforms like it, such as BLK+GRN) has become the de facto retailer for small creatives—it connects artisans with eager shoppers all over the world who are looking for unique, small-batch, thoughtful, or one-of-a-kind purchases. And while it feels extra special to support small businesses in your own location, you can also shop small no matter where you are.
Do a little research in your hometown. 
Because small businesses are inherently localized, you'll have to do a bit of research to see what stores are participating Saturday, what are the best protocols for safety during COVID, and what sort of virtual offerings are available.
For example, some cities allow outside shopping—meaning businesses can set up clothing racks, shelves, and tables outside their storefront so people can peruse while in the open air. Other cities are even hosting virtual events, like D.C. Shop Small's initiative, in which you are added to a raffle if you upload your receipt from participating businesses.
Do a Google search to see what's happening where you are, or use American Express's handy map function, which provides info on participating businesses around the country.
Be smart about your purchasing power. 
If this year taught us anything it's that how we spend our money matters—from saving local shops to shopping at Black-owned business. Your purchasing power is important, matters, and makes a difference.
Here, some of our past roundups on brands you can support now and always.
Don't forget Giving Tuesday.
While shopping small has the added bonus of getting something tangible and fun in return, you should also consider supporting your local community come Giving Tuesday if you are able. There are many people and organizations that need extra money and volunteers this year, and especially right now, so anything you have to spare will likely be appreciated and go a long way.