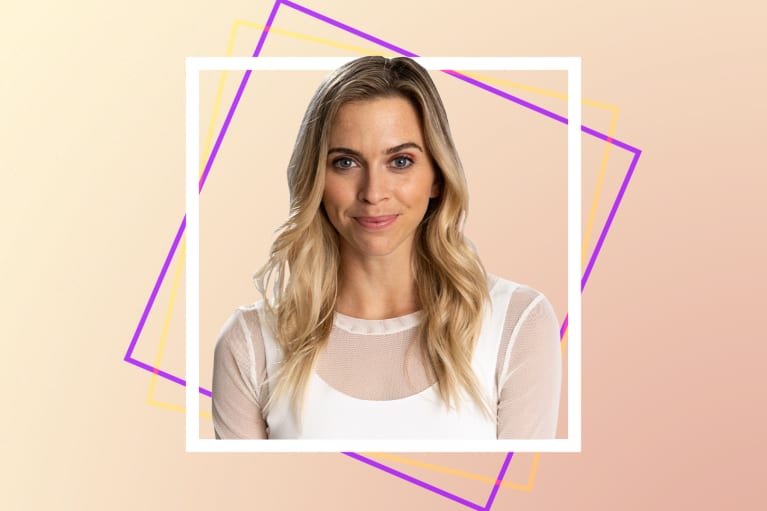 Our editors have independently chosen the products listed on this page. If you purchase something mentioned in this article, we may
earn a small commission
.
Last updated on January 11, 2021
I spend most of the day moving my body, whether it's teaching a class, riding a bike through the city, climbing up a rock wall, or training for my next race. I'm religious about my early bedtime. And for the most part, I try to stick to a healthy routine and eat clean, whole foods as much as possible.
But my diet will never be perfect. I drink one too many cups of coffee. I'm a late-night snacker. I'm constantly on the go, sometimes grabbing whatever's convenient in a pinch, and I don't always have time to cook or make well-rounded lunches. And I'm a New Orleans girl, so when my dad catches fresh fish, we fry it up—how can I say no to that?
Over the years, I've learned how to read my body and realized that some of my favorite foods—including dairy, sweets, and the food I grew up eating—trigger that "everything feels tight" discomfort of bloating. My work schedule plays a part, too. When I'm less stressed, I can focus more on what I'm eating and plan out my meals. But during crazy busy weeks, I have this constant feeling of being bloated.
Bloating directly affects how I feel—my motivation to move, how I move, and whether or not I'll go out to dinner with friends. I tried a little bit of everything to get rid of it: making bloat-fighting meals, trying "digestive-boosting" workouts, and doubling down on water intake. Besides totally avoiding all the foods that trigger bloating for me, which isn't practical or ideal, I've never found anything that's helped.
So, I pivoted my approach to my digestive health.
A probiotic solution to my constant bloating.
Rather than trying to fix my bloating, I decided to support my gut by adding a probiotic to my routine.* As an athlete, I'm very selective when it comes to the supplements I take, so when I learned that mindbodygreen's probiotic+, a daily probiotic capsule with four bacterial strains that target bloating specifically,* was made in partnership with Thorne, the decision was easy.
Thorne is the only supplement manufacturer I've personally trusted over the years because their ingredients are backed by scientific and clinical studies, their processes are clean, and the end products are thoroughly tested. probiotic+ is made with these same premium quality standards, including a rigorous four rounds of testing.
It's the only probiotic supplement in the world with four bacterial strains that are clinically shown to beat bloating, improve digestion, and help maintain a healthy weight: B. lactis Bi-07, B420, HN019, and L.acidophilus NCFM.* The gluten-free, non-GMO, and vegan formula contains 32 billion shelf-stable bacteria (so it stays on my kitchen counter where I can see it, not tucked away the fridge) and you take it once a day.
So the only question I had was, will it work?
Did probiotic+ work? My review.
I didn't expect to feel or notice any immediate changes. I simply made it a point to take probiotic+ daily. Easy enough: I always make time for a filling breakfast after I teach my morning classes—the perfect "me time" meal to take probiotic+.
Shortly after I started incorporating it into my routine, I realized that I wasn't experiencing the usual gut and digestion issues that I'd grown accustomed to feeling. The awareness was suddenly noticeable: That uncomfortable tight feeling in my stomach was gone, replaced instead, by the sense of relief that my body was doing what it's supposed to be doing.
The lingering discomfort of abnormal digestion is no longer a daily frustration.
Ever since I made probiotic+ a consistent part of my day-to-day routine four months ago, my bloating has subsided.* The lingering discomfort of abnormal digestion is no longer a daily frustration, and it's made a huge difference in my attitude and how I feel about myself.
For the first time, I've found a solution for bloating relief, and I'm excited to make it a new habit.* I do my best to find balance in my life, but let's be real—I'm not always going to eat the cleanest foods. Now I know that if something's not great for my stomach, then my body is strong enough to be able to work through it. Fried fish and multiple cups of coffee included.