How To Do A Modified Burpee Correctly, For A Lower-Impact Version Of The Classic Move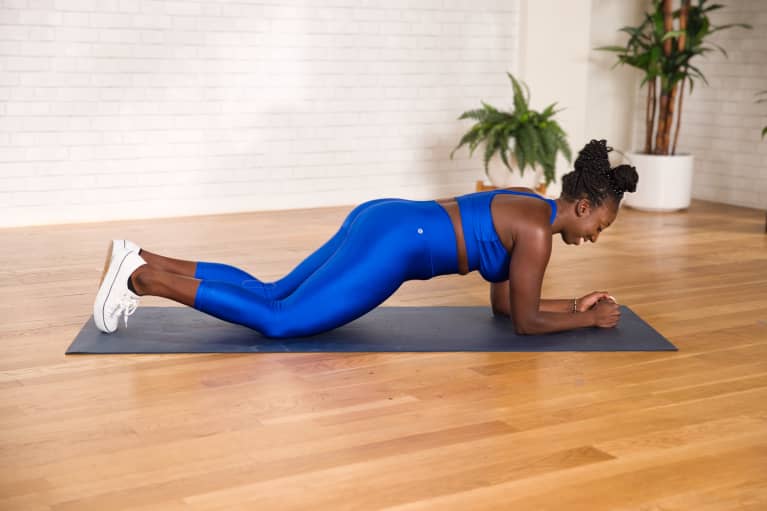 We're all familiar with (and likely intimidated by) burpees. While burpees are a great cardio exercise that challenges your full body, there's no denying this is an...intense move.
But what if we told you there was a way to get the benefits of burpees with a more toned-down, lower-impact move? Introducing modified burpees. While the name might not be too exciting, just know this variation on the classic move is a great way to get that cardio burn without feeling like you're in over your head.
We looked to fitness instructor and dancer Jessica Aronoff, CPT, to show us exactly how to perfect a modified version of the burpee so you can continue to build up your cardio and muscle strength without pushing your body to the brink…yet.
How to do a modified burpee.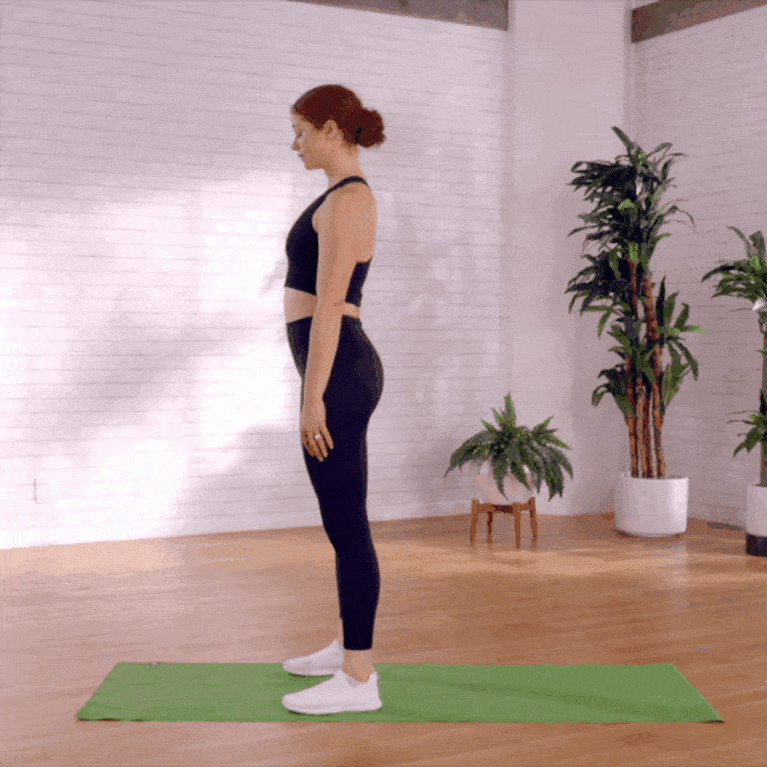 From a standing position, plant your hands on the mat, and step your feet back into a plank.
Then, step your left foot up to your hand, then your right foot.
Come up to standing, squeezing your glutes and abs at the top.
Bring your hands down, step back into your plank, and repeat the movement.
Repeat 10 times.
The key to properly performing (and getting the most out of) a modified burpee is making sure you're continuing to engage your core, arms, and legs throughout the movement. As you step back, your palms should be grounded firmly on the mat, with your body in a strong plank.
That means your core muscles should be active, and your butt should *not* be way up in the air. Aronoff also notes that you should not be tucking your chin or arching your neck while down in the plank, and your body should be in a long line—this will fire up your abdominal muscles.
Maintaining energy in your every movement will make sure even this dialed-down, low-impact version of a burpee will still spike your heart rate and strengthen your body.
Modifications and variations.
If you feel prepared to move past the easier modification of this move, perhaps it's time to try out the full expression of the exercise. A burpee is a full-body workout, firing up every muscle from your arms to your glutes while throwing in some cardio action as well. You may hate them, but they're undeniably effective.
Stand straight, then lower into a squat position with your hands on the floor in front of you.
Kick your feet back into a pushup position and immediately drop your chest to the floor.
Bow your chest up as you return your feet to the squat position as fast as possible.
Jump up into the air as high as you can.
Repeat.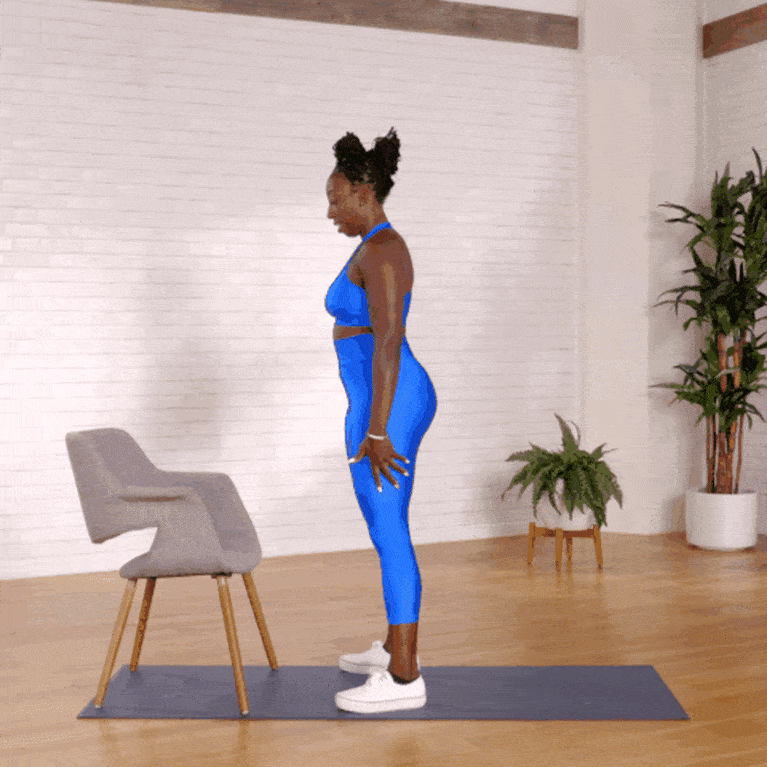 Demonstrated by fitness instructor Janeil Mason
If you want to scale back the modified burpee even further, using a chair instead of lowering all the way to the floor is a great way to increase your heart rate without jumping right into the move.
Grab a chair or elevated surface, and place it on one end of your mat.
Bend over and place your hands on the surface, then jump your feet back to the other end of your mat.
Reverse the movement, coming back to a standing position.
Continue for 30 seconds.
Burpees are unique in their ability to function as a cardio movement while firing up the muscles of the entire body. If you're running low on time and want to squeeze in a quick and effective workout that's sure to help you break a sweat, try this 10-minute beginner HIIT workout from Mason:
For a lower pressure approach to your cardio, this 10-minute low-impact workout from Aronoff will challenge your full body and boost your endorphins with modified burpees as the star of the show.
However you choose to add burpees to your routine, just know this lower-impact option is always available.