11 Mental Health & Well-Being Organizations That Support Asian-American Communities

mbg Beauty & Wellness Editor
By Jamie Schneider
mbg Beauty & Wellness Editor
Jamie Schneider is the Beauty & Wellness Editor at mindbodygreen. She has a B.A. in Organizational Studies and English from the University of Michigan, and her work has appeared in Coveteur, The Chill Times, and Wyld Skincare.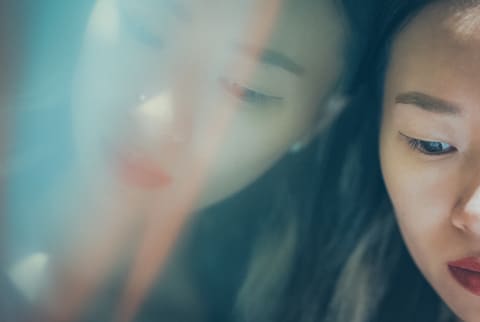 Image by A.J. Schokora / Stocksy
March 19, 2021
Advertisement
This ad is displayed using third party content and we do not control its accessibility features.
In response to these Anti-Asian hate crimes, it's important for non-Asians to act in allyship (here's our primer on what acting in allyship means), uplifting voices and leaders in AAPI communities, calling out microaggressions when you see or hear them, and donating to AAPI mental health organizations and initiatives.
Mental health resources are crucial as fearing for your safety while also processing grief takes a dramatic toll on psychological health. The American Psychological Association found that Asian Americans were two to three times less likely to seek mental health services than white people—perhaps due to the pervasive model minority myth—which makes it even more important to support the organizations that help AAPI individuals get the resources they need.
This list below is nonexhaustive, but it's a good place to start.
Mental health & well-being organizations:
Asian Mental Health Collective
Advertisement
This ad is displayed using third party content and we do not control its accessibility features.
Womankind
Womankind provides counseling and support to help survivors of domestic violence, human trafficking, and sexual violence recover from trauma. They offer services in over 18 Asian languages and dialects, and their focus is uplifting survivors and helping them control their own narratives. Offer support by donating to their mission here or COVID-19 Emergency Fund here.
Heart of Dinner
Founded by actress Yin Chang and chef and restaurateur Moonlynn Tsai, Heart of Dinner combats loneliness and isolation within the Asian-American elderly community by delivering meals, care packages, and handwritten notes to homebound individuals. You can get involved by helping write notes, illustrate bags, help deliver meals, or by donating here.
Advertisement
This ad is displayed using third party content and we do not control its accessibility features.
National Asian American Pacific Islander Mental Health Association
National Queer and Trans Therapists of Color Network
Launched in 2016, NQTTCN works to transform mental health for queer and trans people of color (QTPoC) by increasing access to resources and providing a community of care and connection. They offer a directory that helps QTPoC locate QTPoC mental health practitioners across the country, with over 145 psychotherapists. You can help raise funds here.
Advertisement
This ad is displayed using third party content and we do not control its accessibility features.
Asians Do Therapy
Created by licensed marriage and family therapist Yin J. Li, M.A., LMFT, Asians Do Therapy works to dismantle the mental health stigma by highlighting real Asian-American experiences with therapy, in hopes that others find inspiration and seek support. The organization also offers tips on how to find the right therapist and questions to ask before working together. Subscribe to their newsletter and follow them on Instagram to learn more.
API Equality—Northern California
This nonprofit, located in the Bay Area, creates a safe space for queer and trans Asian Pacific Islanders (QTAPI). Specifically, their Trans Justice Initiative builds a community of TGNC leaders and works with other TGNC communities to improve housing access, health care, and safety, as well as form a space to heal and connect. You can support the mission by donating here.
Advertisement
This ad is displayed using third party content and we do not control its accessibility features.
Asian Health Services
Founded in 1974, Asian Health Services incorporates a "whole patient health," approach to well-being—so in addition to offering primary care services, they also include mental health, case management, nutrition, and dental care to AAPI patients, both in English and in over 14 Asian languages. You can find their donation page here.
Asian American Federation
The AAF works to provide culturally competent mental health care for Asian-American communities by increasing funding for a network of 70 Asian community-based organizations, advocating for awareness and reducing the stigma of mental health issues, and provide policy recommendations to address challenges and barriers in the field. They also have a list of anti-hate safety resources, as well as a form where you can report and document hate crimes. You can contribute to their COVID-19 recovery fund here.
Project Lotus
Project Lotus aims to destigmatize mental health in Asian-American communities by tackling the model minority stereotype. They offer expert-led webinars on a variety of mental health topics—like, for example, how to support Asian youth during college application season—as well as resources for youth and adults on how to talk to their loved ones about mental health issues. You can support the cause by donating here.
AAPI Woman Lead
AAPI Woman Lead focuses on ending racial and gender violence, offering resources for healing and raising visibility on AAPI women's experiences with #MeToo, racial discrimination, war, and immigration. They also feature an online Community Care Series, with mental well-being workshops led by AAPI experts. You can donate and learn more here.
The Cosmos
The Cosmos is a community organization that supports healing, well-being, and liberation for AAPI women. They host community events, workshops, book clubs, language clubs, and retreats where AAPI women can connect with one another and practice self-care. While there isn't a specific spot to donate on their website, you can subscribe to their weekly Care Package newsletter here, or drop them a message for more ways you can get involved.
More anti-Asian racism organizations to support.
Donating to mental health organizations isn't the only way to support AAPI communities right now. Below, a few other anti-Asian racism initiatives to have on your radar, from legal aid to legislative efforts:
This list is by no means exhaustive. If there's an organization we missed you feel we should share, please drop me a note at jamie@mindbodygreen.com.