Mandy Moore Opens Up About Her Favorite Detox Rituals & The One Natural Beauty Product She Can't Live Without
mbg Health Contributor
By Gretchen Lidicker, M.S.
mbg Health Contributor
Gretchen Lidicker earned her master's degree in physiology with a focus on alternative medicine from Georgetown University. She is the author of "CBD Oil Everyday Secrets" and "Magnesium Everyday Secrets."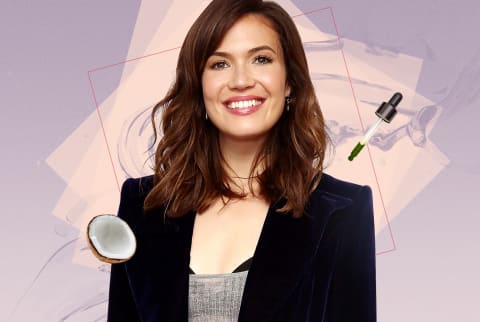 Image by mbg Creative x Astrid Stawiarz / Getty
February 11, 2019
If you were born between the years 1980 and 2000, Mandy Moore is most likely a household name. Everyone knows her for her roles in movies like A Walk to Remember and The Princess Diaries, her singing career, and of course, her role in the award-winning television series that is guaranteed to make you sob like a baby, This Is Us. What you might not know, however, is that like all of us here at mbg, she's crazy about wellness. We sat down with her, just a hair south of Central Park, to talk about all things wellness, natural beauty, supplements, and self-care.
"Come plop down!" she says as she excitedly pats the couch cushion next to her. And as we exchange pleasantries, I can't help but think that sitting down to chat with Mandy Moore is exactly as I expected: like sitting down with someone you just met at a party, ready to gab about anything and everything. Despite her long-term success and fame, she's managed to remain unfailingly down-to-earth and totally likable in both the public eye and, as it turns out, in person as well.
Advertisement
This ad is displayed using third party content and we do not control its accessibility features.
The supplements Mandy Moore takes every single day.
As this was a Nature's Way press day, the first topic we cover is her supplement routine. "I'm pretty good about sticking to a routine these days," she explains, adding that her core supplements are a D3 because "we're all walking around vitamin D deficient; it's something that's essential," vitamin C, a multivitamin, and a probiotic, which is also "essential" for optimal health.
On top of a probiotic supplement, Moore's house is also stocked with gut-health-supporting foods like coconut yogurt and sauerkraut. "I love kraut; I drink kraut juice sometimes. We're into all the gut-health stuff in our household." When she's getting sick, she loves turning to Nature's Way Sambucus Gummies, which are "almost too good." Sambucus is another word for elderberry, which is one of our new favorite supplements for winter because of it's ability to support the immune system.
The detox rituals that keep Mandy feeling her best.
If you thought kraut juice was the most "alternative" thing Moore is doing on the reg, you'll be surprised. You can also find her sipping bone broth from Springbone Kitchen, sweating it out in an infrared sauna session at Shape House in LA, or drinking chlorophyll water first thing in the morning—before an obligatory warming beverage like coffee, black tea, or matcha. "I love a good detox in that sense." And although she's not in the routine of going regularly, she loves leaning on acupuncture for not only back pain or for when she's getting sick, but "for overall wellness, self-care, and stress relief."
As a site that preaches all the benefits of removing as many chemicals from our household and cosmetic products as possible, we couldn't leave without asking for at least one natural beauty tip. "This is an easy one," she said. "I feel like coconut oil is a cure-all. It's everything." In fact, she always has it on-hand. "I carry a little jar with me in my purse. I put it on my cuticles, on my lips, on my eyes if I want a glossy eye; it's even a makeup remover. It's the first thing I put on my entire body when I get out of the shower. Skin is our largest organ, and I want to make sure that what I put on it is natural." And we couldn't agree more!
Advertisement
This ad is displayed using third party content and we do not control its accessibility features.