The Experts Have Spoken: These Are The 7 Best Makeup Tips For Women Over 50

mbg Beauty & Wellness Editor
By Jamie Schneider
mbg Beauty & Wellness Editor
Jamie Schneider is the Beauty & Wellness Editor at mindbodygreen. She has a B.A. in Organizational Studies and English from the University of Michigan, and her work has appeared in Coveteur, The Chill Times, and Wyld Skincare.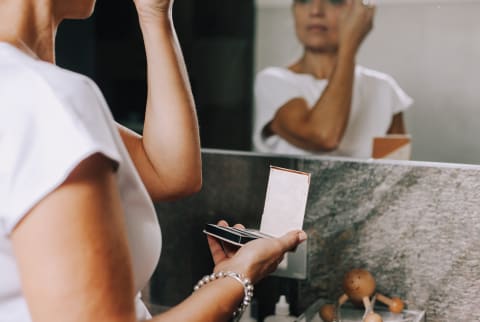 Image by Giana Canu // Stocksy
October 28, 2020
Our editors have independently chosen the products listed on this page. If you purchase something mentioned in this article, we may
earn a small commission
.
At this point, we've waxed poetic about how your skin changes with age—specifically once you hit 50. It calls for a few tweaks in the skin care department, no doubt, but it's also a great time to adopt new makeup habits. Although, we're not talking about camouflaging any folds and fine lines; rather, shift your makeup routine to amplify your natural beauty, with all its grooves and glory. Think updated tricks, better formulas, and application hacks that withstand the test of time.
"I think for women in their 50s and above, there is a new and exciting relationship with makeup to be had, especially if there was not one before," makeup artist Jaleesa Jaikaran tells mbg. In fact, according to a Harris Poll, survey respondents identified 50 as the "perfect" age when they feel most comfortable in their own skin; it only makes sense that plenty of women—50 years old and beyond—feel inspired to play with makeup in new, dreamy ways.
Advertisement
This ad is displayed using third party content and we do not control its accessibility features.
If you don't know exactly where to start, though, we uncovered the best techniques to highlight your features (and avoid common mistakes) from three seasoned makeup artists.
Before diving in, we should note that these tips will guide you through more of the basics rather than a full face beat. So if you want to go rogue and add a splash of bold color—by all means! Makeup should be fun and expressive. As makeup artist Alexandra Compton, product development manager at clean beauty retailer Credo, says, "Color rules were meant to be broken."
1.
First, a quick note on skin prep.
For any flawless makeup look—regardless of age, mind you—proper skin care is a must. As makeup artist Elyse Frieri, store manager at Credo, once told us, "Makeup is magical and transformative, but there are two things it cannot hide: texture and dimension."
A clean, smooth canvas makes for an elevated makeup look, so make sure to have a good exfoliation regimen under your belt, as well as a hydrating moisturizer to plump up the skin before makeup. (Check more of our tips for smooth, even-toned skin, here.)
"An illuminating primer or a quick-absorbing primer (depending on your skin's needs) can create the staying power needed for a light sweep of foundation without creating patchiness or an overly oily finish," Jaikaran explains. You want your makeup to stay put, so as to avoid piling on product and letting it pill throughout the day. Make sure to prime under the eyes, around the mouth, and down the neck as well, Compton says, as these are oft-forgotten areas that deserve some coverage.
Shop these products:
3.
Apply base products with precision.
Contrary to popular belief, "Less is more when it comes to cover-up on mature skin," Jaikaran notes. "Evening out skin tone should be priority ahead of hiding wrinkles." That said, opt for a sheer, buildable foundation you can easily buff into the skin—a damp beauty blender is great for the job. (Pro tip: Mix three to four drops of liquid highlighter into your foundation before melting it into the skin. "You will have a beautiful, lit-from-within radiance," Compton says.)
Same goes for concealer: Choose a lightweight option rather than a thick and creamy confection, as these can easily crease as the day goes on. In terms of the application, Jaikaran recommends precision spot concealing: Rather than sweeping on an even layer of concealer, place tiny dots of product on the eyelids and inner corner of the eyes (as these areas tend to have the most discoloration, she notes). Celebrity makeup artist A.J. Crimson also suggests blending with your finger as opposed to a brush, to further prevent creasing.
Shop these products:
4.
Choose a cream blush and apply it strategically.
Again, you'll want to opt for cream formulas here. "Creams provide more control in placement and can be your best friend when customizing your look," Jaikaran notes. She suggests a finger-paint application as well: Lightly tap the product into the top of your cheekbones, then move inward. Just make sure you're not dragging the cheek downward, she warns, or it can create the illusion of sagging.
Compton seconds the advice: "Focus blush application directly underneath the pupil over your eye, and blend up and outward toward the temples—this will create a lifted effect," she says.
Shop these products:
Brows typically thin toward the tail as you age (sometimes they even turn gray), so you'll want to focus on keeping them full and fluffy. A strong brow game can also help frame your eyes—similar to liner—without applying too much product on your lids later on (which tends to crease in between the tiny lid folds).
Here are the basics: Brush up the brow hairs with a spoolie, use a pencil to fill in any gaps, then set the look with clear or tinted brow gel. For extra tips to fill in mature brows, take a gander at makeup artist Riku Campo's brow styling guide here.
Shop these products:
6.
Make your eyes look wide-awake.
The key to a youthful, doe-eyed look? Make your eyes look wide, wide-awake. Here are a few hacks:
If you love a good liner, Crimson suggests dialing up the drama with fun colors: "Colored liner in dark greens, blues, and purples can be fun and eye-opening," he says. Although, you might not want to draw along the bottom waterline, as this can make the eyes appear smaller. Rather, create a thin line that basically hugs your top lashes so you'll have ample eyelid space to work with. Compton also suggests applying a neutral-colored eye shadow on top of eyeliner to soften out any harsh lines.
If eyeliner isn't your thing, you can create a similar wide-awake look with shadow: "Apply shadows from the outer corners of the eyes and move inward," Jaikaran recommends. That way, the pigment is darkest at the outer corner, the color payoff more muted as you move in. "The eye will look more open and awake," Jaikaran adds. Then apply a few coats of mascara (grab one with a curved brush to give your lashes some natural curl) to make your eyes appear doll-like and bright.
Shop these products:
7.
Line your lips, then gloss them up.
Similar to brows, your lips also thin out as you age. To make them look plump and full, both Compton and Jaikaran suggest a lip liner in a shade one to two times deeper than your natural lip color. Outline your lips, accentuating the Cupid's bow and bottom of your pout, then blend it out with your fingers.
In terms of color, the choice is yours—feel free to go bold with a bright fuchsia or orangey-red, or keep it natural with a "my lip, but better" shade of gloss. "Don't be afraid to let the gloss line Cupid's bow!" Crimson adds. The subtle highlight can create the illusion of fuller lips.
Shop these products:
The takeaway. 
When it comes to changing up your makeup look as you age, a less-is-more approach is key. While there are a few tricks to make your face look fresh and awake (and a subtle illusion of lift here and there), for the most part, it's about complementing your natural features—rather than fiercely working against them.
Of course, makeup has no hard-and-fast rules at the end of the day. Feel free to use these tips as a baseline and run with whatever feels the most like, well, you. As Jaikaran notes, "Makeup is one of the most creative forms of expressing your personal style, so take opportunities to bend the rules and splash a little 'you' on it!"
Advertisement
This ad is displayed using third party content and we do not control its accessibility features.