Celebrity Makeup Artist Katey Denno's Clean & Green Beauty Recommendations
mbg Beauty Director
By Alexandra Engler
mbg Beauty Director
Alexandra Engler is the beauty director at mindbodygreen and host of the beauty podcast Clean Beauty School. Previously, she's held beauty roles at Harper's Bazaar, Marie Claire, SELF, and Cosmopolitan; her byline has appeared in Esquire, Sports Illustrated, and Allure.com.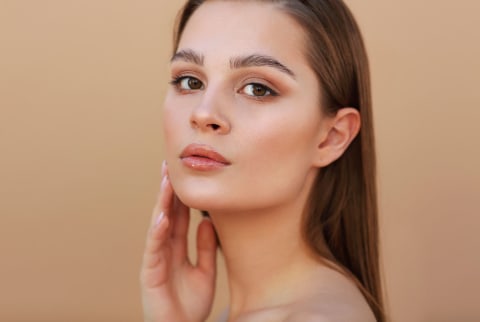 Image by petrenkod / iStock
June 13, 2021
Our editors have independently chosen the products listed on this page. If you purchase something mentioned in this article, we may
earn a small commission
.
There are a few makeup artists working today that I, as a beauty writer, consider master classes in and of themselves. There's Daniel Martin and his instantly iconic freckle-laden glow that he gave Meghan Markle on her wedding day—a modern makeup artist fit for a modern-day princess. There's Gucci Westman and her barely there, no-fuss, cool-girl aesthetic that has simply captured the runways and editorials for years now. There's Pat McGrath's bold and daring colors and textures—makeup that challenges the boundaries of the form.
And there's Katey Denno, celebrity makeup artist for the likes of Amanda Seyfried, Felicity Jones, and Victoria Kirby. A woman who pioneered green makeup, helped usher it into the spotlight, and is always eager to share her passion with the rest of us—now that it's fully gone mainstream and all. If you wear or are interested in clean, natural makeup, there's no one's opinion you should hold higher.
Advertisement
This ad is displayed using third party content and we do not control its accessibility features.
Recently I got to sit down and chat with her all about makeup trends in a recent episode of Clean Beauty School. The conversation was simply dripping in product recommendations—which I present to you, with her best use tips and tricks, of course.
For the body.
Of course beauty doesn't stop at the neck—your whole body is part of your skin care regimen. And for Denno, mastering the art of makeup involves the whole body too. Not only will it make your skin look great—but you'll feel luxurious, too. And what's the point of beauty if you're not enjoying it?
"So the first thing I always encourage people to do is look at what touches the largest surface area of your body, and start there. So that would include body lotions and body oils," says Denno. "I also tell people that clean beauty has the most amazing scent profiles across the board. And I feel once you go clean with scent—whether that's face mist, little rollerball, or a foot cream—you will not want to go back."
Don't just take Denno's word for it; her clients adore it too. "This is how I think I've gotten all my actresses and clients to like me because I come with a bag of the best-smelling stuff for them," she says. "Then I massage their limbs that are going to show on their red carpet with the most delicious ingredients with these gorgeous scents that are just to die for."
For skin care
For makeup artists, healthy skin is their palette: That's why they are so invested in taking care of their skin, and their clients' skin. Truly some of the best skin care tips and product recommendations have come from makeup artists—so much of their day is spent touching, tending to, and manipulating skin.
"You really want to use clean or natural products if it's something that is directly touching your face—so face lotion and face oil—because it's usually an everyday thing," says Denno. Not to mention, the skin on your face is so delicate, you'll want to make sure you're using smart products that work for your needs.
Her longtime go-to brand is Jenette Skin Care; she still swears by the soaps.
"She makes these amazing face soaps—and she started making them because I traveled so much and I was like, 'I love your mask, and I need it to help my acne. Can you make it into a soap form? So I don't have to carry a liquid mask?' and she did! And then she started making other soaps. Now I use either the Green Tea Facial Bar or her Cacao Herbal Infusion Soap Bar."
After, she mists her face—with a new favorite of hers called BLUH Alchemy Toning Elixir. ("So that's often what's been on repeat lately," she says.) After misting, she notes she'll top it off with an oil or serum. "Kypris makes this gorgeous product called Beauty Elixir 1,000 Roses. I love the scent. A lot of people don't like rose scents, and this is one of those roses that even if you don't like rose, you'll probably like this. It's delicious," she says.
Now, if she's wearing makeup that day, she'll opt for a primer-serum hybrid. "There's True Botanicals Chebula Active Immunity Serum, which I really like," she says. I actually like it as a primer for makeup because it has a nice grippy grubbiness to it, but basically it's one of the highest antioxidant serums that you can use. Chebula is just inherently a high antioxidant botanical."
Of course, no face routine is complete without sun protection. "Then I apply sunscreen," she says, noting that she switches up which one she uses based on what's happening that day. "I will either use Venus' EleVen Unrivaled Sun Serum, which is sheer and no tint or anything. Or I will grab the Josh Rosebrook Nutrient Day Cream SPF 30, which is a moisturizer as well. Or Suntegrity is what I use if I want something that has a bit of a tint to it. It's perfect for someone who wants to throw on a tinted moisturizer. It's a beautiful option," she says.
At night, after cleansing, she'll use a treatment step. At the moment that's either vitamin C or retinol. "So there's this amazing new vitamin C product on the market that I love called Common Heir, and not only because the product is great. It comes in these individual, biodegradable and compostable ampules, it has no scent, and the texture is delicious," she says. "Or I use Josh Rosebrook Retinol & Vitamin C Oil. And then I just pile on the creams and oils of various kinds and that's my bedtime routine!" Voilà!
For makeup 
The creme de la resistance: Denno's makeup recommendations. Let's start with foundation, shall we? "There are, I mean, oh my gosh—there are so many beautiful foundations to choose from now," she begins. "I have a lot of sun spots on my cheeks. So I like to use just a bit of foundation on the cheeks to cover up some of that and down the bridge of my nose. I like Kjaer Weis Cream Foundation or Vapour Beauty Luminous Foundation Sticks if I want an easy thing."
And if you're struggling to find a clean option that matches your unique skin tone, Exa High Fidelity Foundation may just be your best friend. "So there's the Exa Foundation line. It's 43 foundation colors strong, which is the largest foundation range around, so chances are good you're going to find your shade," she says. "And they also mail you little teeny sample packs that are on a paper board. So it's a very eco-friendly way to try out foundation online, which I think historically is a crapshoot."
From there, Denno says to opt for a good multiuse product—especially for beginners. "Axiology has been making lipsticks for years, but they just launched Lip-to-Lid Balmie. They are the most eco-friendly little crayons," she says. "They're super cute, add a pop of a bold color that looks great on every skin tone, and there are so many colors to choose from. So just find something that looks good on you and that you like, and then just swipe on your cheeks, swipe on your eyes, swipe in your lip. And it's so easy to wear. It's totally great for the novice."
As for blush, try LYS Beauty, a brand that Denno notes has mastered the art of rich, luxe color. "It's created from a makeup artist who has years of experience and created this line," she notes. "Really gorgeous formulations, great color payoff."
Denno, who notes she adores Gucci Westman Lit Up Highlight Stick, says you can effortlessly add dimension to your face with a little shine. "Then it's just putting them on the high plains of your face, bridge of your nose, and your Cupid's bow. I will just swipe it on different places on my face," she says. "Oh, and I put it around my eyebrows. Just to give a little more dimension by way of light and light reflection."
Then, it's all on the eyes. "I always start with mascara because, for me, mascara has been my No. 1 thing," she says. Adding a layer of mascara can help brighten and open up the eyes—as well as make them appear larger. "ILIA's mascara is the best one on the market."
She also etches in her brows with Kimiko or Alima Pure. "I never used to do my brows, but after going through perimenopause, I wanted to use products to help lift them back up for a more youthful appearance."
As for high potency pigment options like shadows, blush, and lipstick? Well, Denno's got recommendations for that too. "Aether Beauty makes gorgeous pack paperboard palettes of eyeshadow that are really nice, creamy, and blendable," she says. "You can even use your finger to smudge them on."
If you're one to experiment with color, look no further than Rituel de Fille, the makeup brand for proper makeup lovers. "There's really fun products from Rituel de Fille, three sisters who created really cool different products: There's iridescent shades, fun pops of color, and all in little compacts."
The takeaway.
For green, clean makeup, look no further than Denno's recommendations. Lucky for you? We tossed a few in one place—all for your shopping pleasure.
Advertisement
This ad is displayed using third party content and we do not control its accessibility features.
Heal Your Skin.
Receive your FREE Doctor-Approved Beauty Guide
Alexandra Engler
mbg Beauty Director
Alexandra Engler is the beauty director at mindbodygreen and host of the beauty podcast Clean Beauty School. Previously, she's held beauty roles at Harper's Bazaar, Marie Claire, SELF, and Cosmopolitan; her byline has appeared in Esquire, Sports Illustrated, and Allure.com. In her current role, she covers all the latest trends in the clean and natural beauty space, as well as lifestyle topics, such as travel. She received her journalism degree from Marquette University, graduating first in the department. She lives in Brooklyn, New York.