5 Things To Keep In Mind If You're Moving During The Pandemic

mbg Sustainability + Health Director
By Emma Loewe
mbg Sustainability + Health Director
Emma Loewe is the Senior Sustainability Editor at mindbodygreen and the author of "Return to Nature: The New Science of How Natural Landscapes Restore Us."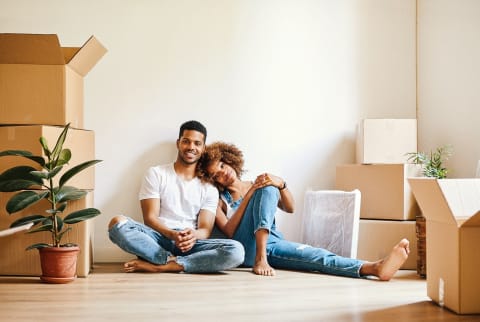 June 11, 2020
Our editors have independently chosen the products listed on this page. If you purchase something mentioned in this article, we may
earn a small commission
.
So much time at home has a lot of us ready to pack up and move. That's the gist of a recent Harris Poll survey, which found that nearly one-third of Americans have recently browsed real estate websites for homes or apartments to rent or buy. Those who live in cities seem to be leading the charge. If you, too, are looking for a new place to call home during the pandemic, here are some tips on how to make sure your move is safe and as stress-free as possible:
Advertisement
This ad is displayed using third party content and we do not control its accessibility features.
1. You should still consider what you want to keep and what you want to (eventually) donate.
Moving homes is an opportunity to sift through your physical possessions with a more critical eye. It forces us to examine what we've been holding onto from what hoarding behavior specialist and clutter coach Elaine Birchall, MSW, calls our "prior lives" in an attempt to stay comfortable.
"Maybe you're someone who has never really developed the ability to self-soothe so you need those regular pick-me-ups and you're prepared to accept them in the form of things that can never meet your needs," Birchall tells mbg, adding that she's seen lots of people clutching onto material possessions out of fear since the pandemic began (remember the toilet paper shortages?).
The process of questioning what you really need can leave you with a lot of furniture, clothes, and other items to sell or give away—and nowhere to put them. If donation, swap, and collection sites in your area are closed due to safety concerns, head to online secondhand sellers like thredUp clothing. They'll either sell or recycle any textiles you send in. For furniture, the resale website AptDeco is still up and running in the NYC area, so look into whether a similar service exists in your neighborhood.
Moving authority and author of The Art of Happy Moving Ali Wenzke recommends packing any leftover items in a box marked "to donate" and taking them with you to your new place. "I know it isn't ideal to move with items you've mentally decluttered, but once charities can start collecting items again, they will need your gently used sheets and lamps more than ever," she says.
2. Source your own moving supplies.
In typical times, Wenzke recommends asking friends and neighbors for moving boxes and other supplies to keep things cheap and low-waste, but that may not be feasible right now. Instead, buy recyclable cardboard boxes or clear, plastic storage containers that you can use for storage in your new place. You can also look into any reusable box rental services in your area; just make sure they are disinfecting boxes between uses with a CDC-certified cleaning solution.
Advertisement
This ad is displayed using third party content and we do not control its accessibility features.
3. If you're hiring movers, ask about their safety procedures and do some more prep work ahead of time to make it easier for them.
Before signing on with movers, ask them about what precautions they're taking to minimize the spread of the virus (wearing face masks during moves, taking temperatures every day, etc.). Once you find some you feel comfortable with, Wenzke says there are a few things you can do while packing to make their jobs easier and keep everyone safe come moving day: "If you plan to pack your own items, label the items with the room where they will need to go and list the contents in detail. In order to avoid unnecessary contact, place signs on the doors of your new place that identify each room, such as 'Master Bedroom' or 'Joseph's bedroom.'" she says, adding that this can also expedite the unpacking process. "In general, try to stay out of the movers' way and keep your mask on. Also, buy pizza for the crew. They're working hard for you."
4. Once the dust has settled, give your new place a thorough cleaning.
While COVID-19 seems to spread mostly from person-to-person contact, the CDC says it's possible to contract the virus by touching an infected surface and then touching your nose, mouth, or eyes. To be extra safe, Wenzke recommends doing a deep clean of every surface upon arrival, focusing on high-contact areas such as doorknobs, handles, and light switches.
Advertisement
This ad is displayed using third party content and we do not control its accessibility features.
5. Cut yourself some slack.
Even during normal times, moving is stressful. Creating a running checklist (Wenzke has some great free templates on her website) and reserving extra time to pack and prepare can help make the process a little less chaotic. Be gentle with yourself, and when snafus inevitably come up, remind yourself of what's waiting on the other side.
"The gratitude that people feel for their new spaces is unlike anything I've seen before," Wenzke says. "Our connection to home is stronger than ever, and people are focusing on creating beautiful spaces for themselves amid the chaos."
Advertisement
This ad is displayed using third party content and we do not control its accessibility features.