Moving Homes Is Tough On Houseplants: 7 Pro Tips That'll Keep Them Safe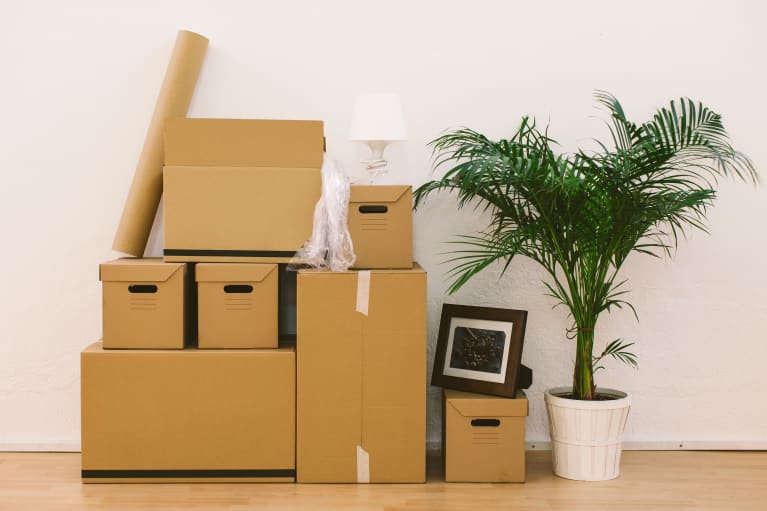 Our editors have independently chosen the products listed on this page. If you purchase something mentioned in this article, we may
earn a small commission
.
As your plant collection grows and the plants settle into the spaces they are currently in, it becomes increasingly difficult to figure out what you would do if you ever had to move house.
That's currently a concern of mine, given I have an upcoming move and will have to pack up 200-plus plants. One of those plants being my good friend Frank, my 14-foot (4.25-meter) fiddle-leaf fig tree that I've had since 2014.
When I got Frank, I was living in New Orleans. There I moved him from one apartment to another, and then, in the spring of 2015, we packed up and moved to Baltimore, Maryland, where I live today. I had become a dedicated plant parent only a year before this, so I wasn't well-versed in how to properly prepare myself for this move. Not only was I leaving with Frank, but with 60 or so other plants as well. This was pretty much trial by fire, but every plant made it safely to the new home.
During this move, I took note of how I could have better prepared myself so that when I made another move, there would be less stress and more efficiency. Here are my tips on how to prepare your plants for a move.
One thing you'll want to make sure to do is to let your plants dry out before the move. This means that if you plan to move a week from now, it's best to let the soil start to dry out so that the plant and pot are much lighter and easier to transport. Trying to move planters that have wet soil in them can be grueling and makes your move much more difficult. If you're dealing with a plant that needs to be watered more often, try putting a water spike in the soil and placing a bottle filled with water on top. That will help keep your soil moist without it becoming too wet and heavy.
While you might be excited to get that new plant into its new pot, leaving your new friend in its nursery pot could be beneficial, especially if you tend to move around a lot. Plants do perfectly fine in their plastic nursery pots, and you won't have to repot them until their roots start growing out of the drainage holes. A plant in a nursery pot is much lighter than a plant in a heavy ceramic pot. Believe me, I learned the hard way.
Trying to move Frank in his ceramic pot created such a mess and extended the moving day. Now, if I'm bringing plants into a workspace that I know I might not be renting for a long time, I'll place my plants that are in their nursery pots inside a larger pot. That way, when it's time to move, I can just pull them out and move them with ease.
In many cases, you'll first need to make sure you protect the pot. Using packaging material to protect it from getting damaged is the first thing you should do. Next, take a plastic bag or sheet and tightly wrap that around the top of the pot, taping it down to make sure none of the soil spills out. Just make sure you don't cover the drainage holes. You want to make sure the roots can still breathe.
2.
Bring the foliage together.
A lot of your larger plants have been enjoying their best lives and spreading their arms out in your home. But now you need to get them out the front door, into a truck, and into your new place. The best way not to break off one of their limbs is to gently pull them inward. To do this, use gardening Velcro or string to slowly bring the branches or stems together, and tie them up. This will force the branches and stems to go more in the up direction than out.
Now that you've tied up your branches or stems, you'll want to protect the foliage from getting torn, punctured, and, in some cases, sunburned. Using kraft paper, pull off a piece that's long enough to wrap around your plant. Once you have it around all of the foliage, use tape to secure it. This also helps when you're moving during the colder months of the year. It'll help protect the foliage from frostbite.
1.
Think about the best time to move for your plants.
Just like everything else involving plant care, the best time to move your houseplants is during spring and also fall. When the weather is anywhere between 65 and 85°F (18 to 30°C), it's less harmful exposing your plants to the outdoors. While we can't all predict when we'll have to make the transition from one space to another, doing it during this time of the year would be best. If your plants are exposed to low or high temperatures for too long, it can severely damage the foliage and kill the entire plant after a while.
2.
Plan your transportation wisely.
When moving, you want to consider how long your plants will be inside your moving vehicle. If moving during the summer or winter, remember to treat your plant like all the other living things in your life. They will die in a vehicle baking in the sun or left out in the cold. So if moving them long distance, when you stop to go inside a place, whether that's a restaurant or hotel, bring them with you or roll down windows and open doors so they can get not only air but also a little light.
Honestly, the safest way to travel long distances with a lot of plants is to hire a plant-moving service. And if you think you won't be able to keep all of your plant friends alive during the journey, there is no shame in giving them to a friend or family member instead.
These tips should help you get your plants from point A to point B safely. Hopefully, you're moving into a home with more light and a lot of southern exposure. I'm wishing that for you all.
Excerpted from Wild Creations: Inspiring Projects To Create Plus Plant Care Tips & Styling Ideas for Your Own Wild Interior by Hilton Carter, CICO Books 2021.