February 25, 2017
I have recently had a couple of questions from students about how to keep up a regular home yoga or meditation practice. I know a few people (myself included) who have made a home yoga practice a New Year's resolution, but after a month or two that resolution has often wavered or been lost completely. I've made a few false starts when it comes maintaining a regular home practice over the years. Here are a few things I've learned along the way.
Advertisement
This ad is displayed using third party content and we do not control its accessibility features.
1. Set tiny goals.
Say you think 30 minutes of yoga per day seems realistic. But then one day you get home really late from work and go straight to bed, and the next day you feel like your resolution has failed. My No. 1 tip with this particular aim is to set yourself very tiny goals. I know at first that might not sound particularly inspiring, but stick with me—if you have time for a daily 60- or 90-minute yoga practice, then great—lucky you! If you don't, don't feel like anything less isn't worthwhile.
If you'd like to have a regular home practice but work/kids/life seems to take up all your spare time, then make this your resolution: "I will do at least one yoga pose each day." Everyone has time for one yoga pose. It could be as simple as taking a few deep breaths in a standing forward fold. Or maybe if you have space try a child's pose, or a single downward dog. It will take one to two minutes of your time. I'd guess that most people can carve one minute out of their day, even if it's just by spending one minute less scrolling through your Instagram feed (guilty as charged).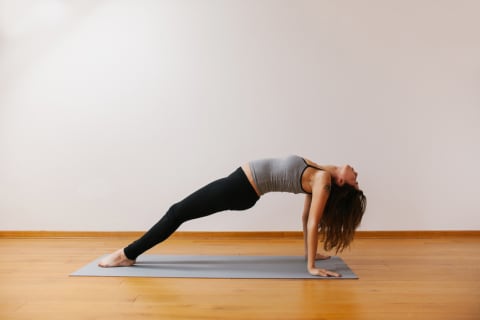 Advertisement
This ad is displayed using third party content and we do not control its accessibility features.
2. Don't beat yourself up.
You might find that doing one pose—perhaps downward dog—feels so good you can't help but add a couple more on. Maybe a lunge on either side. If that gradually builds so you're doing five or ten minutes per day, great. But if the next day you're in a hurry and it drops down to one pose again, don't beat yourself up. If you try for an hour per day and miss a day, you might find yourself feeling guilty. Let that sh*t go! It's defeating your overall objective of making yourself feel better.
3. Make your practice fit your circumstances.
Fitting your practice in around your life can also be a big help. If you decide you'll practice first thing in the morning (and you have space in your room), why not keep your mat next to your bed, so it's the first thing your feet touch in the morning? If you prefer evenings, how about a hip opener in front of the TV? Or a downward dog while you're waiting for the kettle to boil?
Also, know that having a regular time to practice is nice, but if it doesn't work for you then that's fine too. Maybe try a standing forward fold for one minute in the bathroom at work. Obviously, being able to practice in a quiet environment is lovely, but for a lot of people it's a luxury they don't have access to every day. If the only time you can take a triangle pose is while your children are in front of the TV, don't feel like that background noise means your practice doesn't count.
What are you waiting for? Get that home practice started.
Advertisement
This ad is displayed using third party content and we do not control its accessibility features.
Olivia Marley
Olivia Marley teaches yoga workshops, classes and retreats in London and across Europe. Her teaching is light hearted, down to earth and accessible.