5 Things That'll Make Your Houseplant Very Happy This Spring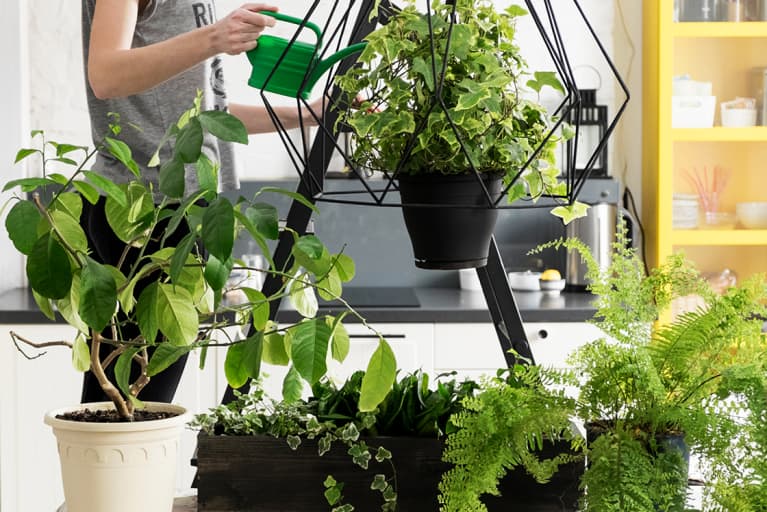 Spring cleaning season is upon us! In the coming weeks, mbg will be sharing some of the easiest, most effective tips and tricks we've heard for nixing germs at home. (Check out what we've run so far here.) Today, we're sharing a quick spring refresh that's great for your houseplants.
The weeks-long transition from winter to spring is my favorite time of year, easily. I love the sense of renewal that builds in the air as more of us start to linger in the (newly bright) dusk hours. And like humans, our beloved houseplants experience a special, almost spiritual, resurgence on the first balmier days of the year too.
Recently, I visited Greenery NYC, a buzzy new biophilic design shop in Brooklyn, to snag some advice on how to best support plants during this springtime transition. Here are founder Rebecca Bullene's top five tips for refreshing your plant pal as temps climb:
"You should be regularly cleaning your plants—but spring is a great time to really go through and get rid of dead material," Bullene told me, demonstrating by snipping brown leaves from a nearby fern. Once a leaf goes brown, it will never be green again, she explained, so instead of waiting for it to fall off into the soil, you're better off cutting it yourself. "That way, the plant can conserve energy and not have to push water into this dead leaf. Pruning really stimulates growth, so it's a great thing to do in the spring."
Next, you'll want to mist a microfiber cloth with water and spray your plant's leaves to wash off any dust that's built up over the winter. "Plants absorb light through their leaves, so if they're covered in dust, they can't absorb it as well," Bullene says. Pro tip: A plant that feels furry, like a staghorn fern, should be left alone, as its leaves won't like the disruption, no matter how well-intentioned.
3. Refresh its soil with fertilizer.
Sunlight is like food for your plant, and once spring hits, there's a lot more of it to go around. To help your plant thrive and grow to its fullest potential, you'll want to make sure its home (aka soil) is healthy. Bullene said that late March and early April are therefore good times to add a top layer of fertilizer (she recommends looking for one that is nitrogen-free if you want to promote a more gentle, sustainable growth).
According to what Bullene refers to as the golden rule of plant parenthood ("more light, more water"), you'll need to amp up your watering routine once warmer, brighter days hit. You can get away with going six to eight weeks without watering certain plants in winter, but in spring you should be watering more frequently, once every week or two. Once you do, beware of the telltale sign of overwatering: brown spots on leaves, which signifies cell walls that burst from too much hydration. Along with more water, some plants might also appreciate less direct light in spring. "Moving plants around seasonally makes sense—especially when something is sitting directly on a bright windowsill."
5. Optional: Transplant it to a new pot (carefully!)
If your greenery has outgrown its old planter (you can tell if this has happened if your plant is in a plastic pot that feels rock-hard to the touch, thanks to roots pushing up against the edge), you'll want to move it to a roomier pot with some new soil before spring and summer hit. But proceed with caution!
"I think it's fine to change out the soil in spring, but I would never do a full rinse of soil because there are good microbes that live in there," she explains. In short: You should leave all of the root soil intact because your plant has grown accustomed to it. "It's like when you go to your house and it smells like home—plants appreciate that too."
Here's to a happy home for you and your plants this spring.