How I Learned To Thrive With Celiac Disease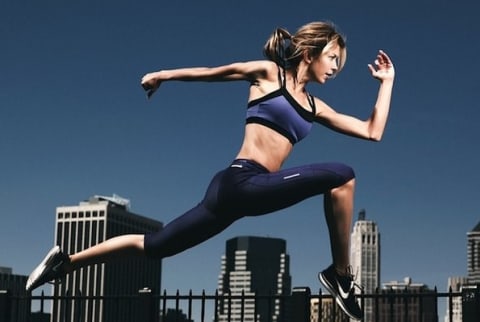 November 14, 2014
Holistic and natural living has become my way of life. At age 20, I was diagnosed with celiac disease, a discovery that not only became a tremendous daily challenge, but also began to turn things around and in many ways, saved my life.
The same year of my celiac diagnosis, I moved to New York City to further pursue my modeling career and trust me when I say, I'm now a firm believer that timing is everything. I couldn't eat on the set of jobs or in most restaurants because there was gluten everywhere and I feared cross contamination. I became too thin for my height and my energy slowly dissipated.
Advertisement
This ad is displayed using third party content and we do not control its accessibility features.
I stumbled upon the Institute of Integrative Nutrition, a blessing in disguise. After completing the IIN Health Coach Training Program, my eyes were opened to a new world of healthy living.
Now that I have a better understanding of all the required changes for my diet and lifestyle, I've been able to use my own experiences to spread awareness by helping those suffering from celiac disease and to let them know they're not alone.
Here are the major changes I made after my diagnosis. I hope they can help you start to feel your absolute best if you deal with celiac disease too:
1. I learned what gluten really is.
It's only once you have a solid understand of what gluten is and all the different names for it that you can be safe and officially gluten-free.
When I was first diagnosed, it took me almost two years to understand what gluten really was. Between processed foods, beauty products, vitamins and supplements, there are so many different names gluten hides behind. In processed foods and supplements, "maltodextrin" is a common culprit, while in personal care products, "hydrolyzed wheat" and "vegetable protein" are the ingredients to avoid.
2. I was hypervigilant about cross contamination.
For me, the number one sign of gluten exposure is severe fatigue and a consistent flu-like feeling. Most people laugh when I tell them I have such severe food allergies, that even the slightest bit of cross contamination is dangerous and can set me back for months. My friends and family know my biggest fear is cross contamination, especially in a restaurant setting.
A restaurant can say they have gluten-free items, but if their eggs are cooked on a pan they also use for French toast, the wheat particles from the bread can be present in the eggs without proper cleaning and disinfecting. There's only so much I can do to help protect myself against exposure even when ordering 100% gluten-free, but I always ask as many questions as needed, sometimes even "crashing the kitchen" as a last resort!
3. I found balance between my health obstacles and staying true to myself.
I've completely transformed my life by making room for the positive by crowding out the negative. Most recently, I started working with a Chinese herbalist to help boost my energy levels and manage my chronic fatigue syndrome.
Continuing to stay active has empowered me with my fitness modeling and all its demands. Remaining grounded and true to who you are makes all the difference in the world. Living mindfully has empowered me, adding strength to all I do. Follow your passions, have a backbone and do what's best for you and you alone, no one else. I carry this with me always, every single day.
All of these diet and lifestyle alterations have helped me tremendously and can help anyone who regularly suffers from autoimmune conditions like mine. The understanding that food is medicine is one of the greatest gifts I've ever received.
It's a constant challenge to feel my absolute best and be my healthiest self, but by being in tune with my body and REALLY understanding my dietary requirements allows me to plan and better prepare for my days. It's a fight I'lll never consider giving up and will do my best to continue spreading awareness, giving hope and helping those who suffer by letting them know they aren't alone.
Photo courtesy of author
Advertisement
This ad is displayed using third party content and we do not control its accessibility features.

Anna Hanks
Anna Hanks is a 22 year-old model, actor, and dancer residing in New York City. She was born and raised in South Florida and spends some of her time working in Miami as well. She continues to study acting, dance, fitness and yoga regularly. It is her unique and diverse background in the performing arts that gives Anna the ability to captivate her audience in film, on stage and in photographs. In early 2013, Anna became a certified Holistic Health Coach. Anna coaches models in NYC part time to help them create healthy diets and lifestyle choices.