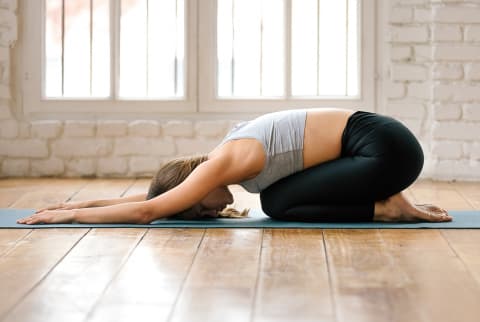 April 22, 2011
The old saying, "What you need comes to you when you need it..." clearly sums up my coming to yoga and having it become a mainstay in my life. From the beginning, I went to the right schools, excelled at my studies, entered into an excellent career and moved up in the corporate mad-cap world of marketing and PR. Then, like many New Yorkers, the events of 9/11 hit me to my core. That horrific day and the days that followed, I began to continually question my role in this Universe (yes, this might seem grandiose, but you get it), what my purpose was on this Earth, and how I could live more happily and completely because at that time it didn't seem like we'd be around for much longer.
Backing up a bit. My yoga practice began in 1996. I moved to New York after years in Washington, DC -- leaving a nice apartment and a nice man to move to the East Village and live with an old friend. My life changed dramatically. At that time the only way I found to quell the anxiety of such a big move was yoga. I galloped around New York finding homes in different studios, each one different and adding to my journey: at Jivamukti, I felt I was a yoga purist and was determined to be vegetarian; at Integral Yoga, I found pure joy and peace in my practice; at Dharma Mittra's it felt like a little slice of India and the real deal, plus I loved studying at the foot of a master. This went on and became a staple of my existence.
Advertisement
This ad is displayed using third party content and we do not control its accessibility features.
Back to 9/11. That day, everything shifted. Yoga went from being my grounding activity to my savior as I became unemployed. Who me, unemployed? But why not me? And then other big events took place that shake us deeply: loss of a parent, illness, and somehow I keep crawling back to yoga. I started spending all my time (after job hunting, of course) at the Interfaith League -- a Hare Krishna Center on the Lower East Side. There, if you could prove you were unemployed, yoga was free. Guess what: new yoga home! But there the deep work of yoga as a transformational tool began. Practicing deep meditation and really listening to those callings in my soul after 2 hours of asana and pranayama -- that's when the profound change occurred. And the more I worked from a deeper level in the practice is when the stuck became the unstuck and the deep longings became actionable, "put-in-place" desires.
I credit yoga for allowing me to open to my true self. As I say to my students, yoga opens us to the possibilities and the possibilities become transformations. In 2004 I did my first of 2 teacher trainings, and in 2007 I left a major and lucrative corporate job to follow this path. Today I teach yoga and run my own wellness marketing agency. None of this would have happened without the practice.
Advertisement
This ad is displayed using third party content and we do not control its accessibility features.
Michelle Barge
Michelle Barge is a New York City yoga instructor and Pravassa collaborator. Michelle will be diving deeper this summer as she co-leads Pravassa's
Off the Grid
yoga vacation in Honduras.