Close Banner
Advertisement
This ad is displayed using third party content and we do not control its accessibility features.
If You Want To Improve Gut Health, New Research Says Taking A Probiotic Isn't Enough
mbg Health Contributor
By Gretchen Lidicker, M.S.
mbg Health Contributor
Gretchen Lidicker earned her master's degree in physiology with a focus on alternative medicine from Georgetown University. She is the author of "CBD Oil Everyday Secrets" and "Magnesium Everyday Secrets."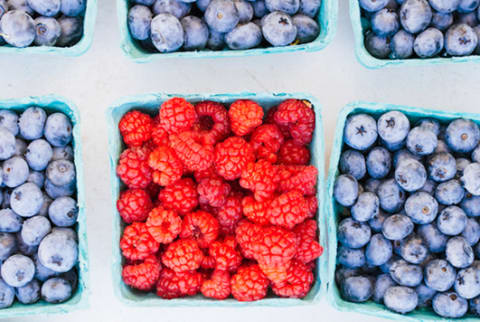 As we sit between Thanksgiving and The Holidays, one of the best ways to feel and look our best in spite of the constant influx of food, particularly inflammatory foods, is to be kind to your gut.
In a new study by the Luxembourg Institute of Health, researchers found that diets low in natural fiber (not the soluble "fake" stuff added to processed foods like cereal to increase fiber content) can lead to an imbalanced microbiome and create an environment ripe for pathogens and dis-ease to thrive. If you've been eating more cookies than carrots lately and getting sick isn't in your plan for the holidays, this one is for you!
What happens in your gut when you don't consume enough fiber?
Most of us are familiar with the superstar health benefits of fiber: from relieving constipation and helping maintain a healthy weight to lowering your risk of diabetes and heart disease, fiber has an excellent reputation for preventing disease and maintaining good digestive health. But despite this stellar reputation, very little known about the mechanism fiber uses to protect our gut health—until now.
As it turns out, skipping fiber causes a domino effect. In the study, researchers colonized mice with synthetic human gut microbiota and showed that a low-fiber diet—or a diet consisting of the soluble fiber typically added to processed foods to increase fiber content—decreased the amount of fiber-eating good bacteria in the gut.
This seemingly small disruption allowed for mucous-eating bacteria to increase in number and strength and tear through the mucous wall that lines our GI tracts, leaving gut epithelial cells exposed and vulnerable to pathogens that can cause serious inflammation, colitis, leaky gut and other digestive issues. This is one of a handful of studies that illustrates the connection between what we eat and our well-being by way of the gut.
The good news? The negative effects of a low-fiber diet are totally reversible.
To compare, for the mice fed an extremely high-fiber diet, the mucous barrier was intact and thriving at the end of the study, endorsing the benefits of eating lots of vegetables, high-fiber fruits like raspberries, and whole grains. So, what if you're been eating more chocolates than chard these days? Don't sweat it too much. When changed to a high-fiber diet, the mice's gut bacteria bounced back within a single day.
Remember, your body is a machine designed to heal. By supporting our friendly, fiber-feeding bacteria, our gut mucosal layer will be able to succeed at doing its job of protecting you through the season.
Want to turn your passion for wellbeing into a fulfilling career? Become a Certified Health Coach! Learn more here.