What Do Professional Organizers Really Think Of The Kondo Method?

mbg Sustainability + Health Director
By Emma Loewe
mbg Sustainability + Health Director
Emma Loewe is the Senior Sustainability Editor at mindbodygreen and the author of "Return to Nature: The New Science of How Natural Landscapes Restore Us."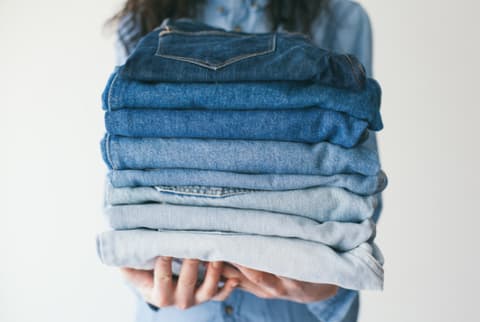 March 23, 2017
Even if you're a maximalist who's never decluttered a day in your life, chances are you've at least heard of Marie Kondo by now. The world's most influential organizer has inspired a community of "Konverts" with her books that have been translated into 40 languages and sold over 7 million copies. And with a phone app under her belt and a graphic novel on the way, it looks like the queen bee of decluttering won't be dethroned anytime soon.
The Kondo method calls on people to evaluate their relationship with each of their belongings by asking the question, "Does it spark joy?" If the answer is no, Kondo says to (graciously) let the item go. If it's a yes, she calls on you to find a specific place to put it so you can tend to it with care. Lots of care. We're talking "wipe down shampoo and conditioner bottles after use and hang your sponges to dry before placing them in the cupboard" levels of care.
Curious what insiders think of this prescriptive technique, I reached out to professional organizers for their take on when the Kondo method is most effective and when you might be better off letting those bottles air dry.
What are the highs?
Clutter Healer Lili Pettit sees the value in checking in with yourself as you work through your space. "Holding each item in your hands and asking yourself if you need it by tuning into the feeling in your heart is a definite pro," she says.
Melody Mesick and Monica Leed of Simply Spaced agree that the simple questioning technique makes a lot of sense. "By simplifying the exercise of decluttering from a series of difficult questions (i.e. Do I need it? Do I use it? Was it expensive?, Is it worth anything?) into one core question: Does it spark joy? Kondo immediately gives you permission to let go of clutter with less guilt and more clarity," they explain.
In the end, Bonnie J. Dewkett of The Joyful Organizer thinks that the biggest pro of this method is that it only leaves the good stuff behind, allowing you to "live an uncluttered life in which your possessions and surroundings are beautiful, functional, and make you happy." And who wouldn't want that?
What are the lows?
Though Kondo's prompt provides a great jumping-off point, most of the organizers I reached out to agree that it probably won't apply to every item in your space—and that's totally OK. "We all have things in our homes that don't bring us joy but are necessary," says Dewkett. "For example, my first aid kit. It's not beautiful, and it's not joyous, but it's necessary. If you go too far in the uncluttering, you might do yourself a disservice."
Her method also calls on people to declutter their entire space in one session, which is probably unrealistic for most people. "I don't believe organizing a home can be done in one big swoop for most people. When chronic disorganization and ADD are involved, this can be a very ambitious project, especially done alone," explains Jeni Aron of Clutter Cowgirl.
When should you do it?
So when is it worth it to commit to Kondo's method? Most organizers agree that if you're a detail-oriented, Type-A personality who lives alone in a small space (i.e., an apartment under 300 square feet), you should by all means go for it.
"The people I've met who've responded to it well tend to enjoy a clean aesthetic and are appreciative of techniques, like rolling socks or folding clothes, to maximize space and enhance function," says Maeve Richmond of Maeve's Method. "But we are all cut from a different cloth. I have found that clients who are more visual, creative, and loose in their approach to life and decision-making feel overwhelmed by some of the rules of the Kondo Method and don't respond well."
What are your other options?
OK, so we can all agree that the Kondo method's emphasis on joy is genius, and you should give it a try but don't necessarily need to follow it to a tee.
If the technique is a bit too prescriptive for your tastes, here are a few other decluttering approaches you may feel more comfortable with. Take little pieces of inspiration from all of them and create your own cleaning adventure based on your personality and space.
1. Go room by room or area by area.
"Rather than organizing one category at a time and pulling every book, knickknack, or thingamabob out of its hiding place all at once, we chunk out the project by one area and room at a time," Mesick and Leed of Simply Spaced explains. "Our clients experience small wins as they organize one room to completion before moving onto the next. There are psychological benefits from the transformation of one space at a time that tends to boost people's momentum. Also, as they find items that belong in the previously organized space, it's easy to slip those newly discovered items into the freshly created system."
2. Throw strict process out the window.
"My Clarity work is more straightforward as well as flexible. I call lots of what I do 'stupid simple' because I try to make the process as basic as I can so that my clients can get it and learn to do it on their own," says Lisa Viscardi of Clarity.
3. Don't think about it as decluttering in the first place.
"In our world, decluttering isn't the goal, it's a nice end result. On average, clients let go of about 20 percent of their possessions over the course of our coaching, but it's rarely our launching-off point. Clients show up looking to make space for baby, create better systems for their families, or to get a busy room in their home in order. When we keep our eyes on the prize, our priorities shift, and the decision about what to keep—and what to declutter—simplifies," says Richmond.