Dirty Makeup Brushes & Sponges Can Trigger Wrinkles — Here's What To Know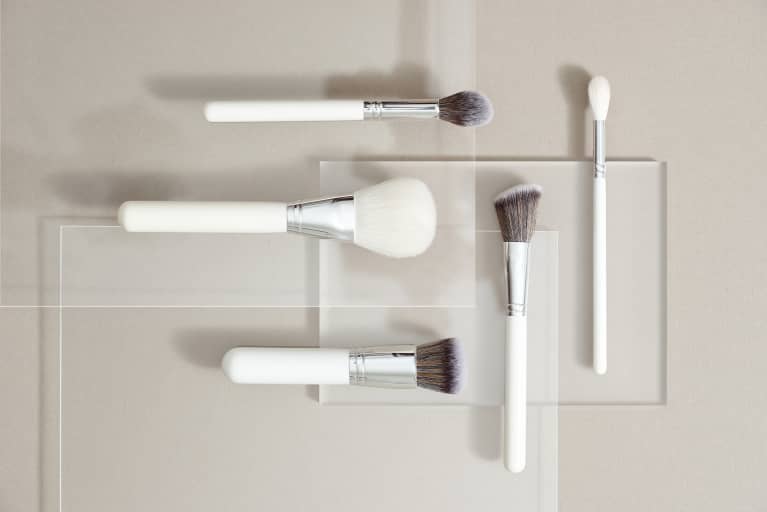 Our editors have independently chosen the products listed on this page. If you purchase something mentioned in this article, we may
earn a small commission
.
You might've heard by now that dirty makeup brushes can cause irritation, acne, and congested skin. It checks out: All that bacteria and grime on the unwashed brush or sponge is transferred to your face, wreaking havoc. This connection makes sense, as this is a nearly immediate reaction: Using a dirty brush or sponge can trigger a pimple or irritation nearly overnight it seems.
But that's not all it does—using a grimy makeup tool can have long-term effects, ones you've likely never attributed to a brush or sponge before. Namely? Wrinkles. Yes, you read that right.
"I highly recommend cleaning your sponge or brushes daily. With daily use, any makeup tool can accumulate dead skin cells, dirt, oil, pollution and bacteria. Using dirty makeup tools can cause clogged pores, skin irritation, risk of staph infection, and the risk of getting more wrinkles," says makeup artists Rea Ann Silva, founder of Beautyblender. "Yes, more wrinkles! This is due to the oxidative stress from free radicals trapped in makeup tools, which causes breakdown of collagen and elastin."
Essentially, when your makeup brush or sponge dirties with old makeup, dead skin cells, and other particulate matter, those can trigger free radicals when introduced back to the skin.
If we want to get technical here, this is how free radicals damage healthy, wrinkle-free skin: Free radicals have an uneven number of electrons, which poses a problem—because electrons like to be in pairs. This means free radicals will steal electrons from healthy molecules to stabilize themselves. Oh, and guess what happens to that molecule? It turns into a free radical, and the chain reaction continues. And if your body's levels of free radicals surpasses its ability to control them, the result is oxidative stress.
At this point, the excessive free radicals will start to trigger collagen and elastin destruction. Without these precious things, our skin starts to sag, lose volume, and wrinkle. So, yes, dirty makeup tools will trigger premature aging.
So if you still go days or weeks or (gasp) months without washing your tools, let this serve as a reminder to you to do so. Because even if your makeup brushes aren't causing you to breakout, they are doing something even more damaging in the long run.