I Simplified My Home — And It Ended Up Changing My Whole Damn Life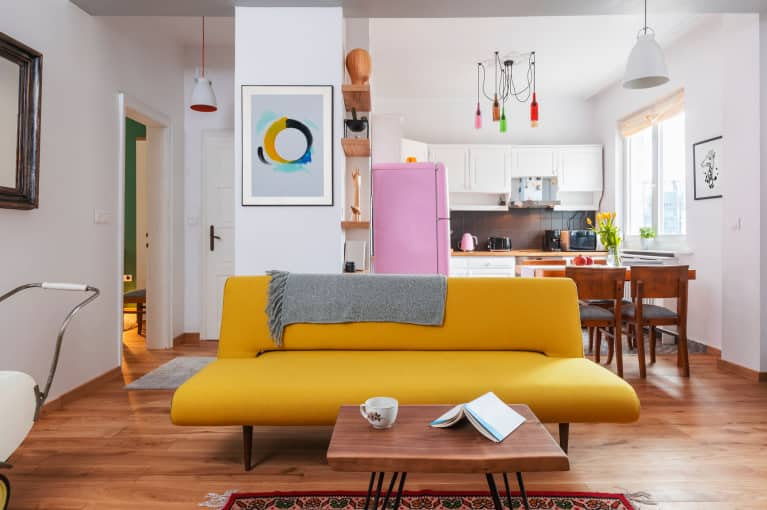 As I've grown older, I've found myself slowly but surely becoming a minimalist. The deeper I go, the more I realize that less truly is more. Having less "stuff" gives me more space to breathe, think, move, create, and best of all, connect with what I already have and truly value.
As part of my simplifying journey, last January I made a New Year's resolution to become more aware of what I was bringing into my home—I'm talking physical "things" as well as energy. This process of simplifying has since spilled over into all areas of my life from my physical space and mental well-being to how I prioritize my time and run my business.
Since I started simplifying my home over a year ago, I've become more purposely productive and more mindful of where and how I spend my time. All in all, I've become significantly less wasteful, more thoughtful about my purchases, and overall more grateful for what I have.
It's a process I believe everyone should get on board with to uncover real, sustainable happiness with less. Not sure where to start? Here are a few actionable steps you can take to simplify your home—and life—right this second:
1. Choose one area of your life to tackle at a time.
Decluttering your life is not an overnight process, so start small. I chose to first declutter my workspace because this is where I spend most of my time (#WorkFromHomeLife). I now know that I don't need to keep everything out on my desk, and putting things away has honestly made it so much easier to focus. Gone are the stacks of papers, notebooks, and knickknacks that did nothing but take up space and cloud my focus. Think: clear space, clear mind.
2. Get comfortable with saying no.
Once I decluttered my home, I was inspired to move on to simplifying other areas of my life. Namely, my calendar. I vowed to start saying no to events or meetings that didn't bring value or joy to my life. Overcommitting yourself is setting you up for a messy week, which will only drain your focus and cause more stress. Comb through your priorities, set boundaries, and don't feel like you owe a coffee date to everyone who waltzes into your inbox.
3. Cut back on distractions.
Next up, cleaning up digital devices. A few simple starting points are to mass unsubscribe from email marketing (unroll.me is a great resource), turn off distracting notifications (buh-bye Instagram), and clean up your home screen on your phone. Organize your apps into folders and delete unnecessary apps. Pro-Tip: Move your social media folder away from your home screen. That way you're less likely to enter the app on autopilot.
You are NOT your belongings. Once you realize this, your life will change. I promise.
4. Think de-owning over donating.
Once you've decluttered, the real challenge starts: keeping it that way! Next time you're looking to buy something, make sure it adds value or "sparks joy," as Marie Kondo would say. While donating is an option, de-owning (aka owning less in the first place) is the smarter and more sustainable way to go. It's easy to fall back into old shopping habits, but after seeing your space so clean and tidy, you'll want to work hard to keep it that way. Also remember, buying more storage is not an answer to clutter...it's just storing it.
How do I feel since making that resolution?
These days I'm very careful about what items my partner and I allow into our space, and I'm consistently decluttering, purging, and reorganizing. This ongoing practice of simplifying my life has been one of the best acts of self-love for me personally. I spend less on frivolous, one-off things, and I have more money to spend on travel, experiences, high-quality foods, and investing in my future.
I still have a long way to go in my minimalist journey, but I keep moving forward every day because I know it has already brought me so much joy. In short, simplifying is a newfound pillar in my life (so much that I wrote an entire guidebook about it called Simplify & Thrive). You are NOT your belongings. Once you realize this, your life will change. I promise.