How CBD-Infused Oil Changed My Self-Care Routine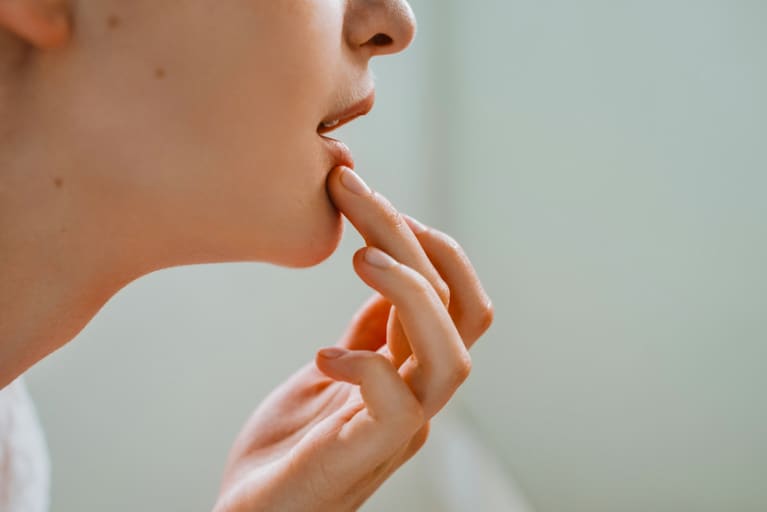 Last updated on January 21, 2020
CBD oil, or cannabidiol, is one of several hundred active compounds in cannabis; unlike THC, it has no psychoactive effects (so no giggling and "this is great stuff, man"), but it does seem to promote good health when it's absorbed through the skin or swallowed in tiny doses.*
I recently had a full-body massage with a CBD-infused oil and it changed the way I care for my muscles, joints, and other pains. It felt like normal deep-tissue massage, but I was loose and limber for a full 24 hours afterward, which never happens. (Normally I start tensing up again within an hour of any massage sans cannabis.) I took home a tub of CBD cream to try to keep the good vibes going, and these are five of my favorite rituals for using it topically:
1. I lather it on to support achy feet.*
I've been seeing specialists about my various foot problems since sophomore year of college, and while I've mostly figured out what shoes and orthotic insoles keep pain at bay since then, occasionally I'll sprawl on the couch or lie down in bed and notice just how loudly my dogs are barking. When that happens, I apply CBD cream from toe to ankle, following my college physical therapist's advice to massage toward the heart with slow, deep strokes.
2. I use it to help manage pain from old injuries.*
I slipped on a patch of ice and badly sprained my wrist several winters ago, and to this day, the joint bugs me—it's a bit like having carpal tunnel syndrome. Now I massage a dab of CBD onto my wrist before bed every night and, for the first time in years, I can get through an entire vinyasa class (so many chaturangas!) without having to toss in the occasional knees-chest-chin or child's pose to give the wrist a break.
3. I apply it after a day in the sun.
When I started to turn coral-pink after a day at the beach, I rubbed my arms and back with the hempy-smelling cream. Poof: Within a few hours, the pain had disappeared, and the redness had faded.*
4. I use it to rejuvenate sore muscles.*
I'm a sucker for tingly creams when my muscles feel sore—say, after getting myself to a Pilates class after a long hiatus—but I hate using them at night because I swear the minty smell and aggressive prickling keeps me up. Plus, there aren't any long-term benefits. Unless infused with mint essential oils, CBD cream doesn't bring any tingle, but it does seem to help manage soreness overnight, so I wake up feeling rejuvenated.*
5. I use it to support a healthy period.*
When cramps strike, I rub the lotion on my low belly and pelvis every few hours. It works like a charm—the pain goes from blowtorch-inside-my-guts unbearable to a totally tolerable occasional contraction.*