How Changing My Body Image Narrative Changed Literally Everything Else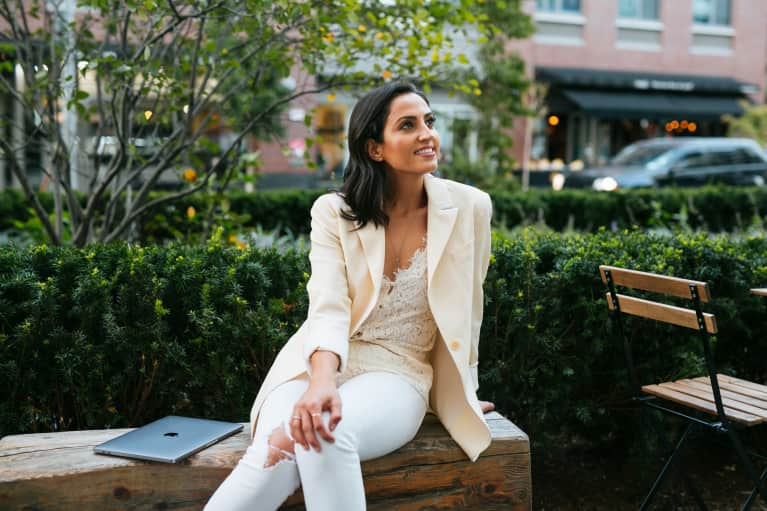 Our editors have independently chosen the products listed on this page. If you purchase something mentioned in this article, we may
earn a small commission
.
At the age of 13, I tipped the scales at 188 pounds. At a mere 5 feet 5 inches tall, I was in the dangerously obese and prediabetic zone. Until one day, tired from the relentless jabs from peers and parents, I set out to get my BMI into a healthy place. Over the course of six months, I lost 65 pounds—the healthy way—swapping packaged foods for fresh alternatives and creating daily workouts for myself. Yay, me! And though I might have been 65 pounds lighter on the outside, on the inside, I felt exactly the same. I still felt unlovable, ugly, and imperfect.
From a very early age, I felt real shame around my body—and I know I'm not alone. I grew up in a family and society where looks were important. My grandmother regularly made my sister and me compare inside leg measurements (longer legs were better, of course), height, and weight. At school, I was ruthlessly bullied for my size. I never felt good enough, and negative self-talk became my norm.
By the time I lost the weight, I was covered in stretch marks from biceps to belly, and my body felt more like a battleground than a beautiful home. I'd wear long swim dresses to the beach to hide my shape. I'd avoid activities where I'd have to show a lot of skin. And when I was brave enough to start wearing sleeveless tops, I'd cover my upper arms in bronzer to hide my stretch marks.
Yes, I'd lost the weight, but I never really lost the baggage.
I punished my body to maintain it at my "healthy weight" with grueling workouts and overly prescriptive ways of eating. If my clothes fit tighter, I would spew words of hate to myself while aggressively grabbing at my "love handles." I'd compare myself to everyone else, silently taking them out for notions I disliked about myself. "I hate my inner thighs," I'd think and then mentally shame ever passerby who I thought had fuller thighs like mine. Yes, I'd lost the weight, but I never really lost the baggage. Until two years ago.
I had made a new work colleague friend, and she had invited me to the beach one weekend. She was what I considered physically flawless. She was tall, lean yet muscular, and never seemed to doubt that she looked anything but beautiful. I ate extra cautiously that week in preparation for beach time. I loaded up on the HIIT workouts and substituted green juices for meals where possible and totally deprived myself of joy. Every glimpse in the mirror was one of scorn—"What will she think of me if she sees a wellness professional with belly bloat?!" The Friday before we were set to go, I was weighing my perfectly portioned 3-ounce lean turkey burgers—exhausted and calorie-deprived—when I realized, maybe for the first time in my life, that I may have lost the plot—that I might not be mentally or emotionally healthy when it came to my body image. I was no better than my family or school bullies. In fact, I was worse because I'd been punishing myself and everyone around me for so much longer.
I loved and valued the people who had what I wanted. And I judged those who had qualities of mine that I didn't like in myself.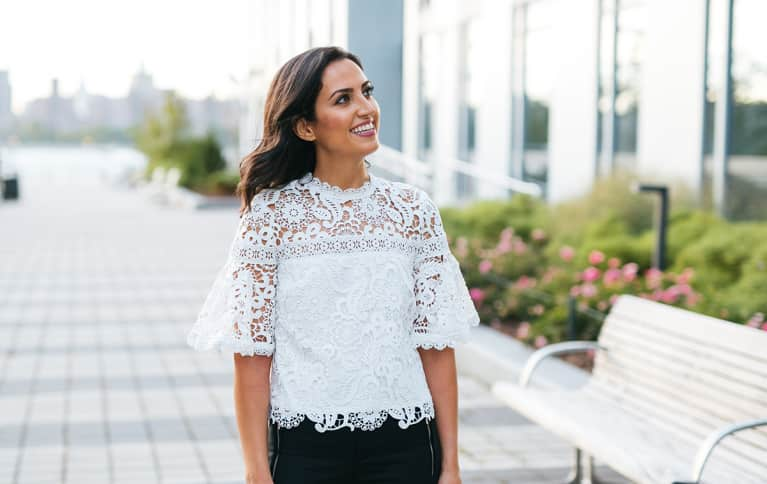 I realized that I wasn't viewing my new friend as a real companion who I wanted to get to know; I was viewing her as a bench mark. I loved and valued the people who had what I wanted. And I judged those who had qualities of mine that I didn't like in myself. In her book, The Dark Side of the Light Chasers, Debbie Ford discusses Carl Jung's shadow theories and says, "We're afraid of being imperfect, of realizing that the things we hate most about others are really just the same things we hate about ourselves." If we are constantly taking ourselves out for certain traits, it means we are doing the same to friends, lovers, co-workers, and anyone we come into contact with. We use them as measuring sticks for how we feel about ourselves. As much as we are judging ourselves for traits we deem unlovable, we are projecting that same judgment onto them, too. If I thought that fat was something to be ashamed of for myself, I used that same lens for my friends and family. For years, I unfairly cast my own self-loathing onto unsuspecting loved ones, quietly picking away at them with my warped thinking.
I realized that labels were a form of limitation, and these labels were learned.
That day, hovering in my kitchen, turkey burger in hand, I heard the words that a life coach had uttered to me almost a decade earlier. "Your friendships aren't authentic," she had said to me. "If you don't love and completely accept yourself, how can you love and accept anyone else?" At the time, her observations were lost on me. My immediate thought being, "You don't know me." But she did, and she had me figured out. It wasn't until the burden of my own self-abasement got so heavy that I could no longer carry it that I realized she was absolutely right. Lost in a story of self-disgust, with limited capacity for true friendship, life had gotten pretty unbearable.
I realized that labels were a form of limitation, and these labels were learned. I was taught that fat was bad and thin was good, and I clung to this narrative nearly my whole life. But where we are lost in a narrative, we can't be our real selves. And so began the process of changing the way I told my story and my belief system attached to it. And only when we change our beliefs and release the stories can we be our truest selves and view others the same way.
It wasn't until I very consciously, and with great effort, put that baggage down that I saw everyone around me differently. My hatred for imperfections became love and acceptance—life was no longer a binary conversation of good versus bad. I was curious about people's stories, their feelings, and their experiences—not immediately assumptive of who they were based on my limited way of viewing myself. When you realize that it's safe to love yourself unconditionally, you suddenly become aware that there are no lanes, and there is no competition. There is just love.
If you liked this, read why I've given up "self-help" this year.