3 Houseplants That Hate Winter (And How To Get Them Through The Season)

mbg Sustainability + Health Director
By Emma Loewe
mbg Sustainability + Health Director
Emma Loewe is the Senior Sustainability Editor at mindbodygreen and the author of "Return to Nature: The New Science of How Natural Landscapes Restore Us."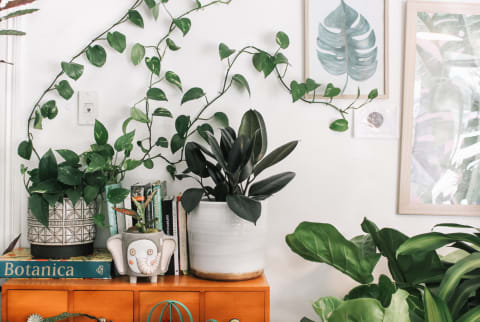 Image by Prudence Earl / Unsplash
December 14, 2021
Our editors have independently chosen the products listed on this page. If you purchase something mentioned in this article, we may
earn a small commission
.
Many of today's popular houseplants originally hail from tropical climates. This means that they love the warm, sunny conditions of spring and summer—and are less thrilled about the dark, cold days of winter.
Depending on how cold it gets where you live, the chilly air can shock your plants and cause damage. Keeping greenery in cozy heated rooms can certainly help, but it raises another issue. Since these machines reduce the relative humidity of a room, they can cause some plants to dry out, shrivel up, and begin dropping leaves. While all houseplants can be finicky during winter, experts say the following three are particularly sensitive to the season's conditions.
Advertisement
This ad is displayed using third party content and we do not control its accessibility features.
So what's a cold-dwelling plant lover to do? If you have any of these babies in your home, it may be time to move them to a new spot, change out their watering routine, or pop them next to a humidifier until spring hits.
Calathea
According to Paris Lalicata, plant education coordinator at The Sill, these bold beauties need a little extra love and attention year-round (they're one of the neediest houseplants out there), but especially during winter. "My Calatheas protest the most in the dry air," echoes Debbie Neese, the horticulture expert at Lively Root.
To ensure that your Calatheas are getting enough moisture, you can either place them under a garden dome, move them away from any heaters, place them near a humidifier, or do a combination of all three. Grouping your plants in clusters and popping them on top of a tray of pebbles and water can also help bump up their humidity slightly.
If you do opt to go the humidifier route, Lalicata cautions that you'll want to make sure the mist isn't hitting your plant's leaves directly. "That can cause the leaves to soak up that water and become mushy," she says. Keep the machine 1 to 2 feet away from your foliage and you should be set.
Fiddle Leaf Fig
The Ficus lyrata, better known as the trendy Fiddle Leaf Fig, is also thrown off by winter's lighting and humidity changes, says Neese.
"I tell people they're like 'cranky little ole men' who don't like changing or moving around," she jokes. To keep their conditions as consistent as possible, once daylight starts to fade in winter, she'll put hers under a sun-mimicking grow light. (We rounded up a few of those here.)
Finally, she'll give her Fiddle Leaf Fig—and all her greenery—a dose of plant protectant (Arber is her go-to option) to guard against any diseases, pests, and creepy-crawlies that could be lurking this season.
Advertisement
This ad is displayed using third party content and we do not control its accessibility features.
Peperomia
Finally, Lalicata has found that this ornate plant genus is not so crazy about winter either. "I'm actually in a battle with mine at home—I keep moving them around. They're very sensitive to cold temperatures or drafts," she explains.
If you have a room in your home that's free of drafty windows or doors and tends to stay warm, that's the spot for your Peperomias. This plant can dry out easily, too, so be sure you're checking on its soil often, making sure to water it enough.
The bottom line.
The dry air, short days, and chilly conditions of winter can do a number on some plants—particularly Calatheas, Peperomias, and Fiddle Leaf Figs. Be sure to check in on yours throughout the season and adjust their care as needed.
Advertisement
This ad is displayed using third party content and we do not control its accessibility features.