Close Banner
Advertisement
This ad is displayed using third party content and we do not control its accessibility features.
This Simple Sugar Is About To Take Over Your Skin Care Routine

Contributing Wellness & Beauty Editor
By Lindsay Kellner
Contributing Wellness & Beauty Editor
Lindsay is a freelance writer and certified yoga instructor based in Brooklyn, NY. She holds a journalism and psychology degree from New York University. Kellner is the co-author of "The Spirit Almanac: A Modern Guide to Ancient Self Care," with mbg Sustainability Editor Emma Loewe.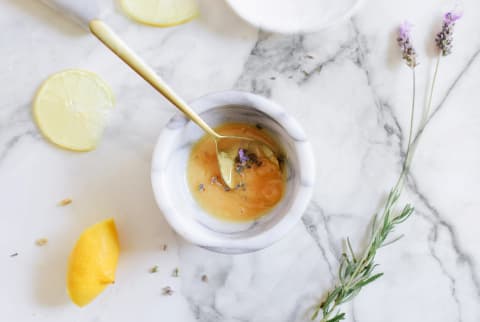 It's no secret that mbg writers and editors are huge Manuka honey fans. We've been sharing stories that highlight the healing benefits of pure Manuka honey for a long time—from the near-miraculous cystic acne-healing stories to mbg's own health editor who wrote about how it helped her hormonal breakouts. It's one of our favorite natural and holistic skin care remedies.
Lately, honey has become a trendy ingredient in skin care. Instead of using a simple, single-ingredient mask straight form the jar, it's in cleansers, moisturizers, and treatments. Furthermore, honey has become central to several new brands' identities.
Skin care's honey moment.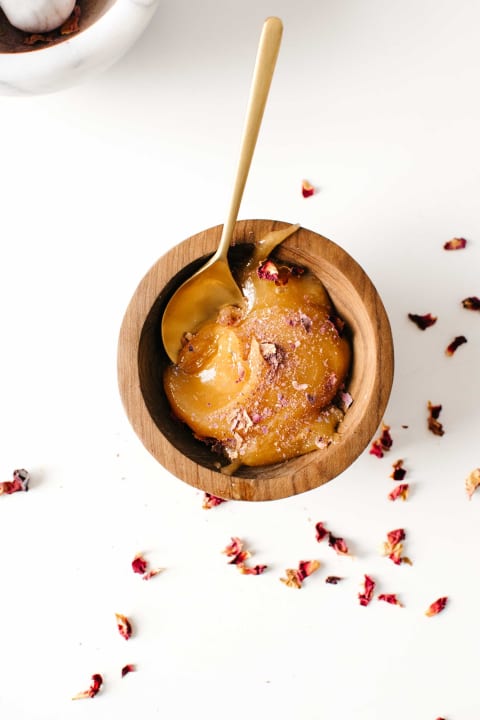 Photo: Kale & Caramel
Farmacy is a prime example of a better-for-you brand that blew up thanks to Sephora, which released its honey collection just shy of a year ago, ahead of this year's surge. Its founder realized most mass-produced honey was rife with pesticides, so he decided to make his own on one of his three farms to include in the five-product range: A treatment mask, moisturizer, cleanser, all-purpose salve, and lip balm.
Marin Bee is another skin care company, albeit lesser known, for which honey and the beekeeping lifestyle are fundamental to the brand. Its husband-and-wife founders were backyard beekeepers who aimed to spread the word about honey bee die-off before starting Marin Bee. They taught free beekeeping workshops, educated classrooms of all ages, and eventually started up the wildflower, honey-infused, therapeutic skin care line.
While these brands are starting with skin care and infusing it with honey, the inverse is happening too. Wedderspoon, a honey company known for years as the gold-standard for its glass jar of K-factor 16 food-grade Manuka, a favorite of honey-masking influencers, has a skin care line inspired by the sweet stuff launching later this month, on June 18. "We know how popular Wedderspoon's Manuka honey has been with skin care enthusiasts—for example, people can't get enough of DIY face mask recipes that incorporate our product," said Wedderspoon CEO Rebecca Remley. "So our new skincare line is a natural extension of that interest and shows how we're always looking to surprise our customers with innovative new products."
Why honey, why now?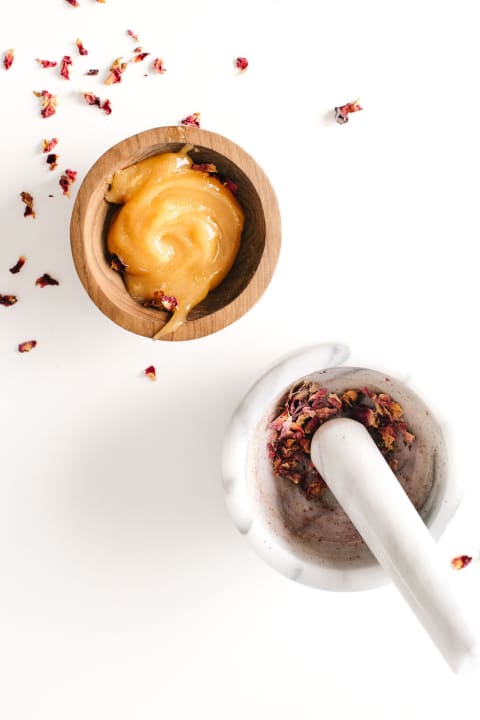 Photo: Kale & Caramel
Korean beauty, or K-beauty, which is growing in popularity among clean and conventional skin care enthusiasts alike, utilizes honey as a healing superfood ingredient in many products. "Honey is becoming popular in mainstream beauty and has been trending in Korean beauty because it can have natural antibacterial properties which can help curb breakouts," said Alicia Yoon, K-beauty expert and founder of Peach & Lily, a Korean beauty retailer. "Additionally, honey can be very soothing, hydrating, and nourishing to the skin."
To clear up any confusion, "honey skin" is another entirely separate K-beauty phenomenon related to the honey ingredient by word choice and not much else. If someone says your skin is "honey," it's a compliment on your skin texture that means it's visibly hydrated, dewy, plump, and glowy. Regardless of its disassociation with the actual nectar, it's boosted the honey buzz all the same.
Cookbook author and creative behind the popular blog Kale & Caramel, Lily Diamond, has been washing her face with honey for the last decade. "It's a joy to receive daily testimonials and before and after pics from people watching honey clear up persistent skin woes," she said. "I'm thrilled to see the mass market catching up to nature's ancient wisdom."
Other indie skin care brands have started adding honey as a key healing ingredient to their new product launches. Aussie beauty brand Dr. Roebuck's new Tama healing mask features turmeric, Manuka honey, and avocado oil. Salud Shoppe, a lifestyle boutique for sustainable skin care, clothing, and home decor, recently launched a capsule collection of skin care that includes a honey-infused oil cleanser. And later this month, on June 24, skin care giant Origins is slated to release a new, honey-infused iteration of its no. 1 best-selling mask in the United States, the Clear Improvement Charcoal Honey Mask.
Don't worry, jar-to-face honey is here to stay.
To be sure, the jar-to-face days of Manuka aren't behind us—in fact, they're more widespread than ever before. Case in point is Activist Manuka, the new kid on the block as of May 2018, which launched exclusively with green beauty mecca, CAP Beauty. The brand is giving the New Zealand–based honey a "makeover," and aiming to elevate the Manuka experience and make it more of a lifestyle. With influencers posting about their Manuka honey masking now more than ever before and with the continued expansion of the Manuka market, it's safe to say the sweet stuff is here to stay.
If you like Manuka honey, you might want to try products that contain its sister ingredient, propolis.