These DIY Toilet Bowl Cleaners Are Nontoxic & Really Work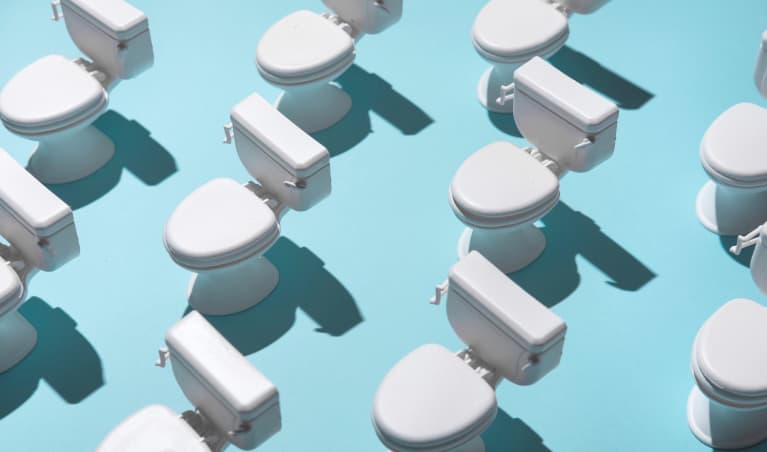 As an environmental toxin expert, I've long been an advocate for creating your own products, whether it be a DIY spot cleaner, laundry detergent, or toilet bowl cleaner. Yes, toilet bowl cleaner!
The benefits of homemade toilet bowl cleaners.
First of all, DIY cleaners contain fewer harsh chemicals than packaged ones.
It's common for conventional toilet bowl cleaners not to disclose a complete list of chemicals because the companies want to keep their formulas "proprietary," or a trade secret.
If there is a list of ingredients on the label, it's usually vague, such as "water, thickener, cleaning agents," leading us to think: Which thickener(s)? And which cleaning agents?
Since most of these cleaners contain warnings such as "Danger: Corrosive. Harmful or fatal if swallowed. Causes irreversible eye damage and skin burns. Wear protective eyewear, gloves, and protective clothing. Wash thoroughly with soap and water after handling. Do not breathe vapor or fumes. Use in well-ventilated areas," it's reasonable to think that their ingredients can be dangerous when mishandled.
Some common toilet bowl cleaner ingredients have indeed been found to be corrosive to the skin, eyes, and mucous membranes when mishandled. They can also be irritating to the respiratory system in large doses. Here's a list of a few common ones:
Making your own DIY cleaner will mean you don't have to gear up with gloves, eyewear, and protective clothing just to clean your toilet. It will also save you money in the long run and cut down on packaging waste.
Here are my two favorite recipes—both of which use simple, accessible ingredients and are a breeze to put together. Most importantly, they really work!
A 1-ingredient DIY toilet bowl cleaner (for overnight use)
Pour about half of a 32-oz. bottle of white vinegar into the toilet bowl before bed.
Leave it overnight, and then scrub it in the morning.
A 2-ingredient toilet bowl cleaner (for rapid use)
2 cups white vinegar
1 cup baking soda
Pour 2 cups of white distilled vinegar into the toilet bowl, followed by approximately 1 cup of baking soda. This will create a fizz. (Never combine these two ingredients ahead of time, as it will create a huge mess! Store separately. For convenience, I like to keep a large 64-oz. bottle of vinegar and a box of baking soda under each bathroom sink.)
Scrub and let sit for 15 to 20 minutes before flushing. If needed, you can repeat.
How to customize your cleaner:
Never combine bleach and vinegar. Combining these ingredients creates dangerous fumes that can be harmful or even fatal. Ultimately, don't mix a bleach-based cleaner with a vinegar-based DIY cleaner. For example, don't use a vinegar-based DIY toilet bowl cleaner with a bleach-based bathroom cleaner to clean the rest of the toilet.
Many of the best (and safest) cleaners can be made in our own homes, with the right ingredients. To clean your toilet, all it takes is some white vinegar and baking soda.