The "I Woke Up Like This" Guide To Holistic Facial Treatments

Contributing Wellness & Beauty Editor
By Lindsay Kellner
Contributing Wellness & Beauty Editor
Lindsay is a freelance writer and certified yoga instructor based in Brooklyn, NY. She holds a journalism and psychology degree from New York University. Kellner is the co-author of "The Spirit Almanac: A Modern Guide to Ancient Self Care," with mbg Sustainability Editor Emma Loewe.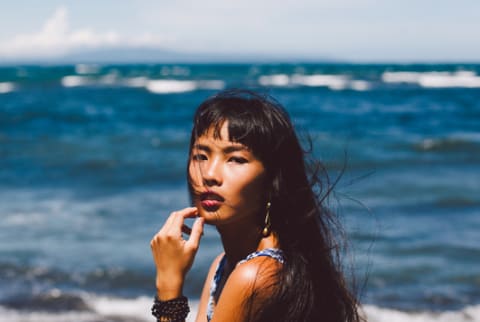 December 7, 2016
I believe it was beauty maven Emily Weiss who coined the brilliant phrase "skin care as makeup," which has stuck with me since reading it years ago. What a lightbulb moment! It's simple, logical, and in three words explains the value of good skin care: When you take care of your skin consistently over time, the texture, radiance, and clarity will improve.
I used to love putting on makeup. It was a romantic thing to have 30 plus minutes every morning to curl my hair and apply a full face: primer, foundation, contouring, bronzer, eye shadow, smokey eye, mascara, and a lip if I was feeling adventurous. But nowadays, I value sleep more than a face full of makeup.
Advertisement
This ad is displayed using third party content and we do not control its accessibility features.
Plus, over the years, I've learned how unregulated the U.S. cosmetics industry is. Do you know that America has currently banned 11 ingredients in cosmetics while Europe has banned more than 1,300? That means there are quite a few products on the market in the United States that aren't allowed in Europe because they are deemed too toxic.
Don't get me wrong. I've always appreciated the artistic element of makeup—it's so enchanting and changing your look can do wonders for your confidence—but in my purview, makeup should be a fun optional add on, not something you need every day to cover up the skin.
Of course, there are more green beauty options now than ever before, but I've learned that what you do consistently has more of an impact than the occasional Saturday-night cat-eye. It's like anything: if you want to see a change, you have to change something! At the end of the day, isn't the goal to "wake up like this," with naturally glowing skin? We thought so.
Here are our current favorite natural facial treatments that will make a difference in your skin, and maybe even eventually eliminate the need for makeup. Many of these you can adopt in your at-home skincare rituals, too.
1. Gua Sha
What is it? According to Britta Plug, a natural beauty aesthetician who regularly treats clients with gua sha, it's scraping technique from Traditional Chinese Medicine that's thousands of years old and typically used on the body, but aestheticians have begun to modify it—make it more gentle—so it can be used on the face. Traditionally, pieces of horn or jade are used. When you get gua sha on the body, you'll see bruising much like we do with like cupping.
How does it work? A jade board like the one pictured above is used to gently scrape the face, stimulating circulation of blood, lymph and chi. It also releases tension in tissue, fascia, and facial muscles. Like any facial massage, gua sha brings vitality to the face, and when working with lymph especially, you'll get a great detox.
What are the beauty benefits? The scraping motion stimulates collagen and elastin, kind of like exercise for the face, bringing the life force back. When we release long held tension patterns in the face (like jaw tension) you're opening the face back up and releasing the patterns that create wrinkles. With a professional treatment, people see and feel results directly after. It's great to do before an event but Britta doesn't recommend doing it for the first time before an event. In general, gua sha drains puffiness, improves glow, lifts, and firms.
Who benefits most from this? Great for congested skin, not for cystic acne (not skillful enough). For skin that is dull, lacking in vitality, showing signs of aging,
How much does it cost? Approximately $200 for a professional treatment.
Can I include it in my daily routine, for free? Yes, Britta teaches a workshop on at-home gua sha because it is a little bit tricky to master on your own. You want to get the right technique and once you do, it's super effective. It's like going to see a personal trainer—if have good form you're clear to start your own routine. Britta wrote about how to do it here.
2. Microcurrent facial
What is it? Microcurrent technology employs a mild electrical current to stimulate facial skin and muscles.
How does it work? Shamara Bondaroff of NYC's SB Skin explained that microcurrent facials re-educate the face muscles. Thirty two different facial muscles are manipulated with metal probes to physically move the muscles into the desired position. The sensation is tingly—you can feel and taste the electric currents at work, we think it's amazing. The treatment affords the muscles the necessary energy to keep tension in their new improved position.
What are the beauty benefits? Microcurrent promotes healing from sun damage and inflammation, and increases collagen and elastin production. The high frequency electrical signals reach deep into the facial muscles and surrounding tissues to promote circulation and collagen production, as well as cellular repair and regeneration.
Who benefits most from this? Anyone who wants to regain youthful volume, glow and lift. Microcurrent is one of the most effective non-invasive anti-aging treatments.
Additionally, according to Shamara, microcurrent technology has been used by alternative medicine practitioners and physicians for over a century to treat an array of injuries, wounds, soft tissue damage and bone fractures. Scientists have found that microcurrent treatments trigger the body's production of amino acids and adenosine triphosphate (ATP), which accelerate cell repair and promote healthier cell production, making it a highly-healing, restorative and regenerative treatment.
How much does it cost? A facial is around $200. We recommend a series of 3-5 to start, so you can really retrain the facial muscles. After that, regular maintenance treatments are recommended.
How can I include it in my daily routine, for free? Not free, but there are handheld home microcrrent machines that are a good option. Also, facial massage to relax the facial muscles is helpful as well.
Advertisement
This ad is displayed using third party content and we do not control its accessibility features.
3. Eyebrow tinting with plant-based or henna dyes
What is it? Tinting eyebrows is like less-intense version of dying your hair. It's a semi-permanent dye specifically formulated for your brows that darkens them.
How does it work? Very much like hair dye. Your brow stylist will custom blend a color based on your natural hair color and complexion, mix it with developer, and apply the dye. After about 10 minutes of processing, the color is removed and your bolder brows await.
What are the beauty benefits? Brows are the frames of the face, and there's a science behind their symmetry. As bold brows continue as a beauty trend, tinting them can help give overplucked or undergrown brows new life, shape, and structure making the face look more groomed and put-together. If you fill them in daily, it will cut the time you spend on your brows in half or more.
Who benefits most from this? Anyone who has very light or sparse eyebrows, or who fills eyebrows in daily, will benefit from brow tinting.
How much does it cost? It ranges (and will be more if you add shaping onto your treatment), but typically shouldn't be much more than $25.
How can I include it in my daily routine, for free? Perhaps not for free, but you can certainly purchase and mix your own plant-based dyes. We recommend following the instructions on the boxes. If you're not ready for dye just yet, try our natural DIY recipe for brow powder and gel (using cacao powder!).
4. Facial Acupuncture instead of botox
What is it? Essentially, it's specialized acupuncture for your facial muscles that's recommended as an alternative to botox.
How does it work? Acupuncture needles encourage circulation and unblock chi, allowing it to flow freely. In order to see optimal benefits, Kerrilynn Palmer, owner of NYC's green beauty mecca CAP Beauty, recommends doing a series of at least 12 sessions as it takes time and repetition for the body and skin to rebalance.
What are the beauty benefits? Acupuncture stimulates collagen and elastin growth. It increases circulation and therefore promotes detoxification, oxygenation, and an overall "juiciness" to the skin.
Who benefits most from this? It's really great for treating rosacea or releasing heat from the skin. Anyone who wants a natural "lift" without getting botox would benefit from this treatment, or anyone suffering from stressed-out skin.
How much does it cost? At CAP Beauty, the treatment is $375 for 90 minutes.
How can I include it in my daily routine, for free? We recommend trying this at-home acupressure technique, as anything utilizing needles warrants a licensed professional! Kerrilynn agrees that an at-home acupressure routine is a great way to increase the skin's radiance. In Japan, the women have a skincare routine centered around massage: it's at least 4 minutes of stimulating massage with two minutes or more of rinsing.
Advertisement
This ad is displayed using third party content and we do not control its accessibility features.
5. Infrared sauna
What is it? Infrared sauna uses infrared light frequencies to emit dry heat in an enclosed space, aiding in detoxification.
How does it work? With infrared light emitted as heat frequencies, these saunas claim they're seven times more powerful and effective than "normal" saunas.
What are the beauty benefits? For skin specifically, infrared can heal the dermis and epidermis layers of the skin resulting in more radiant and less wrinkled skin. Studies have also shown that it can benefit health by lowering blood pressure and stimulating endorphin release: two things that, holistically, also can affect the quality of your complexion.
Who benefits most from this? Anyone living in a cold climate, who needs to detox, who is looking to de-stress or decompress, or who hasn't gotten her sweat on in a while. Infrared is also helpful for sore muscles.
How much does it cost? Approximately $50 for a 30 minute session, $700 for an infrared blanket. Pro tip: bring lots of water!
How can I include it in my daily routine, for free? Although it's not the same thing, we recommend a weekly facial steam you can do at home.
6. Buccal Massage
What is it? It's a facial massage that also includes a technique from inside the mouth targeting the jaw, temples, and other facial muscles prone to hold tension.
How does it work? Tackling deeply held stress from the inside of the mouth is hardly ever done. It's a powerful release, draining lymph, tension, and some say it even sculpts tissue over time.
What are the beauty benefits? After the massage, facial muscles are temporarily lifted, plumped, and sculpted.
Who benefits most from this? Jaw-clenchers, teeth grinders, anyone who holds tension in her head (most of us do), or who is looking for a brand new type of natural facial treatment.
How much does it cost? Typically around $200 for an hour treatment that includes standard facial cleansing and massage practices.
How can I include it in my daily routine, for free? While this isn't exactly a buccal massage, it's a great place to start understanding facial self-massage, adding on the open-mouth element if you're feeling adventurous.
Advertisement
This ad is displayed using third party content and we do not control its accessibility features.
7. BONUS: A weekly mask for Self-Care Saturday
An oldie but goodie recommended by Britta Plug is a manuka honey mask. It speeds up the healing of breakouts, minimizing the needs of concelear, and manuka is the most potent active honey on earth. It's essentially a supervitamin for the skin. If you don't have manuka honey available, try one of these fresh, DIY masks:
Advertisement
This ad is displayed using third party content and we do not control its accessibility features.