This Workout Can Seriously Improve Your Mental Health
mbg Associate Movement & Wellness Editor
By Ray Bass, NASM-CPT
mbg Associate Movement & Wellness Editor
Ray Bass is the associate movement and wellness editor at mindbodygreen and a NASM-Certified Personal Trainer. She holds a degree in creative writing from the University of Pennsylvania, with honors in nonfiction.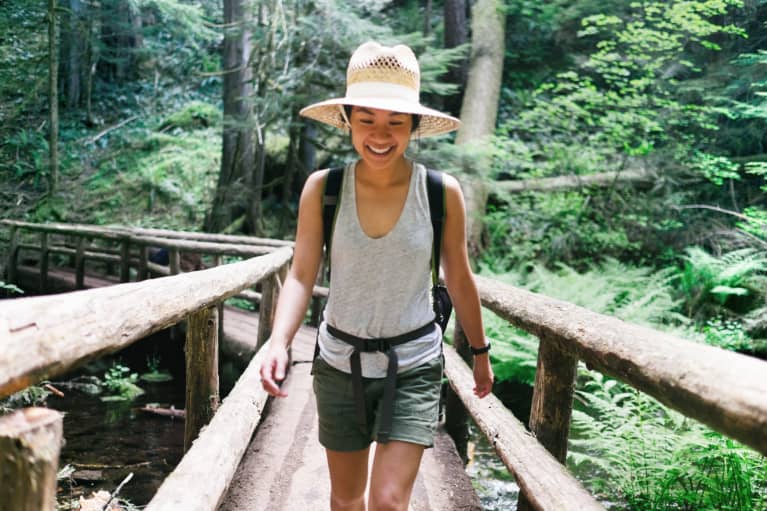 Too often when we weigh the benefits of exercise, we tend to focus on the aesthetic. There's a persistent pressure to exercise to look "good"—to whittle ourselves down to a smaller size and to shape our bodies in a way that pleases someone else. Not only can that mindset be detrimental to our physical health by encouraging destructive habits, but it also takes our attention away from a far superior benefit of exercising: the betterment of our mental health.
Fortunately, the tides are starting to shift (albeit slowly), and more people are beginning to use exercise to improve their mental health—not just as a means to a fitter end. And one of the best workouts for your mental health, as it turns out, is hiking. Here's why.
How exercise improves your mental health.
If you've read anything about the benefits of exercise, there's a 99.85% chance you've come across the word "endorphins." Yes, those are released through exercising, but there is so much more to unpack when it comes to the positive impact exercise has on our brains.
"Exercise is probably the most underutilized antidepressant," says Ellen Vora, M.D., a holistic psychiatrist and mindbodygreen Collective member. "It's been shown in large clinical trials to be just as effective as antidepressants (if not more), and it has benefits like improved sleep, focus, cardiovascular health, and life span."
There's also a long list of mental health conditions that exercise can help mitigate, Vora adds, including depression, anxiety, insomnia, ADHD, stress, and bipolar disorder—all of which affect millions of people every year.
Any sort of exercise will, in theory, improve the state of your mental health and make you feel better. But if you can combine the benefits of exercise with the benefits of nature—like going for a hike—that's when the true healing happens.
How hiking improves your mental health.
Beyond being an enjoyable solo or group activity, hiking combines two of the most potent antidepressants: exercise and nature.
"Nature is critical to our mental health," Vora says. "Studies have shown that staring at trees and greenery can decrease stress and anxiety and improve your mood."
And given that many of us spend our days toiling away behind computers and swiping for stimulation on our phones, getting out in nature, Vora notes, is more important for our mental health than ever.
"We as humans evolved while surrounded by and in tune with the natural world. In our modern existence, we've gotten so out of touch with that, spending our days in windowless cubicles and staring at screens. This disconnection with nature can make deep parts of ourselves feel alienated and very far from 'home.'"
Hiking gives us the best of both realms—the natural and physical. As Vora notes, it reconnects us with nature while getting our hearts pumping and causing a burst of serotonin, dopamine, and GABA secretion.
So the next time you're in need of an all-natural pick-me-up, first tell yourself to (seriously) take a hike, then gather yourself and go for it.