30 Healthy Super Bowl Snacks To Keep Your Game-Day Energy Up

mbg Nutrition & Health Writer
By Abby Moore
mbg Nutrition & Health Writer
Abby Moore is an editorial operations manager at mindbodygreen. She earned a B.A. in Journalism from The University of Texas at Austin and has previously written for Tribeza magazine.
February 4, 2021
We carefully vet all products and services featured on mindbodygreen using our
commerce guidelines.
Our selections are never influenced by the commissions earned from our links.
Football fan or not, nearly everyone can agree that game-day snacks are worth celebrating. Unfortunately, most Super Bowl snacks are loaded with excess, um, everything, which makes it hard to sustain the energy needed to cheer on your team.
Sugars, including those in refined carbohydrates and starches, often lead to a spike in blood sugar and then a crash later in the day. Traditional game-day foods, albeit delicious, often trigger these blood sugar dips, leading to sluggishness and a lack of energy.
To keep your blood sugar balanced and your energy levels up throughout the game, consider making these 30-plus nutrient-dense and ultra-satisfying snack recipes: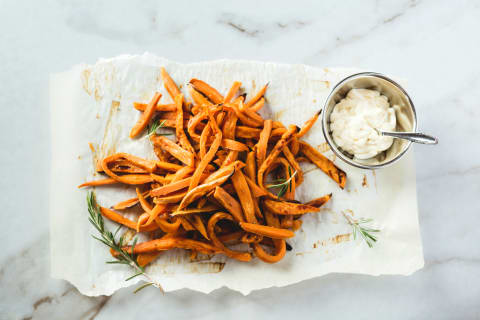 Image by Tatjana Zlatkovic / Stocksy
These gut-healthy sweet potato fries are a better-for-you alternative to traditional french fries. This oven-baked version is seasoned with cayenne flakes, fennel seeds, salt, and chaat masala for a unique salty, spicy, sour flavor.
Pro tip: Make these ahead of time and bake them again on game day for an extra-crispy end result.
2.
Crispy cauliflower wings
3.
Loaded sweet potato nachos
The base of these loaded sweet potato nachos features thinly sliced sweet potatoes in place of tortilla chips. They're topped with a mix of sweet and spicy fruits and veggies, including mango, lime, serrano peppers, and chili in adobo sauce, as well as a blend of creamy and crunchy with avocado and radishes. For a plant-based version, simply swap the Monterey Jack cheese for a vegan blend.
4.
Sweet potato and white bean quesadilla
Depending on the tortilla you use and the ingredients you fill it with, a quesadilla can be a tasty vessel for healthy veggies and legumes. This recipe calls for sweet potato, white beans, and avocado, but feel free to swap in any vegetables you like, for a healthy five-minute meal or Super Bowl snack.
5.
Pita chips with superfood guacamole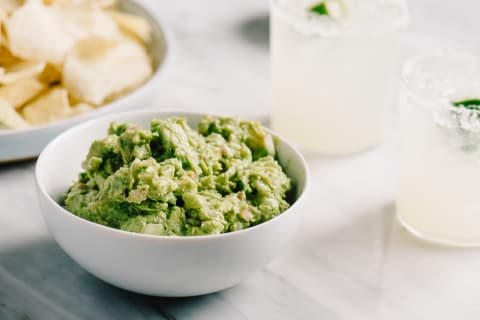 Image by Cameron Whitman / Stocksy
Premade chips and guac are great, but making your own homemade version can be more fulfilling. The pita chips are flavored with fennel seeds and chili flakes for a spicy kick, and the superfood guacamole is blended with edamame beans and kale for added fiber.
6.
Butternut squash macaroni and cheese
This creamy butternut squash mac and cheese is loaded with fiber, antioxidants, and vitamins from the butternut squash. Instead of heavy cream and cheese, this vegan version uses coconut milk and nutritional yeast for a comparable yet more allergy- and dietary-friendly version.
7.
Parmesan cauliflower tater tots
Cheesy. Tater tots. Need we say more? These cheesy cauliflower tots are made with a blend of cruciferous cauliflower instead of potatoes and blended with parsley, garlic powder, and Parmesan cheese for a simple yet flavor-packed Super Bowl snack.
No Super Bowl party is complete without ranch dip. Though the store-bought variety tends to be loaded with heavy lactose-filled bases, such as mayonnaise or buttermilk, this veggie-packed ranch is dairy-free. It uses thick coconut milk and sunflower seeds and contains mindbodygreen's organic veggies+ powder for an anti-inflammatory, antioxidant boost.*
Serve the dip with veggies or pizza, depending on your guests' preferences.
10.
Keto Buffalo roasted cauliflower nachos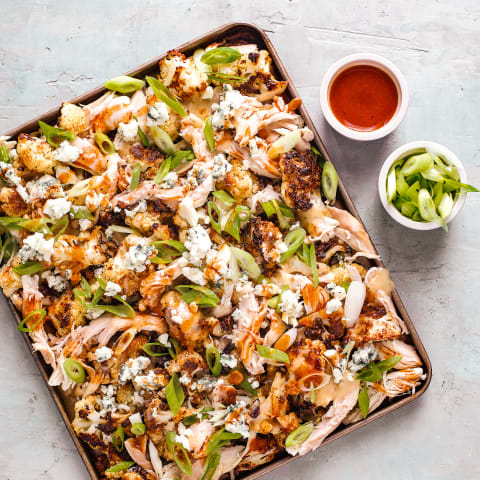 Image by Becky Winkler / Contributor
Buffalo chicken and nachos are arguably two of the most popular game-day snacks, so why not combine them? Recipe developer and keto cookbook author Kristy Bernardo recommends using cauliflower as the base for these keto Buffalo roasted cauliflower nachos and topping them with protein like blue cheese, pork rinds, and Buffalo chicken, of course.
For a more protein-packed fry, use tofu in place of potatoes. These keto tofu fries are pan-fried with sesame oil for a distinct umami flavor. Just be sure to completely dry out the tofu before cooking to achieve the crispiest crunch.
12.
Crispy keto fried chicken
Speaking of a crispy crunch, this keto fried chicken is a better-for-you version of the greasy game-day staple. The batter is made of pork rinds, Parmesan cheese, and seasonings like onion and garlic powder. They're then fried in coconut oil, which is a good source of healthy fat.
To make sure you're getting the highest-quality fried chicken, be sure to look at the ingredient list on your pork rinds (we recommend EPIC's pork products, which are made with antibiotic-free, non-GMO, organic, and pastured pork).
13.
Cauliflower breadsticks
Have leftover cauliflower from the cauli nachos or Buffalo wings? Use it to make these cauliflower breadsticks. With less carbohydrate than traditional breadsticks, this veggie version will keep you satiated longer. Keto and non-keto eaters alike can enjoy this low-carb, high-protein snack.
14.
Chicken crust taco pizza
Chicken crust taco pizza is definitely not made for the plant-based eater, but anyone following a grain-free or keto diet is in the clear.
The base of this pizza is, in fact, made with ground chicken. It's then decorated with taco toppings like salsa, cheese, cilantro, and black olives. Though how you choose to top it is up to you—either way, you're already getting a decent-size serving of protein from the crust.
15.
Vegan cauliflower mac and cheese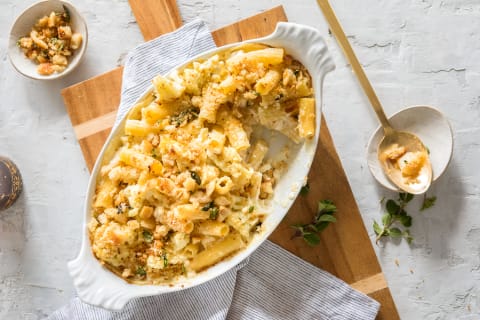 Image by Ivan Solis / Stocksy
This cauliflower cashew mac and "cheese" is so decadent, you won't even notice the healthy substitutes. To make this dish grain-free, it uses chopped cauliflower in place of pasta. And its plant-based sauce features nutritional yeast, cashews, and nut milk. While the recipe does contain ham, it's simple to remove for a vegetarian version.
16.
Kale and Brazil nut dip
Depending on where you live, this snack is either referred to as queso or cheese dip. Whatever you call it, nearly everyone can agree that it's one of the best companions to tortilla chips. For a more dietary-friendly option, this vegan cashew queso uses protein-packed cashews and anti-inflammatory spices like turmeric and garlic.
18.
Vegan chili mac and cheese
Similar to the Buffalo chicken nachos, this vegan chili mac combines two comfort food classics into one dish. The chili portion provides protein and fiber from the black beans and lentils, while the macaroni portion provides vitamin B12 from the nutritional yeast, as well as other antioxidants from spices like turmeric, garlic powder, and smoked paprika.
19.
Vegan chili cheese nachos
These chili cheese nachos were developed by cookbook author Angela Liddon to replicate the fast-food version she ate growing up. "You won't believe how decadent-tasting—yet wholesome—the cheese sauce is, and how satisfying the smoky lentil and kidney bean chili feels," Liddon once wrote. But don't just take her word for it—make and taste them for yourself.
20.
Grain-free chicken tenders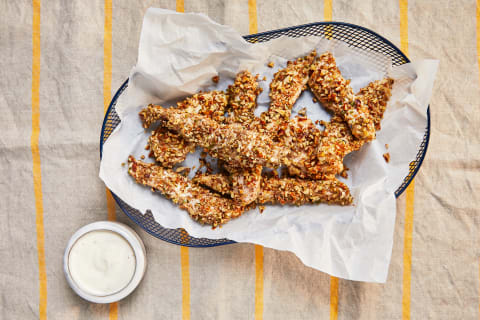 Image by Joe St. Pierre Photography / Stocksy
Developed by Jessica DeMa, author of Clean Paleo Comfort Food, this take on tenders uses crunchy pecans and ghee to coat the chicken pieces before they're baked (instead of frying) for a more heart-healthy dish.
Nightshades (aka produce like white potatoes, tomatoes, peppers, and eggplants), while healthy for some, can lead to inflammation in others. If that's you, opt for this nightshade-free curry turkey chili—it provides all the comfort, warmth, and flavor of a traditional chili without the potentially irritating ingredients.
Umami, one of the five basic tastes, is the key to rich flavor in dishes, and this umami bomb cashew dip is no exception. The dip gets it creaminess from the blended cashews and the fermented miso paste adds a gut-friendly, savory flavor. Serve it with veggies, sesame crackers, or beet chips (recipe below) for a well-rounded, filling snack.
Dumplings may not be a common tailgate food, but they're bite-size and dippable, so we think they deserve a seat at the Super Bowl snack table. These gluten-free vegan dumplings are a good place to start if you're new to making the dish. They call for premade wonton wrappers, nutrient-dense mushrooms, and budget-friendly cabbage. Tip: Dip them in coconut aminos for a low-sodium alternative to soy sauce.
24.
Fermented cranberry salsa
This fermented cranberry salsa is definitely not your standard tomato fare. The cranberries, cranberry juice, ginger, and lime give this dip a tart flavor profile, while the jalapeños provide a much-needed kick of spice. Not only will the dip add something unique to your snack menu, but with a fermented ingredient, it's also gut-friendly.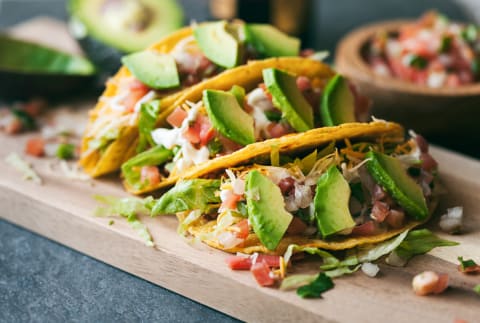 Image by Sean Locke / Stocksy
Would you believe us if we said Brooklyn Borough president Eric Adams got this black bean taco recipe from Paul McCartney? Well, you should. The dish was part of the rock star's Meat-Free Monday campaign, which Adams adopted along his health journey.
They're simple to make and filled with a range of flavorful spices, veggies, and protein from the legumes. If they're good enough for those two notable men, they'll be sure to rock it at a Super Bowl party.
Sloppy Joes were given their name for a reason. The delectably messy meat sandwich is associated with childlike fun and, therefore, fits well into the sporting-event theme. To recreate a similar experience without the meat, try these vegan sloppy Joes, aka "Sloppy Janes." They're rich in vegetables and provide a good source of protein and fiber from both pinto beans and kidney beans to keep you satiated throughout the game.
27.
Mediterranean chicken burger
There's nothing quite like burgers and beer (or nonalcoholic beer, if that's your preference) on game day. If you're trying to limit your red meat consumption, or simply prefer poultry, these Greek-inspired chicken burgers are definitely the way to go. They're Mediterranean diet compliant, meaning they're filled with nutrient-dense, whole foods—without skimping on flavor.
Looking for a completely meatless burger instead? This vegan black bean burger gets its protein from black beans and quinoa. It's also a good source of beta-carotene from the grated carrots and anti-inflammatory properties from onions and garlic. Make these mini to serve as sliders, or full-size for a lunchtime meal.
These avocado chips use mashed avocado, seasoned with nutritional yeast, lemon juice, garlic powder, and salt, to create a crunchy, heart-healthy chip. For added fiber and texture, they incorporate hemp seeds and flaxseeds. To keep from going overboard on the avocado, skip the guac and dip these in salsa or enjoy them on their own.
30.
Beet and sweet potato chips
If you've made any of the dips above, you're probably now wondering (aside from raw veggies) what the healthiest conduit is for dipping? Well, look no further than these roasted beet and sweet potato chips. They require only four ingredients—two of which are the beets and the sweet potatoes themselves. But to achieve the desired crunch of a regular potato chip, they do take time to cook. Plan ahead for this Super Bowl snack!

Abby Moore
mbg Nutrition & Health Writer
Abby Moore is an editorial operations manager at mindbodygreen. She earned a B.A. in Journalism from The University of Texas at Austin and has previously written for Tribeza magazine. She has covered topics ranging from regenerative agriculture to celebrity entrepreneurship. Moore worked on the copywriting and marketing team at Siete Family Foods before moving to New York.