It's Chili Season: Health Benefits, Best Ingredients & 4 Recipes To Try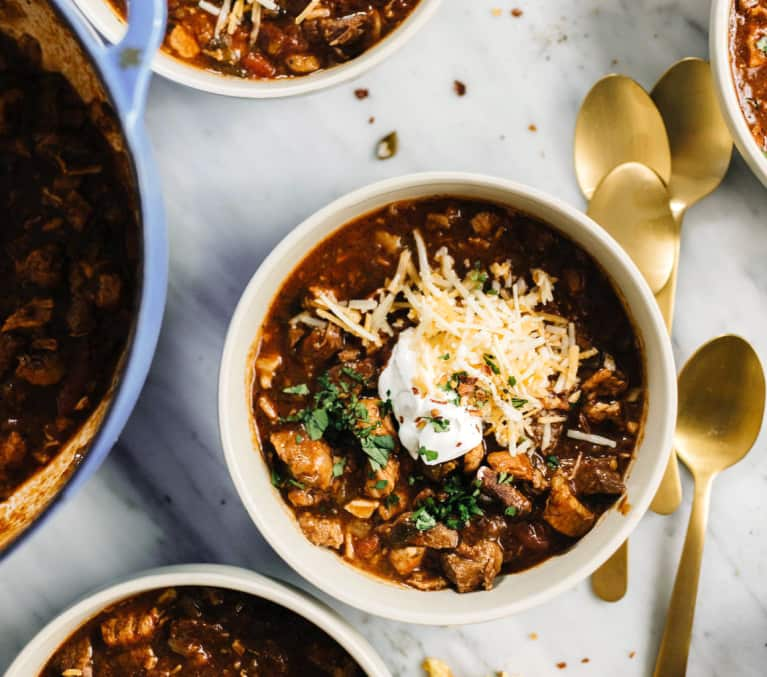 Last updated on December 23, 2020
There's nothing like getting cozy on a winter's night with some delicious, warming foods, like nutrient-rich chili. Unlike some not-so-healthy comfort foods, chili can actually contain a variety of healthy ingredients and nutritional benefits.
To get a bigger picture of the traditional fall dish, mbg spoke with registered dietitians about the benefits of chili. Plus, a run-down of the healthful ingredients (including an extra-nutritious addition) and four recipes to make.
"Chili is not only delicious, but it is packed with protein and fiber to keep you satiated, plus other essential vitamins and minerals to help you stay nourished," women's health dietitian Valerie Agyeman, R.D., tells mbg. "It's a great addition to any eating routine, and there are tons of chili recipes to suit your taste buds."
Along with versatility in taste, chili can also be adapted to suit a variety of dietary needs. Poultry, red meat, and seafood are just as fitting for chili recipes as plant-based proteins, like beans. "Including sources of protein in your eating routine is extremely beneficial to your skin, blood, hair, and nails," Agyeman adds.
Most chili recipes call for beans, which are a high-quality source of fiber. "Fiber not only works to help keep you regular," Agyeman says, "but it also slows the rate at which sugar is absorbed into your body, and can lower cholesterol levels."
For a nutrient-packed chili, nutritionists recommend incorporating these ingredients:
Beans: Whether a chili contains black beans, chickpeas, cannellini, navy, or pinto beans, it's sure to be packed with both protein and fiber from the legumes. Just be sure to follow these tips to reduce unwanted bean bloat.
mbg organic veggies+: Since most chili recipes are more bean-focused than veggie-forward, adding mbg organic veggies+ is a simple way to add an extra serving of vegetables to a meal. The greens powder contains fiber from cruciferous vegetables, including cabbage, broccoli, and kale; as well as omega-3 fatty acids from hard-to-find sea vegetables. "Adding mbg's veggies+ takes chili to the next level with a boost of sea veggies, phytonutrients, and antioxidants," Feller says. "The flavor pairs well with both sweet and savory, so it will complement any chili you make."
In addition to filling veggie needs, Jess Cording, M.S., R.D, CDN, previously told mbg: "I love that organic veggies+ features ginger and turmeric, for an additional antioxidant boost.*"
Variety of spices: Spicy spices, including chili powder and cayenne pepper, have been shown to increase thermogenesis (aka body temperature), which may help with weight management. Cumin, another common spice in chili, has been shown to support digestion and overall gut health.
Olive oil: While olive oil is generally added to chili in small doses (mainly to sauté the onions and bell peppers), the healthy fat is still beneficial. In fact, all it takes is a little more than half a tablespoon to reap the heart-healthy benefits of olive oil, according to one study.
Onions: Onions are full of antioxidants, including vitamins C and B. They're also a good source of prebiotic fibers, which make it possible for probiotics to survive in the gut microbiome. "There's almost nothing onions can't do," family physician Cate Shanahan, M.D., told mindbodygreen in a podcast episode.
Bell peppers and tomatoes: Both bell peppers and tomatoes are rich in vitamin C, vitamin K, and the well-known antioxidant lycopene, Maya Feller, M.S., R.D., CDN, says.
Best healthy chili recipes:
1.
Vegan Chili Macaroni & Cheese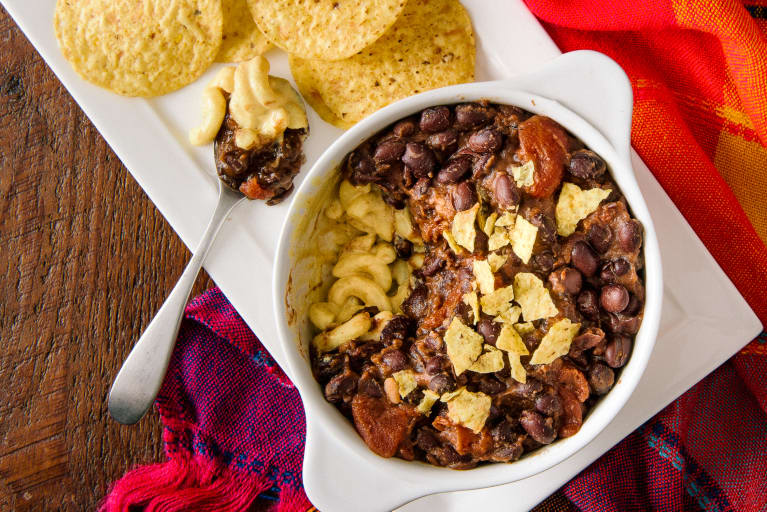 Make this vegan chili macaroni recipe because you shouldn't have to choose between the two. The versatile recipe gives the option of lentils or legumes, as well as the toppings of your choice—though we recommend avocado for the extra dose of healthy fats. The turmeric in this recipe can help manage inflammation, but adding mbg organic veggies+ will take those benefits up a notch.*
2.
Ancho Black Bean Chili With Orange Essence
With just one pot, this vegetarian black bean chili serves up fiber, folate, iron, potassium, and protein, as well as vitamins A, C, and K. The acidity and sweetness of the orange essence help balance the smoky flavors of the spices. Adding just one tablespoon of veggies+ powder can provide even more nutrients.
3.
Nightshade-Free Turkey Chili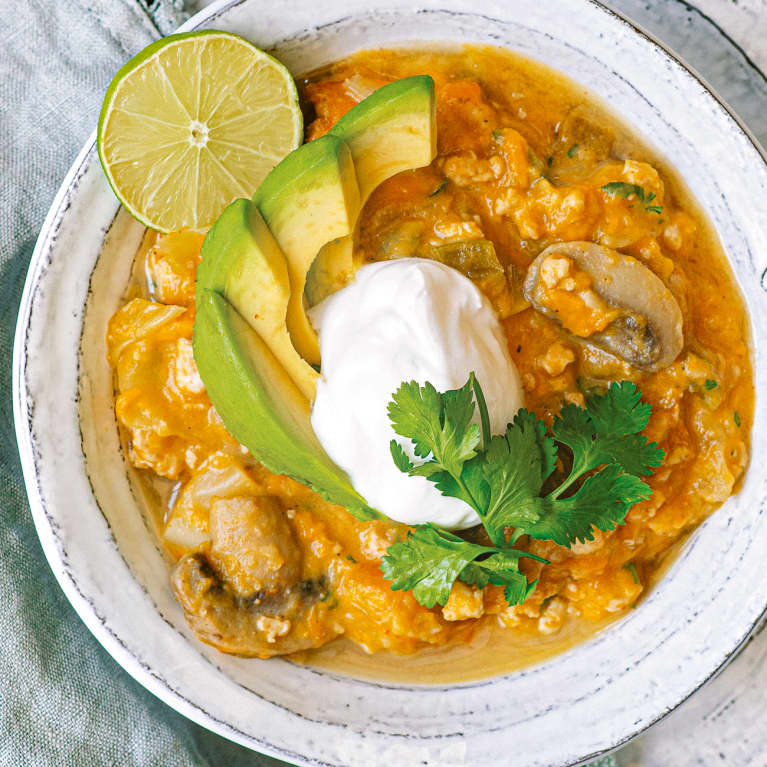 This turkey chili is free of beans but gets its protein from turkey. That said, with the addition of meaty mushrooms, vegans and vegetarians can remove the turkey without requiring any substitutions. The recipe derives its richness from coconut milk and its flavor from curry powder, cumin, and bay leaves.
It's not often that chocolate, beer, and chili are classified as healthy foods, but this chocolate stout chili makes it possible. Certified nutritionist, chef, and recipe developer Ariane Resnick, CNC, incorporates cocoa powder to help support brain health, mood, and energy levels. The high-fiber and protein from the beans also work to maintain energy levels and satiety until the next meal.
Chili can be a nutritious, nourishing dish—with strategic ingredients, like mbg's organic veggies+.
Aside from just eating chili with a spoon or a side of toasty bread, Agyeman also recommends scooping it on top of a baked potato. And don't limit chili to just a lunch or dinner meal, Feller recommends adding an egg on top for a next-level breakfast.