Want Healthier Tex-Mex? Enter Vegan 'Queso' & Turmeric-Ginger Chicken Fajitas

mbg Beauty & Wellness Editor
By Jamie Schneider
mbg Beauty & Wellness Editor
Jamie Schneider is the Beauty & Wellness Editor at mindbodygreen. She has a B.A. in Organizational Studies and English from the University of Michigan, and her work has appeared in Coveteur, The Chill Times, and Wyld Skincare.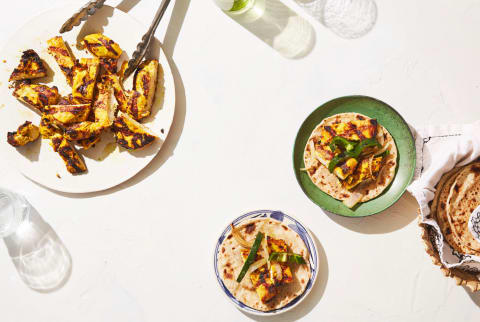 Image by Ren Fuller / Contributor
October 1, 2019
Our editors have independently chosen the products listed on this page. If you purchase something mentioned in this article, we may
earn a small commission
.
As a recent Texan-turned-New-Yorker, it's safe to say that the biggest thing I miss from home is the culinary gold mine that is Tex-Mex (and if my parents are reading this: you too!). Lucky for me, the recipes in Ama: A Modern Tex-Mex Kitchen, a new cookbook from chef Josef Centeno and former deputy food editor of the Los Angeles Times Betty Hallock, effortlessly recreate those familiar flavors from home, with a healthier, nutrient-dense twist.
Turmeric and ginger are especially anti-inflammatory, with cold-busting and immune-protecting properties, so adding these ingredients to a classic Tex-Mex dish seems just right for fall. Plus, the generous amount of garlic and onion (quintessential to a great Tex-Mex meal) has benefits for better gut health and has even been shown to reduce the risk of breast cancer.
Advertisement
This ad is displayed using third party content and we do not control its accessibility features.
Nutritional benefits aside, these recipes taste fantastic and will satisfy your Tex-Mex craving for days. Have your tortillas at the ready.
Vegan Cashew Queso 
Yes, there's a vegan version of queso, and it's just as delicious! The consistency should be velvety. You want to add enough almond milk so that it flows like thick chocolate syrup from a spoon but still sticks to a chip.
Makes about 2 cups (480 ml)
Ingredients:
2 cups (270 g) cashews
1 tbsp. avocado oil
½ an onion, finely chopped
6 garlic cloves, finely chopped
2 chipotles in adobo
1½ to 2½ cups (360 to 600 ml) unsweetened almond milk
¾ cup (180 ml) tomatillo salsa
2 tsp. grated fresh turmeric, or 1 tsp. ground turmeric
1 tsp. fine sea salt
Finely diced red onion for garnish
Finely chopped fresh cilantro leaves for garnish
Tortilla chips for serving
Advertisement
This ad is displayed using third party content and we do not control its accessibility features.
Method:
Heat the oven to 350°F (180˚C). Spread out the cashews in a single layer on a baking sheet. Roast them in the oven until golden and fragrant, shaking the pan occasionally, about 8 minutes. Remove from the oven and set aside to cool slightly.
Heat the avocado oil in a medium skillet over medium-high heat until hot and shimmering. Add the onion and garlic. Cook, stirring frequently, until lightly browned, 2 to 3 minutes.
Add the cashews, chipotles, 1½ cups (360 ml) of the almond milk, the tomatillo salsa, turmeric, and salt. Stir to combine, and remove from the heat.
Pour the mixture into a blender and purée until smooth. Add more of the almond milk if necessary for a smooth consistency. You don't want it too thin, though; it's a dip. (If using as a sauce, you can thin it out a little more.)
Transfer to a bowl, garnish with red onion and cilantro, and serve immediately with tortilla chips.
Store any leftover cashew queso in a covered container in the refrigerator for up to 5 days. Rewarm in a saucepan over medium heat before serving.
Turmeric-Ginger Chicken Fajitas 
Fajitas are traditionally made with skirt steak, but once people started using other cuts, all bets were off. In the 1970s, restaurants all over Texas marketed sizzling fajitas of all kinds. (The dirty secret of a lot of those sizzling fajita platters was someone standing at the pass with a squeeze bottle, waiting to squirt a little water onto each iron platter so it would go out to the table steaming and hissing.) These are a riff on chicken fajitas, which are often marinated in lime juice and spices. Here, the marinade is made with freshly grated ginger and turmeric, which aren't the usual Tex-Mex flavors. But they're great with chicken, which comes out a vibrant golden color from the turmeric.
Serves 4 to 6
Advertisement
This ad is displayed using third party content and we do not control its accessibility features.
Ingredients:
2 lb. (910 g) boneless, skinless chicken breasts
1 serrano chile, stemmed
1 knob (25 g) fresh turmeric, peeled and grated
1 knob (35 g) fresh ginger, grated
2 fresh bay leaves (optional; don't substitute dry)
2 garlic cloves, chopped
Fine sea salt and fresh black pepper
¼ cup plus 2 tbsp. (90 ml) olive oil
Juice of 1 lime
1 onion, cut into ½-inch (12-mm) rings
3 poblano chilies, halved lengthwise, stemmed, and seeded
8 to 12 flour tortillas, homemade or store-bought, warmed in a skillet over medium heat
Mexican salmorejo for serving
Method:
Butterfly the chicken breasts: Put a chicken breast on your cutting board. With one hand flat on top of it, carefully cut into the side of the breast horizontally with a sharp knife, almost all the way through but leaving a hinge so it will open like a book. Repeat with each breast.
Open the breasts and lightly score the breasts all over with the tip of a sharp knife to help the marinade penetrate the meat.
Chop the serrano chile. For less heat, first remove the seeds and ribs, rinse the chile under cold water, and pat dry.
Put the turmeric, ginger, bay leaves (if using), serrano, garlic, 1 tsp. salt, a few grinds of pepper, ¼ cup (60 ml) of the olive oil, and the lime juice in a food processor and pulse until blended but still nice and chunky. (Be sure the garlic is fully processed.) Transfer to a medium bowl. Alternatively, you can make the marinade by dicing the bay leaves, serrano, and garlic and then mixing the ingredients together in a bowl with a fork.
Put the chicken in the marinade, and turn to coat. Cover and marinate in the refrigerator for at least 1 hour and up to 6 hours.
Heat a grill to medium-high heat. Remove the chicken from the refrigerator and set aside.
Rub the onion rings with 1 tbsp. of the olive oil, keeping the rounds intact. Sprinkle with a pinch of salt and a couple of grinds of pepper. Rub the poblano chilies with the remaining 1 tbsp. olive oil. Sprinkle with a pinch of salt and a couple of grinds of black pepper.
Grill the onion rounds and poblanos until charred and cooked through, 2 to 3 minutes per side. Move to a cooler part of the grill and place on a piece of foil to keep warm while the chicken cooks.
Grill one side of the chicken until seared, with grill marks, and the chicken releases easily, 2 to 3 minutes. Turn 90 degrees so there are crosshatched marks and the chicken cooks evenly, another 2 to 3 minutes. Flip and repeat on the second side. Make sure the chicken is cooked through (a meat or instant-read thermometer should reach 165°F [74°C]). If it's not done, move it to a cooler part of the grill to finish cooking, or place on top of foil to cook more slowly, an additional 2 to 4 minutes.
Cut the chicken and poblanos into 1-inch (2.5-cm) slices, transfer to a platter, and serve with the onions, warm flour tortillas, and Mexican salmorejo.
Advertisement
This ad is displayed using third party content and we do not control its accessibility features.
Recipes excerpted from Ama by Josef Centeno and Betty Hallock with permission from Chronicle Books, 2019.
Want to turn your passion for wellbeing into a fulfilling career? Become a Certified Health Coach! Learn more here.
Advertisement
This ad is displayed using third party content and we do not control its accessibility features.