Our 5 Favorite Guacamole Recipes For National Guac Day
mbg SEO Editor
By Eliza Sullivan
mbg SEO Editor
Eliza Sullivan is an SEO editor at mindbodygreen. She writes about food, recipes, and nutrition—among other things. She studied journalism at Boston University.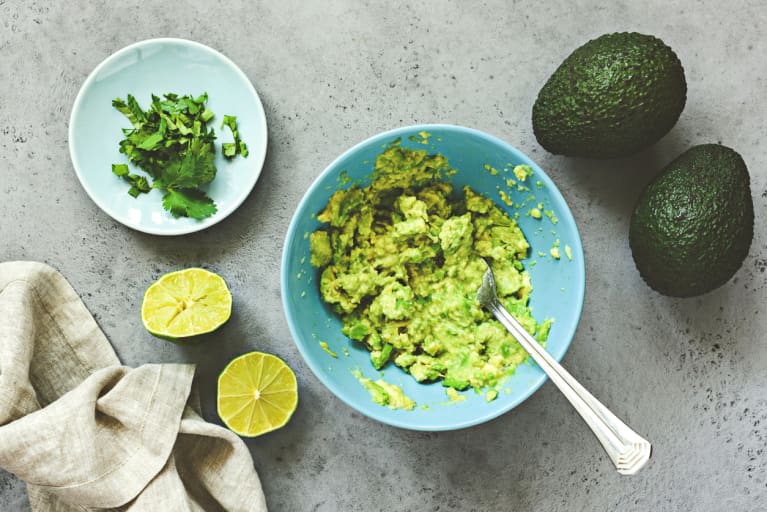 This article was produced to support the mindbodygreen supplements+ line. Our supplements adhere to the highest standards of ingredients and quality. We hope you enjoy these products, for more information
click here
.
When we realized National Guacamole Day was coming up, we knew we had to take stock of all our favorite guacamole recipes. A good dip starts with the perfect avocados, which are loaded with good fats, but from there, you can go the traditional route or mix it up with some different ingredients (but prepare for controversy, à la the Obama-rejected addition of peas).
While the classic dipping item would be chips, you can also use vegetables like peppers or celery. And of course, guacamole is a perfect topping for tacos, but it also makes a great addition to grain bowls and salads. Below, some of our favorite guac recipes—from quick and easy to classic to superfood-packed.
A classic Super Bowl Sunday–style guacamole.
There's no better place to start than the classic, the type served with a Sunday football game (because we have football! For now!), and this recipe is pretty close to perfect for that. Made with red onion, cilantro, and lime juice, the recipe also includes a few spoonfuls of fresh salsa and some spices to round out the flavor.
A lighter update—with a superfood kick.
If you're a guacamole superfan, you may wonder whether there's a way to enjoy more guacamole in a slightly healthier way—at least, that's what natural food chef Julie Morris was hoping for when she came up with this update. She had the clever idea of using tomato-flavored chia seeds to bulk out the recipe.
A less classic recipe—with even more superfoods.
There's one superfood that's found its way into every dish (other than cauliflower). We're talking about kale, which fits into this guacamole recipe made with a less conventional base of avocados with edamame. It also has garlic and pumpkin seeds, for added nutrients, and includes a recipe for perfect pita chips to dip into it.
A return to the classic that includes a stealthy serving of veggies.
Like the idea of adding veggies into your guacamole but not the idea of leaves of kale in the mix? This four-ingredient recipe uses mbg's organic veggies+ greens powder to pack in nutrients from sea veggies and dark leafy greens. That one addition means extra magnesium, calcium, and potassium, plus anti-inflammatory and gut health benefits.*
A guacamole that will support your gut health.
The slightly longer ingredient list on this recipe is worth it since some of those additions are fermented ingredients—with all their healthy benefits included. It uses sauerkraut and the brine, both of which are rich in probiotics, and skips some of the avocado in favor of frozen peas for a less caloric base.
If you're hoping to have perfect avocados for your guacamole at any time, we've got good news: You can actually freeze avocados at their perfect ripeness for use later. And if you're buying them in a store, try out this trick for getting more creamy green avocado and less seed space.