This Vegan Ranch Dressing Recipe Is Packed With Nutrients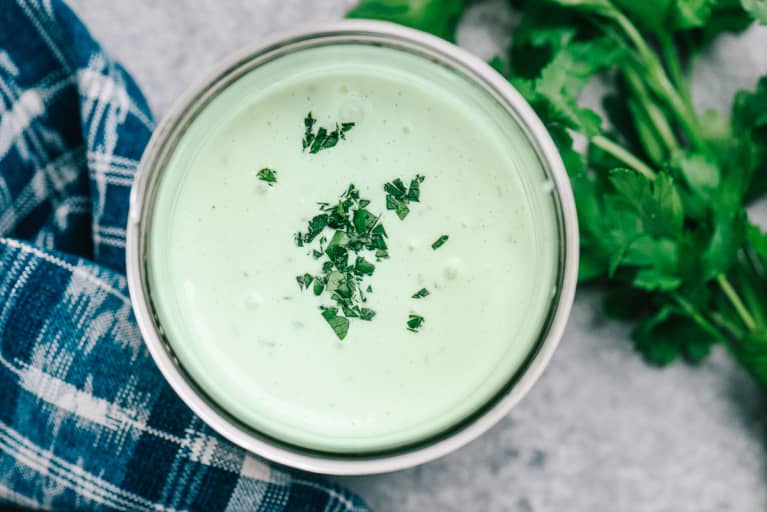 Memorial Day weekend has come and gone, which means sunshine and summertime snacks are here to stay. Just the thought of summer has us craving barbecue and its ultimate cool, dippable counterpart: ranch dressing.
The creamy ranch dressing from your childhood may not be the healthiest dip, but this nutritious vegan version, developed by professional chef and nutritionist Danielle Shine, is loaded with fresh herbs, healthy fats, and plenty of antioxidants from mindbodygreen's organic veggies+ powder.
Unlike most ranch dressings, which rely on buttermilk and a creamy base like mayonnaise or sour cream, this ranch is plant-based and dairy-free. Instead, the texture in this recipe comes from coconut milk and sunflower seeds. Not only do sunflower seeds help thicken the dip, but they also provide healthy fat, magnesium, zinc, and fiber.
"I like making food that tastes great and supports my health, which is why I love adding veggies+ to most meals and beverages," Shine says. The combination of vegan digestive enzymes, prebiotics, and probiotics in the powder helps support gut function and healthy digestion.* Plus, the formula includes antioxidant-rich ginger and turmeric, which can decrease inflammation and enhance immunity.*
The combination of fresh greens (scallions, parsley, dill) and organic veggies+ powder creates a green hue, making this dip not just healthy and delicious but also a beautiful addition to a veggie plate. Thanks to dark green leafy vegetables and hard-to-find sea vegetables in veggies+, this recipe also increases your vitamin and mineral intake—especially when drizzled over a chopped salad or as a dip for crudités. Here's how to make it:
Organic Veggies+ Ranch Dressing
Oil-free, nut-free, sugar-free, dairy-free, gluten-free, soy-free, vegan.
Makes approximately 1 to 1½ cups of dressing
½ cup raw, unsalted sunflower seeds
¾ nondairy milk: I like unsweetened full-fat coconut milk
¼ cup water
2 large cloves of fresh garlic
3 tablespoons fresh scallions (or sub with white onion)
3 tablespoons fresh parsley
2 teaspoons fresh dill
2 tablespoons freshly squeezed lemon or lime juice
1 to 2 tablespoons organic veggies+ powder
2 teaspoons organic Dijon mustard
1 teaspoon paprika
1 teaspoon pepper
½ teaspoon salt
Place all ingredients into a high-speed blender. Blend until creamy and smooth.
Taste and adjust to suit your taste buds.
If you want a thinner dressing, add more milk. If you want a thicker dressing, chill in the fridge before serving—the mix thickens once cooled. You could also replace ½ cup of the nondairy milk with your favorite unsweetened nondairy yogurt.
Feel free to customize this recipe based on your own dietary needs and preferences. If you don't have coconut milk on hand, use almond milk, oat milk, or another milk alternative. If you'd like a dairy option, swap in organic milk or full-fat Greek yogurt instead of coconut milk.