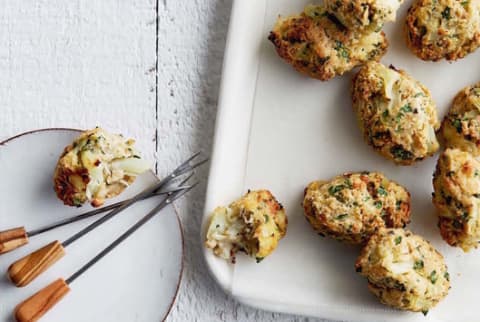 August 31, 2016
For several years I ate a strict vegan diet, and during that period I also tried a low-carb diet for a day. What I discovered is that once you eliminate the basic carbohydrate staples of a vegan diet (pasta, rice, bread, and fruit), you are pretty much just left with vegetables and olive oil. And water.
On that one Atkins-celebratory day, I lived on cauliflower mash. After two servings, the mash was losing its appeal, so I decided to mold it into "tots," which I rolled in breadcrumbs for a nice crunch. A little drizzle of olive oil and I baked them to golden perfection.
Fifteen years later, I haven't forgotten that awful carb-less day, but at least these tots have earned a permanent place on my crunchy, crispy snack roster.
Crispy Parmesan Cauliflower Tots
1 tablespoon olive oil, for the baking sheet
1 pound organic frozen cauliflower florets
½ cup gluten-free breadcrumbs
¼ cup grated Parmesan cheese
1 large egg
2 tablespoons chopped fresh parsley
¼ teaspoon garlic powder
¼ teaspoon black pepper
1. Preheat the oven to 400°F. Line a baking sheet with parchment paper and brush with olive oil.
2. Microwave the cauliflower according to the package directions, and cool to room temperature.
3. Place the cauliflower on a clean dish towel or piece of cheesecloth, and roll it up and wring it out to extract as much moisture from the cauliflower as you can.
4. Transfer the cauliflower to a large bowl and break apart the florets with your hands. Add the breadcrumbs, cheese, egg, parsley, garlic powder, and pepper. Using your hands, mix until the mixture holds together.
5. Using a tablespoon measure, scoop the cauliflower onto the prepared baking sheet. Use your hands to roll each scoop into an oval-shaped tot.
6. Bake for 15 minutes, remove from the oven, turn the tots over, and bake for another 15 minutes to crisp the other side. Serve warm.
Reprinted from Naturally, Delicious by arrangement with Pam Krauss Books/Avery, a member of Penguin Group (USA) LLC, A Penguin Random House Company. Copyright © 2016, Danny Seo Media Ventures.
Danny Seo
Danny Seo is the editor in chief of Naturally, Danny Seo, a national print magazine that celebrates the idea that style and sustainability don't need to be mutually exclusive from each other. Naturally, Delicious is his 10th book and his first cookbook.
Danny is also the host of the upcoming TV show Naturally, Danny Seo, which will bring all of the ideas for cooking, home decorating, beauty, wellness, and travel to life that you see in the pages of his magazine. His line of branded Danny Seo eco-friendly products are sold in stores across the United States, Canada, and Europe and include retailers like TJ Maxx, Marshalls, and HomeGoods.