7 Homemade Broths To Upgrade The Gut-Health Benefits Of Any Soup
mbg Nutrition & Health Writer
By Eliza Sullivan
mbg Nutrition & Health Writer
Eliza Sullivan is a food writer and SEO editor at mindbodygreen. She writes about food, recipes, and nutrition—among other things. She studied journalism at Boston University.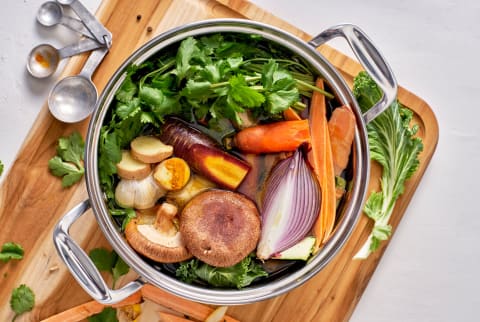 Image by Suzanne Clements / Stocksy
November 9, 2020
When it comes to soothing, warming, nutritious meals, soup is the perfect candidate: You can pack it with nutrients and add your favorite flavors, and it's easy to prep for lunches all week. The base of any good soup is a good broth: That much is for sure. So the best way to add bonus benefits and flavor to your favorite soup is through a homemade broth in place of a store-bought stock. It's also a great way to use all of the bits of your ingredients, to lower food waste.
And when it comes to the benefits you can attribute to a broth, one of the most foundational portions of health is the health of your gut. Gut health affects your health beyond the digestive tract, and poor gut health can go as far as to cause mood disorders, skin inflammation, and chronic fatigue.
While, undoubtedly, the foods you eat affect your gut health, there's more to it than just that: Too much stress, a lack of sleep, and not spending enough time moving your body can all lead to gut problems. A soothing meal can do wonders for stress levels, and eating the right foods can also play a role in your sleep—and lots of these recipes include sleep-supporting ingredients.
So as we head into cooler weather and a change of seasons that can contribute to colds and more, it's crucial to make sure we're keeping out guts in tiptop shape. Whether you're a meat-eater or vegan, you can pick a broth that will add healthy compounds to your recipes:
1.
Quick Homemade Chicken Bone Broth
2.
Gut-Restoring Turkey Bone Broth
Looking toward Thanksgiving, turkey is on the brain. The long weekend after the holiday is the perfect time to take the leftovers (including veggie scraps) and turn them into this bone broth at home. This recipe also pulls in other beneficial ingredients: turmeric, apple cider vinegar, and garlic, in particular. Once you've got the broth ready, you can add some of the other leftover ingredients, like cooked veggies, to turn it into a soup or sip on it on its own.
3.
Bone Broth From the Sea
Pescatarians, rejoice: You're not closed out of the bone broth hype. This seafood-based broth also adds the benefits of ACV, but you'll also find nori, ginger, and garlic in the recipe. It's, of course, a natural pick if you're making a seafood soup, like a bisque, but it can also be a good base for a simple homemade ramen dish—like Nigella Lawson's fabulous single-serve recipe. Though it calls for a dashi, we'd bet this briny broth would work wonders.
The healing power of bone broth is largely thanks to one particular compound: collagen—which isn't readily available to vegans. Though this recipe does allow for the addition of a collagen powder (even though it's not vegan), the benefits are there with or without it. Mushrooms provide selenium (an element that supports joint and immune health) and vitamin D, seaweed adds a solid serving of vitamins, and add-ins like turmeric and ginger add inflammation-fighting compounds.
5.
Triple Seaweed Dashi Recipe
Speaking of dashi, this broth is another great one to DIY—it's vegan-friendly and the perfect base for a homemade miso soup (the recipe for which comes with it). It uses three seaweed varieties for what the recipe developer calls a "complex oceanic aroma and full-on umami" final product. One of the seaweeds used, wakame has benefits like supporting heart health and anti-inflammatory properties—which in turn will help your gut health before you even add the fermented miso.
If the wonder of the sea veggie dashi above is in its simplicity, this sea vegetable broth goes above and beyond with complex but balanced flavors thanks to a true variety of ingredients. In addition to seaweed, it includes shiitake mushrooms, celery, shallots, garlic, miso, and tamari. Many of those ingredients can be left in when you enjoy it—in particular the mushrooms and seaweed are lovely to make this more of a meal than just a broth.
7.
CBD-Infused Roasted Root Broth
The bonus benefits in this broth are thanks to a bit of science: CBD full-spectrum oil. The flavor of the broth comes from roasted root veggies, making this a unique broth that works perfectly for your favorite root-veggie-featuring soup (may we suggest this one). Carrots, beets, onions, shallots, and some herbs are the start—adding your favorite ingredients to make it a soup will round out the earthy flavor they start out for you.
If making your own broth is a bit too daunting of a task, being more conscious about the broth you buy in stores can make a big difference. If you're picking up a store-bought bone broth, Ali Miller, R.D., L.D., CDE, recommends choosing "a product with quality ingredients: ones that use grass-fed, organic, or free-range bones; seasonings; vegetables; and apple cider vinegar and are free of additives such as maltodextrin, MSG, or hydrolyzed proteins"—and then getting creative about how you use it.
Want to turn your passion for wellbeing into a fulfilling career? Become a Certified Health Coach! Learn more here.
Eliza Sullivan
mbg Nutrition & Health Writer
Eliza Sullivan is an SEO Editor at mindbodygreen, where she writes about food, recipes, and nutrition—among other things. She received a B.S. in journalism and B.A. in english literature with honors from Boston University, and she has previously written for Boston Magazine, TheTaste.ie, and SUITCASE magazine.