This Broth Is The Best Way Nourish Your Hormones Daily
Contributing Food Editor
By Liz Moody
Contributing Food Editor
Liz Moody is a food editor, recipe developer and green smoothie enthusiast. She received her creative writing and psychology degree from The University of California, Berkeley. Moody is the author of two cookbooks: Healthier Together and Glow Pops and the host of the Healthier Together podcast.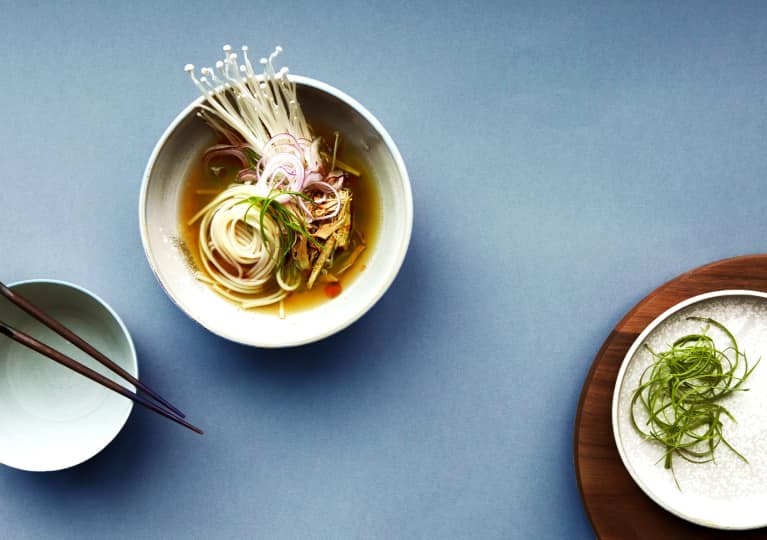 Our editors have independently chosen the products listed on this page. If you purchase something mentioned in this article, we may
earn a small commission
.
While we're all about the bone broth craze that has swept the nation, sometimes it's nice to have vegetarian options. We've found a winner in this nourishing sea broth from Mafalda Pinto Leite's Radiant: The Cookbook. According to Leite, a nutritionist, "Broths are so healing and easy to digest. You can make them with all sorts of vegetables, but be sure to use kombu and shiitake as the base. They both contain beneficial properties that boost the immune system, nourish the brain, and offer a unique depth of flavor."
The sea vegetables in this also offer a wonderful way to bring balance to your hormones on a daily basis, while the miso adds an umami-rich hit of gut-healing probiotics. Use it as a base for soups, to cook grains or quinoa in, or simply sip some straight as a type of savory tea to warm yourself up daily.
Makes about 2½ quarts
Ingredients
10 cups water
8 dried kombu strips
1 cup dried shiitake mushrooms, sliced or whole
1 celery stalk, chopped
2 shallots, skin removed and quartered
2 tablespoons apple cider vinegar
1 tablespoon chopped fresh ginger
1 tablespoon chopped fresh turmeric
Small handful of fresh cilantro, whole
2 tablespoons sesame oil
3 green onions, sliced
⅓ cup chopped fresh cilantro
2 garlic cloves, crushed
2 tablespoons miso
2 tablespoons tamari
Bring the water to a boil in a large pot. Add the kombu, shiitakes, celery, shallots, cider vinegar, ginger, turmeric, and cilantro leaves and stems.
Reduce the heat to low, cover, and simmer for 1 hour. Strain the liquid, reserving the kombu and mushrooms, and return the liquid to the pot.
Heat the sesame oil in a small skillet over medium heat.
Add the green onions, chopped cilantro, and garlic and sauté until fragrant, about 1 minute.
Add the green onion mixture to the pot with the strained liquid. Take the pot off the heat and add the miso and tamari and stir until the miso is incorporated.
You can slice the kombu and add it to the broth and the shiitakes if you like, or leave it as is. Ladle into bowls and enjoy.
Based on excerpts from Radiant: The Cookbook by Mafalda Pinto Leite, with the permission of Roost Books. Copyright © 2018.