This Miso Soup Doubles Down On Health Benefits With Extra Sea Veggies
mbg Nutrition & Health Writer
By Eliza Sullivan
mbg Nutrition & Health Writer
Eliza Sullivan is a food writer and SEO editor at mindbodygreen. She writes about food, recipes, and nutrition—among other things. She studied journalism at Boston University.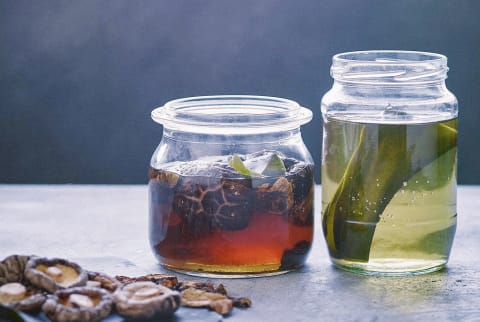 Image by Nassima Rothacker / Contributor
April 29, 2020
We carefully vet all products and services featured on mindbodygreen using our
commerce guidelines.
Our selections are never influenced by the commissions earned from our links.
One of the most common uses for miso is the classic miso soup, which disperses its benefits into a flavorful broth and can be found on the menu at most Japanese restaurants. And while it's often made at home from powdered packets, this recipe from Vegan JapanEasy makes making homemade miso only a little more complicated—but promises it'll taste exponentially better.
Miso itself is a traditional seasoning in Japanese cuisine and is made of soybeans that have been fermented with koji, a type of mold. It's been used since around the year 700 (seriously). While it's been considered a super-food for centuries, in recent years, studies have begun to isolate the health benefits of miso: It's packed with vitamins, nutrients, and antioxidants, plus the fermentation process imbues it with benefits for our gut health.
This version of the soup also gets bonus nutrients from a homemade dashi, made from kombu, nori, and wakame seaweeds. According to the book's author Tim Anderson, the combination of sea veggies creates "a complex, oceanic aroma and full-on umami," plus the wakame you rehydrate when making the dashi can be used in the final miso soup to eliminate waste. Wakame is one of the most common types of seaweed to pop up in our diets, and it has benefits like supporting heart health and anti-inflammatory properties.
So instead of tearing open a packet of miso soup, try making it (and the dashi!) yourself. We promise it's worth it.
Proper Miso Soup
Makes 2 big bowls (or 4 little ones)
Ingredients
4 tablespoons miso (use a good-quality aged red miso if you can)
600 ml Triple Seaweed dashi (recipe below)
¼-inch slice of fresh root ginger (unpeeled)
¼ leek, finely sliced
2 tablespoons dried wakame
2 shiitake mushrooms, destemmed and sliced (rehydrated dried mushrooms are ideal)
8 mangetout (snow peas) or snap peas
½ block (200 g/7 oz.) firm silken tofu, cut into ½-inch cubes
a few pinches of white sesame seeds
Method
Combine the dashi and ginger and bring to a boil.
Add the leek, wakame, and shiitake to the pan; reduce the soup to a simmer; and cook for a few minutes, until the leeks soften and the wakame plumps up.
Add the mangetout/snap peas and cook for another minute, retaining their color and texture.
Fish out the ginger from the soup and discard. Remove from heat and whisk in the miso.
Divide the tofu among deep bowls and ladle over the soup and veg. Garnish with sesame seeds.
Triple Seaweed Dashi Recipe
Makes about 400 mL, plus enough wakame for 4 bowls of miso soup or a small salad
Ingredients
10 g kombu (a piece about 10 cm/4 inches square)
1 sheet of nori
5 g dried wakame
2 cups cold water
Method
Place all the seaweeds in a saucepan with the water and set over low heat. Slowly bring the water to a very low simmer—you should just see a few little bubbles breaking the surface.
Remove from the heat, then leave to infuse for at least 30 minutes.
Pass through a sieve (fine-mesh strainer) and store in the refrigerator for up to 1 week.
Salvage the wakame for later use in a salad or soup; it will keep in the refrigerator for about 4 days.
Recipes excerpted with permission from
Vegan JapanEasy
by Tim Anderson, published by Hardie Grant Books March 2020, RRP $32.50 Hardcover.
Eliza Sullivan
mbg Nutrition & Health Writer
Eliza Sullivan is an SEO Editor at mindbodygreen, where she writes about food, recipes, and nutrition—among other things. She received a B.S. in journalism and B.A. in english literature with honors from Boston University, and she has previously written for Boston Magazine, TheTaste.ie, and SUITCASE magazine.