How To Make Healthy Chicken Tenders (Using A Surprising Ingredient)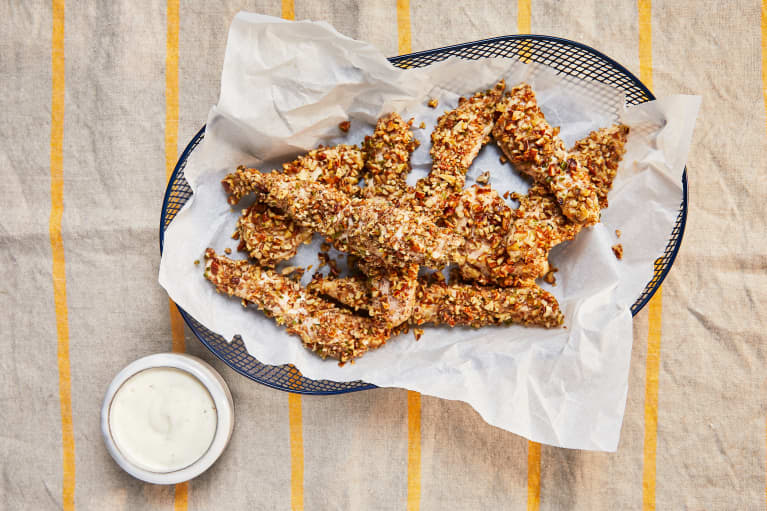 Our editors have independently chosen the products listed on this page. If you purchase something mentioned in this article, we may
earn a small commission
.
There's definitely something to be said for returning to childhood favorites later in life: The nostalgia is always welcome, but that doesn't necessarily mean they always live up to our childhood memories. Not only that, but those old-school favorites aren't always nutritious, either (though they can be made to be!).
Enter this fun, paleo-friendly take on chicken tenders. When thinking of the ancestral-inspired paleo diet, chicken tenders certainly wouldn't make the list of foods cave-dwellers would have enjoyed. But this version uses all paleo-friendly ingredients to update the school cafeteria classic without using any grains—instead, it uses a surprising ingredient for a super-crunchy crust.
Instead of being breaded, these homemade chicken tenders are crusted with finely chopped pecans. These nuts are a good source of protein (with 2.6 grams of protein per ounce of nuts) and also have the highest phytochemical concentration of flavonoids of all tree nuts.
Lucky for us, when we asked Jessica DeMay for her recipe—from her new book Clean Paleo Comfort Food—she did one better and also shared her recipe for healthy ranch dipping sauce and the homemade mayo it starts with. The bottom line? Eating a bit cleaner this year definitely doesn't mean skipping favorites; it just means making smart swaps.
Pecan-Crusted Chicken Tenders
1¼ cups finely chopped raw pecans
1 teaspoon salt
¼ teaspoon ground black pepper
1 teaspoon dried chives
1 tablespoon melted ghee
1 tablespoon garlic-infused olive oil
1¼ pounds chicken tenders or breasts cut into strips
Preheat the oven to 400°F. Line a baking sheet with parchment paper and then place a wire rack on top. This will help the chicken stay crispy.
Place the pecans in a shallow dish and add the salt, pepper, and chives. Mix well.
In a separate shallow dish, combine the melted ghee and olive oil.
Dip the chicken pieces into the ghee mixture and then into the pecan mixture. Press the pecans onto the chicken so they adhere. Place on the wire rack on the prepared baking sheet.
Repeat with the remaining chicken.
Bake for 14 to 17 minutes or until the coating is crisp and golden.
Remove from the oven, and serve immediately. They are great by themselves but you can also use paleo ranch dressing (below) as a dip.
Store leftovers, covered, in the refrigerator for up to 6 days.
1 cup mayonnaise, homemade (below) or paleo store-bought
One 13.5-ounce can coconut cream
1 teaspoon garlic powder
1 teaspoon onion powder
2 tablespoons dried parsley
½ teaspoon salt
¼ teaspoon ground black pepper
In a medium-size bowl, whisk the mayo and coconut cream until fully combined.
Add the garlic powder, onion powder, parsley, salt, and pepper. Whisk to combine. It will be pretty thin, but it thicken up in the refrigerator.
Transfer to a tightly sealed container and store in the refrigerator for up to 2 weeks.
1 large egg, at room temperature
1 tablespoon coconut vinegar or white vinegar
1 tablespoon lemon juice, ideally freshly squeezed
½ teaspoon salt
¼ teaspoon ground black pepper
1 cup avocado oil
Place the egg, vinegar, lemon juice, salt, and pepper in a blender or a wide-mouth Mason jar.
Process the ingredients in a blender, or with an immersion blender in the jar, until combined. With the blender on or the immersion blender running, slowly drizzle in the oil until the mixture is thick and creamy.
Move the immersion blender up and down in the jar until the mixture is thick. This should take less than a minute.
Store in the refrigerator for up to 2 weeks.
Want to turn your passion for wellbeing into a fulfilling career? Become a Certified Health Coach! Learn more here.