Quesadillas are an anytime meal. They take just five minutes to make, and everyone loves them. You can snack on them at a party, they make a late-home-from-work dinner, and they even work at breakfast with an egg inside.
These quesadillas are a bit different — the regular, white flour, cheese-loaded version doesn't do it for me. So instead, these are filled with a super-quick sweet potato and white bean mash. You will never look back.
Sweet Potato + White Bean Quesadillas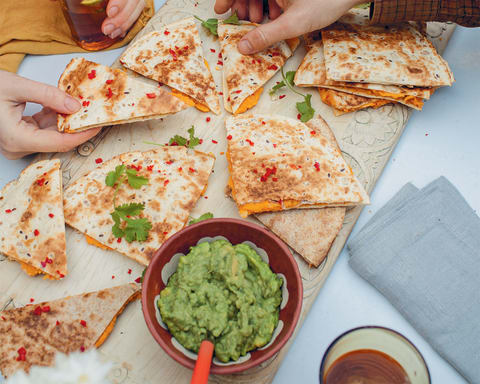 Serves 2 as a meal, 4 as a snack
olive oil
1 sweet potato, peeled and grated
1 tablespoon maple syrup
sea salt and freshly ground black pepper
1 teaspoon chipotle paste (or 1/2 teaspoon paprika if you can't find chipotle)
1 red chile, seeded and finely chopped
1 (15-ounce/400 gram) can navy beans, rinsed and drained
1 avocado
½ a lime
a few sprigs of fresh mint or cilantro, leaves picked and chopped
4 corn tortillas
1. Heat a small amount of olive oil in a pan, add the sweet potato and the maple syrup, and season with salt and pepper. Add the chipotle paste and the chopped chile and cook for a few minutes until the potato has softened and lost its rawness.
2. Transfer to a bowl and add the beans, then use a potato masher to mash everything a little—you will still have some flecks of un-mashed sweet potato. Season if needed.
3. Mash the avocado with a little lime juice and stir in the herbs. I use the potato masher again here.
4. Now heat a frying pan big enough for your tortillas. Lay a tortilla flat in the pan, spoon a quarter of the mixture onto one half of it, then fold over the other half. Dry fry on one side until it's blistered and golden brown, then flip over and do the same on the other side. Keep the quesadilla warm in a low oven while you do this with the rest of the tortillas. Serve straight from the pan with the mashed avocado.

Anna Jones
Anna Jones is a cook and food writer who worked with Jamie Oliver for many years. Her first cookbook, A Modern Way to Eat, is a totally modern take on vegetarian eating—recipes that are healthy, nourishing, truly tasty and satisfying, introducing new dishes that are simple to make.