These Keto Tofu Fries Can Satisfy Any French Fry Craving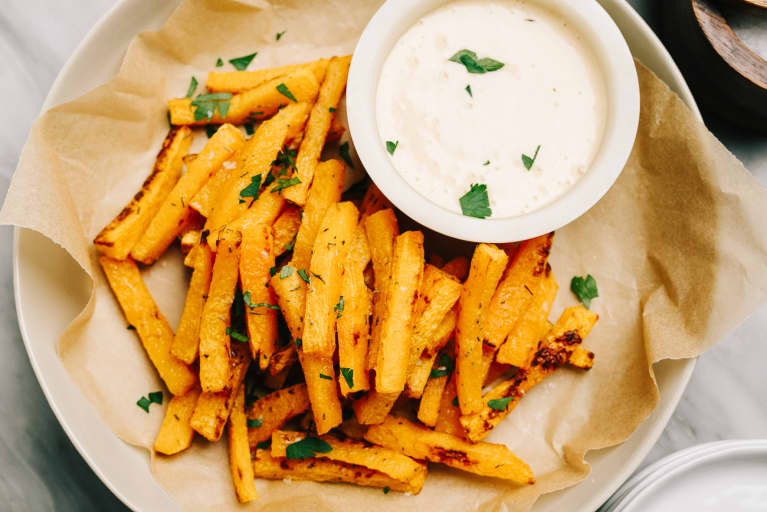 Just like my inability to solve a Rubik's Cube, I have yet to find a satisfying french fry alternative. Like rearranging all the stickers to beat the cube, I am willing to pull out all the stops to accomplish my goal of creating a winning recipe. As crazy as it sounds, Cubed Tofu Fries have just enough salt and fat to fool my brain.
1 (12-ounce) package extra-firm tofu
2 tablespoons sesame oil
⅛ teaspoon salt, divided
⅛ teaspoon black pepper, divided
⅛ teaspoon Creole seasoning, divided
Remove tofu from packaging and wrap in paper towel. Set on a clean plate. Place a second plate on top and put a 3- to 5-pound weight on top. Let sit 20 minutes. Drain excess water.
Unwrap tofu and slice into small cubes no larger than ½-inch square (a little larger than sugar cubes).
In a large skillet over medium heat, heat oil.
Combine salt, pepper, and creole seasoning in a small bowl. Sprinkle ⅓ of spice mixture evenly into skillet and add tofu evenly.
Sprinkle ⅓ of spices on top and let fry 5 minutes on each side, flipping 3 times (for the 4 sides), browning all 4 sides.
Dust tofu with remaining spice mixture.
Remove from heat. Enjoy while hot!
Try to get the firm or extra-firm tofu that is in a plastic tray and packaged with water. The type that is in the cardboard block is a lot more moist, and it is harder to fry while keeping its shape.
Using well-drained, extra-firm tofu helps the cubes maintain their shape during the cooking process. Otherwise, the tofu shapes will crumble when stirred, resulting in a scrambled-egg-style mess (that still tastes great but isn't as pretty).
I once varied my recipe to season the tofu with cinnamon and Splenda. The result was so delicious that I ended up eating two full blocks of tofu in one sitting.
Excerpted from The Dirty, Lazy Keto Cookbook by Stephanie Laska and William Laska. Copyright © 2020 by Stephanie Laska and William Laska. Photography by James Stefiuk. Used with the permission of the publisher, Adams Media, an imprint of Simon & Schuster Inc. All rights reserved.