Yes, Healthy Curly Fries Exist — Here's How You Can Make Them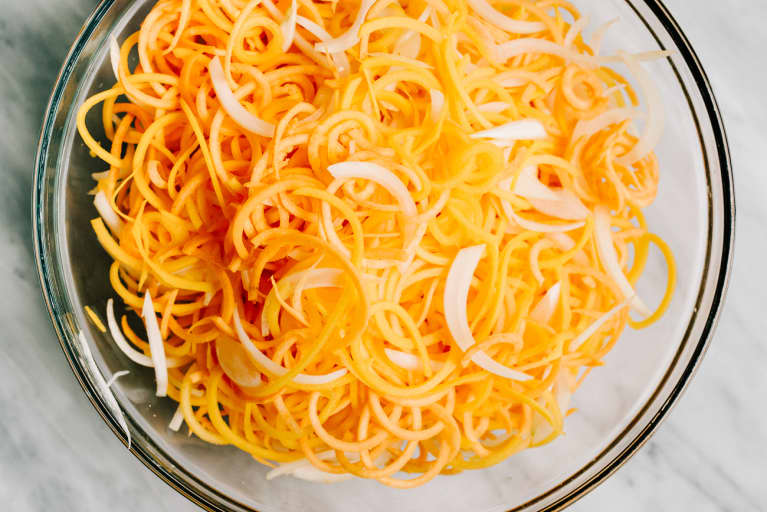 Our editors have independently chosen the products listed on this page. If you purchase something mentioned in this article, we may
earn a small commission
.
There's something about curly fries that just makes them taste better than the original french fry. Maybe they're somehow crispier in a curly shape? Either way, I view curly fries as an ode to my childhood, and now there's a healthy version of the snack from Bruce Weinstein and Mark Scarbrough's The Essential Air Fryer Cookbook that you can make in your air fryer. It's as easy as ordering in diner food but way healthier.
You can even buy your butternut squash pre-spiralized for more ease and experiment with different oils for unique flavor profiles. The possibilities are endless—as are the options for dipping sauces. I'm partial to a classic ketchup (call me bland), but you can get creative with a buffalo sauce or Sriracha mayo.
Shoestring Butternut Squash Fries
¾ pound spiralized butternut squash strands (this is for a 2-quart fryer; if you have a 3.5-quart or 5.25-quart fryer, you'd need more squash)
Vegetable oil spray, as needed
Coarse sea salt or kosher salt, to taste
With the basket (or basket attachment) in the air fryer, heat it to 375°F (or 370°F or 360°F, if one of these is the closest setting).
Place the spiralized squash in a big bowl. Coat the strands with vegetable oil spray, toss well, coat again, and toss several times to make sure all the strands have been oiled.
When the machine is at temperature, pour the strands into the basket and spread them out into as even a layer as possible Air-fry for 16 minutes, tossing and rearranging the strands every 4 minutes or until they're lightly browned and crisp.
Pour the contents of the basket into a serving bowl, add salt to taste, and toss well before serving hot.
Excerpted from Essential Air Fryer Cookbook. Copyright © 2019 by Bruce Weinstein and Mark Scarbrough. Used with permission of Little, Brown and Company, New York. All rights reserved.
And do you want to turn your passion for wellbeing into a fulfilling career? Become a Certified Health Coach! Learn more here.