5 Best Healthy Cooking Oils, Plus Some You Should Definitely Avoid

Contributing Health & Nutrition Editor
By Stephanie Eckelkamp
Contributing Health & Nutrition Editor
Stephanie Eckelkamp is a writer and editor who has been working for leading health publications for the past 10 years. She received her B.S. in journalism from Syracuse University with a minor in nutrition.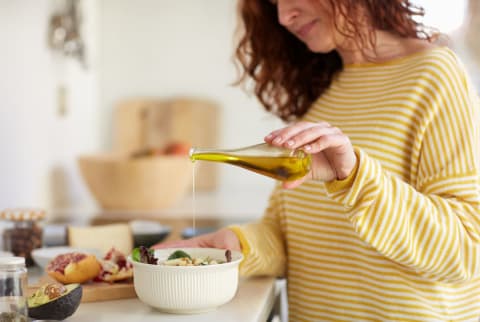 Image by Trinette Reed / Stocksy
June 30, 2019
Our editors have independently chosen the products listed on this page. If you purchase something mentioned in this article, we may
earn a small commission
.
Fats are an essential part of the human diet, helping synthesize hormones, promote overall brain and mental health, and keep us full. And you may already have a good general idea of what fat sources are legitimately good for you (hello, salmon, grass-fed butter, and avocado oil) and which are best avoided (ahem, trans fats and industrial seed oils).
But the healthiest fats and oils to cook with? That topic is a bit more complicated. That's because, in addition to thinking about the overall nutrient profile of an oil and how it was processed, you have to consider another factor: the smoke point.
Advertisement
This ad is displayed using third party content and we do not control its accessibility features.
"Every type of cooking oil has a different smoke point, which is the temperature at which an oil begins to smoke," says holistic nutritionist Kelly LeVeque. "Heating an oil beyond its smoke point causes it to oxidize, resulting in the release of harmful free radicals and other compounds."
In other words, using the wrong oil for your particular cooking technique will not only mess with the taste of your meal, but it will end up delivering a dose of pro-inflammatory compounds, which you definitely don't want.
So, what makes a fat or oil well-suited for cooking?
When you're cooking with heat, you want to choose fats or oils that are stable and don't oxidize or go rancid easily. And this can be predicted, in part, by the types of fatty acids they contain.
Saturated fats are made of single bonds that stack together tightly, making them more stable, resistant to heat, less reactive, and less likely to oxidize.
Unsaturated fats (such as monounsaturated and polyunsaturated fats) are made of double bonds that do not stack together tightly, making them range in stability and sensitivity to heat, and more likely to oxidize. Monounsaturated fats have one double bond and polyunsaturated fats have two or more, making monounsaturated fats the more stable type of the two types of unsaturated fats.
Advertisement
This ad is displayed using third party content and we do not control its accessibility features.
In a nutshell: Oils with higher concentrations of saturated fats and monounsaturated fats are more stable and typically pretty good for high-heat cooking, while oils with a high concentration of polyunsaturated fats are more likely to be damaged when exposed to heat.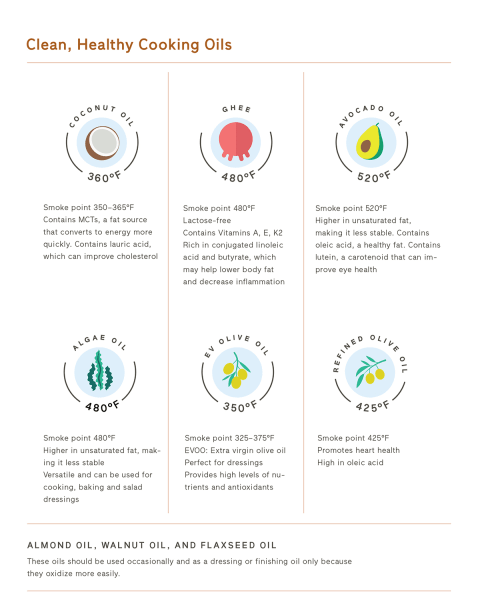 Image by Sarah FitzGerald / iStock
The best healthy cooking oils.
Now, on to some specific oils that make great cooking companions, according to LeVeque. Plus, their respective smoke points. Whether you're whipping up a stir-fry over medium heat or some roasted veggies at 450°F, there's something on this list for you:
Advertisement
This ad is displayed using third party content and we do not control its accessibility features.
Smoke point: 520°F
For an oil that's higher in unsaturated fats, avocado oil has a surprisingly high smoke point, making it a smart cooking choice if you're scaling back on saturated fats. Avocado is comprised mostly of the monounsaturated fatty acid called oleic acid, which has potent anti-inflammatory properties and promotes heart health. It also contains lutein, a carotenoid that can improve eye health. It's super-high smoke point makes it acceptable for nearly all types of cooking.
Smoke point: 480°F
Many people love cooking with butter for obvious reasons: flavor! But it has a relatively low smoke point at 300°F. When you remove its milk solids to create ghee, however, that smoke point jumps to a safe level for most cooking applications while retaining its amazing flavor. Bonus: It's lactose-free; contains vitamins A, E, and K2; and is rich in conjugated linoleic acid (CLA) and butyrate, which may help lower body fat and decrease inflammation. When possible, select grass-fed ghee, which contains a superior ratio of omega-3 to omega-6 fatty acids.
Advertisement
This ad is displayed using third party content and we do not control its accessibility features.
Smoke point: 480°F
Algae oil is high in monounsaturated fats and low in saturated fats. It's a great option to add to the rotation if you're looking for a neutral-tasting high-heat oil, as it's incredibly versatile and a great option for cooking, baking, and salad dressings. The one downside: It tends to be a bit expensive.
Smoke point: 325–425°F
Like avocado oil, olive oil is high in the monounsaturated fat oleic acid, which is anti-inflammatory and promotes heart health. Extra-virgin olive oil (EVOO), specifically, is packed with polyphenol antioxidants as well, which are thought to contribute a range of benefits—however, EVOO is only suitable as a finishing oil and for low- to medium-heat cooking (think sautéing vegetables over medium heat), as it has a smoke point of 325 to 375°F. Refined olive oil, on the other hand, has a smoke point of 425°F but does not contain nearly as many beneficial polyphenol compounds.
Advertisement
This ad is displayed using third party content and we do not control its accessibility features.
Smoke point: 350–365°F
Coconut oil is mostly saturated fat, which makes it more stable, and it also contains medium-chain triglycerides (MCTs), a fat source that converts to energy more quickly. As an added benefit, coconut oil contains an antimicrobial compound called lauric acid, which has also been shown to have beneficial effects on cholesterol. Refined coconut oil has an even higher smoke point, but it's thought to lose many of its beneficial health effects. One important thing to note: Unrefined coconut oil imparts a distinct coconut flavor.
How to store your cooking oils.
In addition to heating oil above its smoke point, another thing that can lead to oxidation and increase its pro-inflammatory effect is improper storage. So be sure to limit the exposure of all your cooking oils to light and air by storing them in a dark, cool place away from light and heat—away from the oven and off the countertop. Some experts, including Mark Hyman, M.D., recommend only purchasing the amount of oil you'll use within about two months to ensure it doesn't go rancid before you're done.
Common cooking oils to avoid.
Many functional nutrition experts agree: Some oils commonly touted for their superiority when it comes to high-heat cooking are not smart picks. These oils include industrial seed oils such as canola oil, sunflower oil, safflower oil, cottonseed oil, canola oil, grapeseed oil, corn oil, vegetable oil, and soybean oil.
The problem: Many of these oils are extracted with high heat and/or chemical solvents, then "cleaned" with more chemicals to produce a flavorless oil with a high smoke point. The big downside: Heating the oil in this manner is thought to damage the essential fatty acids and reduce the number of antioxidants and vitamins in the end product. These oils also tend to be loaded with omega-6 polyunsaturated fats, which fuel the body's inflammation pathways if consumed in excess.
Healthy oils that shouldn't be heated (but that make great finishing oils).
Unlike the oils in the section above (which many functional nutrition experts recommend avoiding in all circumstances), some oils are super healthy—they just shouldn't be heated due to their lower smoke point. Among some of the healthiest oils that are best reserved for salad dressings and finishing oils: almond oil, walnut oil, and flaxseed oil.