Over Pumpkin? Here Are 4 Other Gourd-geous Squashes + How To Cook Them
Contributing Food Editor
By Liz Moody
Contributing Food Editor
Liz Moody is a food editor, recipe developer and green smoothie enthusiast. She received her creative writing and psychology degree from The University of California, Berkeley. Moody is the author of two cookbooks: Healthier Together and Glow Pops and the host of the Healthier Together podcast.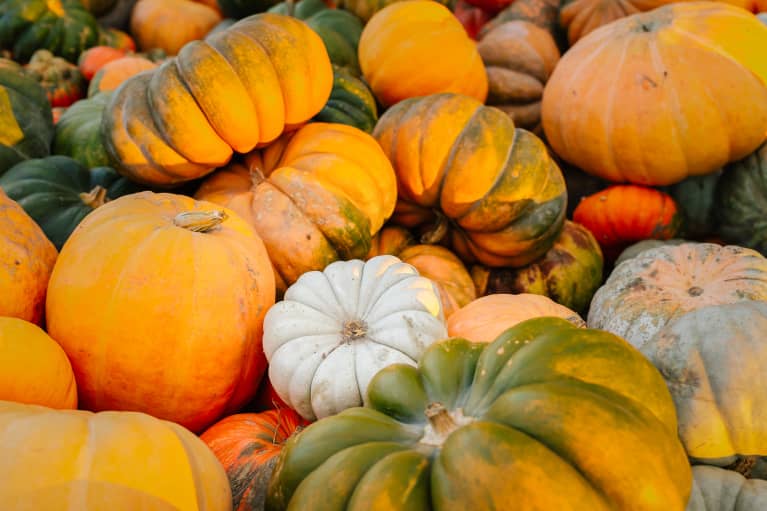 There's no denying that pumpkin gets the bulk of the attention during fall. Between pumpkin spice lattes and pumpkin cookies and pumpkin ravioli and pumpkins on every stoop, it can seem like the world has suddenly turned bright orange, and we're not complaining! We love the vitamin-A-packed, seasonal staple!
But there are plenty of other, ahem, gourd-geous options to play around with during autumn. Here are a few of our favorites, plus exactly how to use them: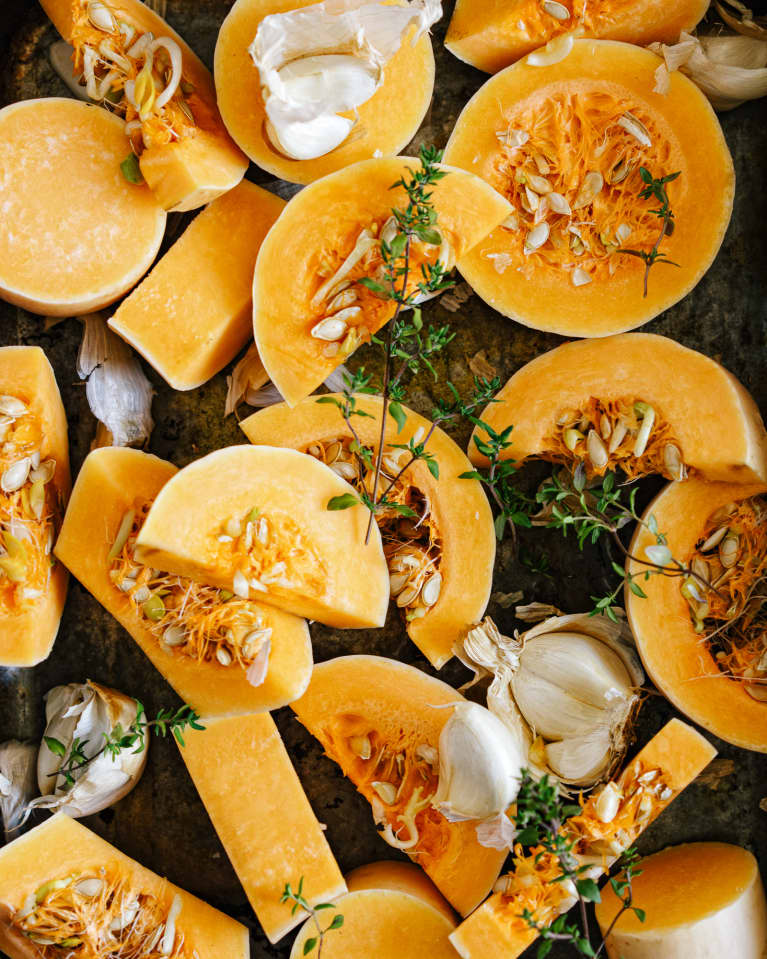 Butternut squash is almost as notorious as pumpkin, and for good reason—it's gently sweet, and, well, buttery. It's also widely available, which means you can likely grab it at your local grocer. There are two main ways to coax out butternut squash's optimally delicious flavor and texture. The first is for you lazy chefs out there (raises hand): Simply slice your butternut squash lengthwise down the middle, scoop out the stringy bits and seeds, place it on a parchment-lined pan, and drizzle it with a bit of avocado or olive oil. Use your fingers to rub the oil all around the squash, then sprinkle it with salt and roast cut side up at 425 degrees Fahrenheit until the edges brown and the inside is soft and dark orange, about 30 to 45 minutes. You can scoop out the center and use it as a layer in quesadillas or grilled cheese, purée it with some cooked yellow onions and veggie stock to make a soup, or mash it with some ghee and cinnamon for a sweet treat. If you're feeling more intrepid, you can peel the squash, then cut it in half, scooping out the seeds and stringy bits. Cut it into cubes, toss with avocado or olive oil and salt on a parchment-lined pan, and then bake the cubes at 425 degrees Fahrenheit until they're browned, tossing a few times along the way. I love to play around with different flavor profiles if I'm roasting cubed squash, so mix in some of the contents of your spice cabinet while you toss the squash with the salt. Harissa, cinnamon, herbes de Provence, onion powder...butternut squash plays well with most spices, so don't hesitate to play around! You can use the cubes in salads, grain bowls, or as a side dish on their own.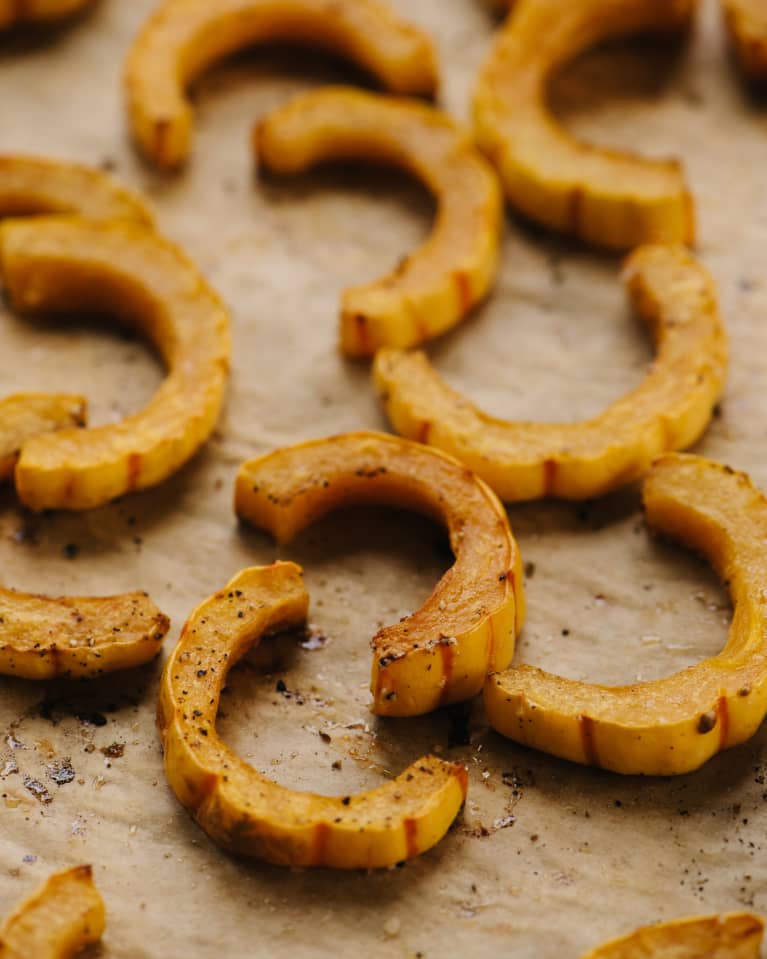 Delicata is notable for its pretty green stripes and long, cylindrical shape that doesn't bulb out at the bottom like butternut. It's a sweet, nutty squash with a distinctively corn-like flavor (yes, corn! Like the yellow kernels...think about it next time you eat delicata—you won't be able to un-notice it!). Delicata's skin is edible, which, combined with its notable shape, makes this a beautiful squash to present in pretty doughnut-shaped rings. Simply cut off the top and bottom, then cut in rings widthwise (around ¾" per ring is good). Use a spoon to scrape out the stringy bits and seeds in the center, then toss your rings with ghee, cinnamon, maple syrup, and some fine-grain sea salt. Roast at 425 degrees in a single layer on a parchment-lined pan until they begin to brown at the edges. Arrange on a plate and serve!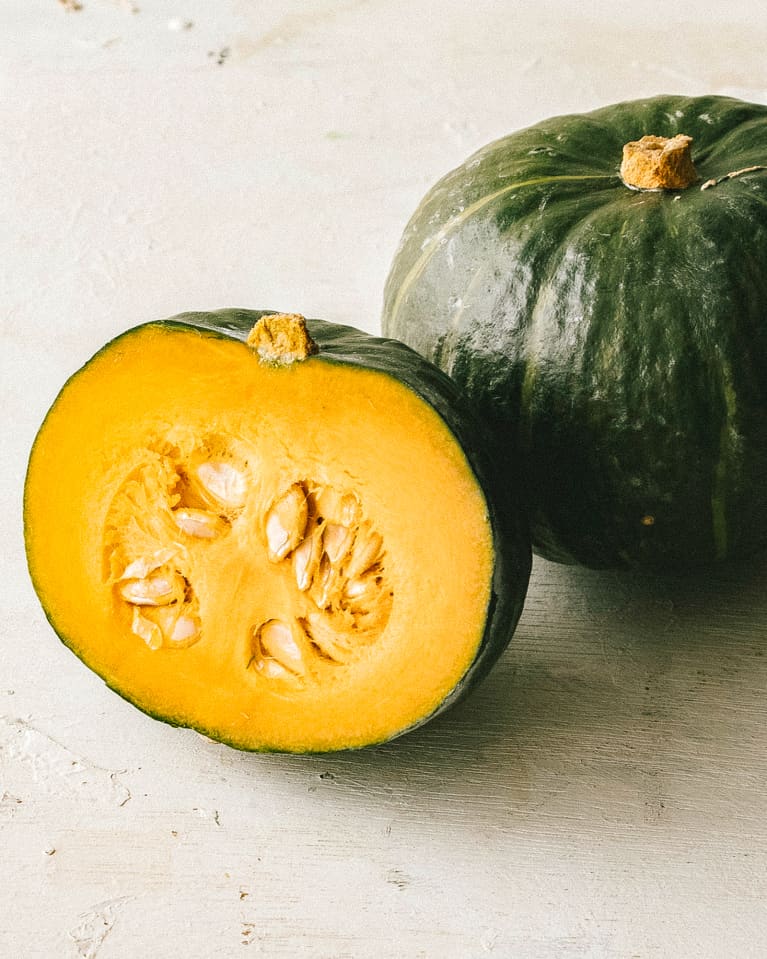 Kabocha might be the most fun squash to say, but it's also incredibly delicious and fun to eat. This squat green globe is a staple in Japanese cuisine, where it can most often be found simmered in broth. The skin of the squash is edible, making it endlessly versatile. You can use it in the same way as the butternut squash, above, but, because of its small round shape, you can also use it as a vessel for stuffed dishes. Simply cut off the top, scoop out the insides, and fill it up with seasoned quinoa, rice, beans, chili...the possibilities are endless. Pop the whole thing in the oven and cook until the filling is finished and the squash is softened and enjoy.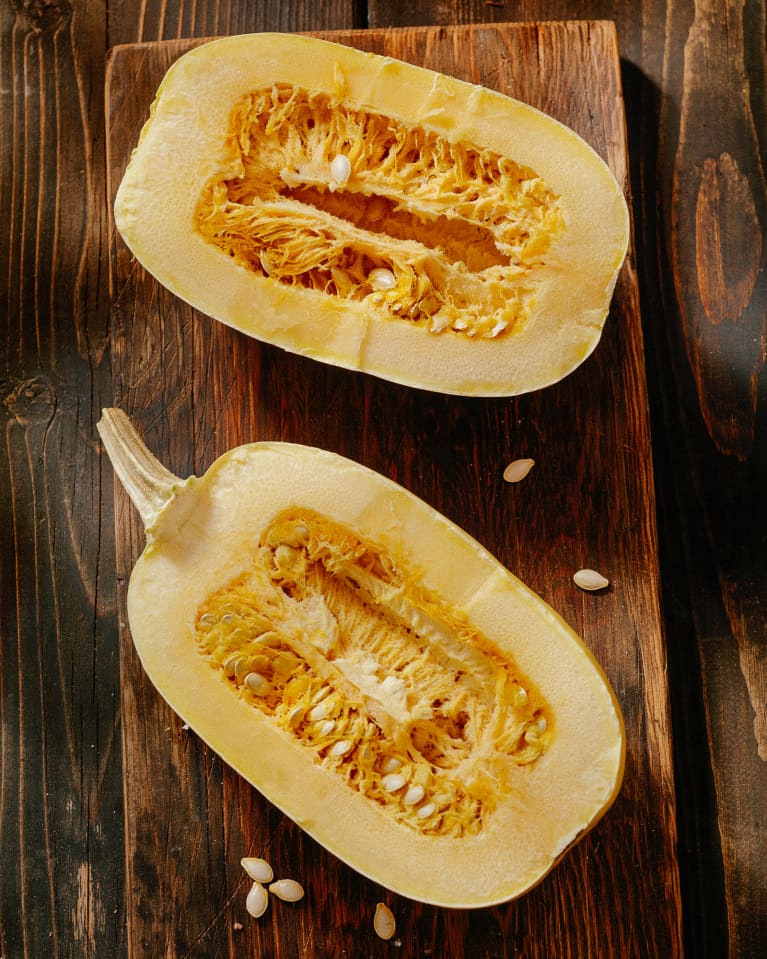 Spaghetti squash gained popularity for its, well, spaghetti-like appearance and texture. The fun part is that once you prep it, you can use it as a base in pretty much any way you would pasta—marinara, Bolognese, a crispy sage and browned butter situation...To make it, simply cut it in half lengthwise (no need to peel!), scoop out the seeds and any stringy bits, and then coat it very lightly with olive or avocado oil and sea salt (if you use too much, the squash will get a bit too soggy to become spaghetti-like). Roast it cut-side down at 400 degrees for about 40 minutes, or until it's just browning at the edges, then let it cool for 15 to 20 minutes before using a fork to gently scrape out spaghetti-like strands. Buon appetito!