One-Pot Meal Recipe: Hearty + Healing Lentil Soup
I started making myself this hearty lentil soup as a healthy answer to my comfort food cravings.
I reached for lentils, kale, and sweet potatoes because they're a tasty trilogy of superfoods and chock-full of iron and energy. Luckily, they happen to play well together, resulting in a one-pot meal that always leaves me feeling satisfied — while I've done my body good!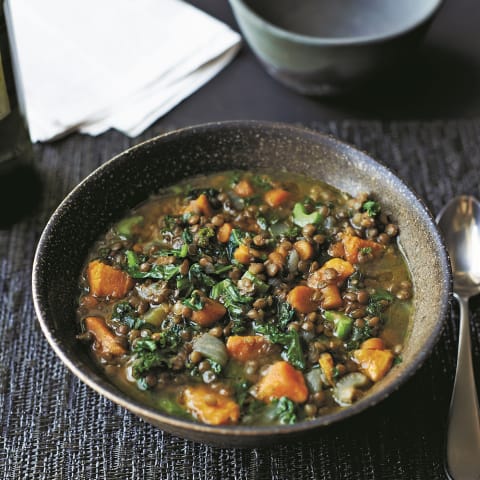 6 tablespoons canola oil
1 yellow onion, diced
2 carrots, peeled and diced
2 celery ribs, diced
5 garlic cloves, sliced
2 teaspoons kosher salt
1 tablespoon tomato paste
2 cups dried lentils
10 cups chicken or vegetable stock
1 sweet potato, peeled and cut into ½-inch dice
1 bunch green kale, coarsely chopped
¼ teaspoon cayenne pepper
½ teaspoon freshly cracked black pepper
1. Peel and dice the onion, carrots, and sweet potato. Dice the celery. Peel and slice the garlic. Chop the kale
2. Heat the canola oil in a large stockpot or Dutch oven over medium-low heat. Add the onion, carrots, celery, and garlic and season with 1 teaspoon of the kosher salt. Sweat the vegetables (cook over low heat, stirring frequently) until they begin to soften, about 8 minutes, taking care that they don't brown.
3. Add the tomato paste, stir, and cook for 2 to 3 minutes. Add the lentils and stock and turn up the heat to high to bring to a boil, then turn down the heat to maintain a low simmer and cook for 15 minutes. Add the sweet potato and continue to cook until the lentils are softened and tender, 20 to 25 minutes more.
4. Add the kale and stir, cooking until it has just begun to wilt into the soup, 3 to 4 minutes. Season with the cayenne, the remaining 1 teaspoon salt, and the black pepper. Stir again and serve hot!
Normally you should avoid overcooking beans and legumes, but in this recipe undercooking is the worse sin. Even if you overcook the lentils a bit, the soup will be a success because the lentils will lend body and a creamy texture.
The soup tends to thicken up in the refrigerator overnight, so when I have leftovers, I reincarnate it the next day as a side to a piece of fish or other lean protein. To reheat it for a bowl of soup, you might add a little more water or stock to the pot as it warms.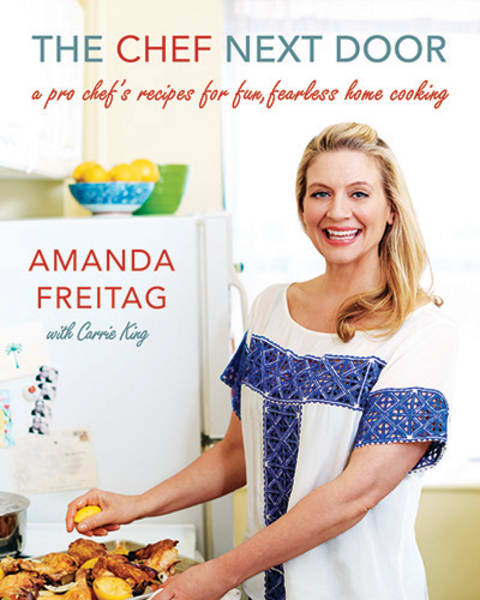 Amanda Freitag
Amanda Freitag is one of New York City's most celebrated chefs. A graduate of the Culinary Institute of America, Amanda has worked under Jean-Georges Vongerichten at Vong, Diane Forley at Verbena, Alain Passard at Paris's famed restaurant Arpege, and Tom Valenti at Cesca. She worked as executive chef at Gusto and The Harrison before opening her first restaurant, the Empire Diner, housed in the classic diner space near the High Line, in October 2013.
Amanda has battled Bobby Flay on Iron Chef America and has a recurring role as a judge on the Food Network series Chopped, which is in heavy rotation. Amanda also co-hosts American Diner Revival on the Food Network alongside Ty Pennington. She lives in the Chelsea neighborhood of New York City.