Gluten-Free Dumpling Recipe: How To Make A Vegan Version At Home
mbg Nutrition & Health Writer
By Eliza Sullivan
mbg Nutrition & Health Writer
Eliza Sullivan is a food writer and SEO editor at mindbodygreen. She writes about food, recipes, and nutrition—among other things. She studied journalism at Boston University.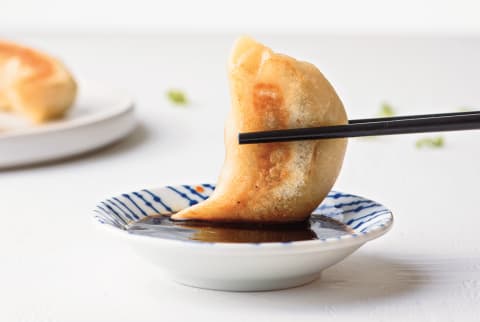 Image by Daniel Kwak / Contributor
December 28, 2020
We carefully vet all products and services featured on mindbodygreen using our
commerce guidelines.
Our selections are never influenced by the commissions earned from our links.
I've always been a bit intimidated by homemade dumplings: the folding, especially. It's simply not the sort of thing I've ever felt qualified enough to make—but this recipe makes the process seem manageable, even for a total novice like myself. Step-by-step instructions mean they even look like proper dumplings, as well as tasting amazing.
It turns out, it wasn't necessarily something restaurateur Stratis Morfogen thought he'd master, either: "I never, ever thought I'd end up a specialist, of sorts, in Asian cuisine," he writes in the introduction to his new book Damn Good Dumplings. "That part isn't my blood or birthright—but it's been an essential ingredient in the journey I've taken."
After learning the business in his family's restaurants, Morfogen began learning Asian cuisine as a founding partner at Philippe by Philippe Chow, where they specialize in Beijing-inspired cuisine. While he's since moved on to other endeavors, Morfogen still keeps some of that inspiration—dumplings included—in his restaurants.
These vegan dumplings are a perfect classic plant-based recipe: They have a simple mix of veggies and take on classic flavors like ginger and garlic for a punch of flavor and health benefits. Prepping these may take a bit of focus if you're not already used to the folding process, but consider it a practice in patience and mindful cooking.
Vegan Lovers Dumplings
Ingredients
2 tbsp. coconut aminos, plus more for dipping
1 tsp. fresh ginger, peeled and minced
2 cloves garlic, minced
2 tbsp. rice wine vinegar
1 tbsp. cornstarch (or try arrowroot powder as a healthy alternative)
5 to 8 tbsp. soybean oil, divided (or another cooking oil)
1 cup white button or cremini mushrooms, chopped
1 cup carrots, grated
2 cups green cabbage, finely shredded
24 gluten-free wonton wrappers, rolled thin
Method
Combine the coconut aminos, ginger, garlic, vinegar, and cornstarch in a small bowl. Whisk to combine and set aside.
Place a nonstick skillet over medium-high heat and add 2 tablespoons of the soybean oil. Heat until the oil until it starts to shimmer, then add the mushrooms, carrots, and cabbage. Cook the mixture for 5 to 6 minutes, until the vegetables begin to wilt, then add about ⅓ cup of water, cover the pan, and let the veggies steam for 4 to 5 minutes over medium heat until soft.
Remove the cover, add the sauce mixture, and stir until everything comes together and all additional water has evaporated, 1 to 2 minutes. Remove the filling from heat and allow it to cool for 5 to 10 minutes.
Lay a wonton dough square on a clean work surface at an angle so that it looks like a diamond. Place 1 heaping teaspoon of the veggie filling in the center of the wonton square. Wet your fingers in a small bowl of water and run a damp finger along all four outside edges of the wrapper.
Carefully pick up the wonton skin and lay it in the palm of your hand, keeping the points pointing up toward your middle finger and down to the base of your palm. Gently fold the bottom point of the skin up over the filling, creating a triangle, then gently press the seams to close them as well.
Using the tip of your finger, wet the two diagonal sides and begin sealing the seam on the left side making small folds from the left side slightly over the right (similar to crimping a pie crust). Remember to line up the edges of the wrapper as you pleat and press all the way around. Continue pleating 7 to 10 times until the dumpling is completely sealed. The finished dumpling will have a half-moon shape.
Place the finished dumpling on a sheet pan and cover with a tea towel or damp paper towel to keep them moist while working. Continue making dumplings until you have used all the filling and wrappers.
Place a large sauté pan with a tight-fitting lid over medium-high heat. Add 1 to 2 tablespoons of the soybean oil to the pan and heat to a shimmer, 3 to 4 minutes. Add six to eight dumplings to the pan at a time to prevent crowding, and cook for 4 to 5 minutes, until the bottoms of the dumplings are brown and crispy.
Carefully pour ¼ cup of water into the pan and cover the pan with a lid. Let the dumplings steam for 3 to 4 minutes, until the filling is cooked through and the skin has formed a tight seal (the dumplings should lift easily from the bottom of the pan). Cook the rest of the dumplings in batches of six to eight, adding more oil as necessary. Serve immediately with coconut aminos for dipping.
Reprinted with permission from Damn Good Dumplings by Stratis Morfogen, Page Street Publishing Co. 2020. Photo credit: Daniel Kwak.
Eliza Sullivan
mbg Nutrition & Health Writer
Eliza Sullivan is an SEO Editor at mindbodygreen, where she writes about food, recipes, and nutrition—among other things. She received a B.S. in journalism and B.A. in english literature with honors from Boston University, and she has previously written for Boston Magazine, TheTaste.ie, and SUITCASE magazine.