23 Keto Super Bowl Recipes For Celebrating The Game & Staying In Ketosis

By Caroline Muggia
mbg Contributor
Caroline Muggia is a writer, environmental advocate, and registered yoga teacher (E-RYT) with a B.A. in Environmental Studies & Psychology from Middlebury College.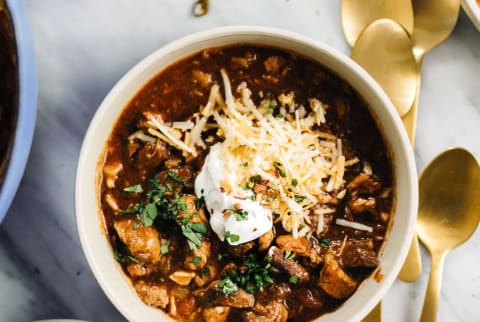 Image by Cameron Whitman / Stocksy
January 29, 2020
While the Super Bowl is about football, it's also about family, friends, commercials, and food. If you're following the beloved keto diet, it can feel daunting to think about heading to a friend's Super Bowl party or even hosting your own, as the classic dishes we snack on are typically high-carb.
No need to panic, as we've scoured hundreds of keto recipes to bring you a keto-twist on some Super Bowl favorites. This way you can spend less time focused on what you can eat and more time on the game or the people you're with (if that's more your tune).
1.
Spicy shrimp and veggie skewers
2.
Vegan buffalo jackfruit dip
We love a creamy dip that's so flavorful and thick it even fools our dairy-eating friends. This jackfruit dip is a delicious twist on a classic buffalo dip and is packed with protein and vitamins so you can feel good putting it on everything.
There's nothing better on Super Bowl day than a steaming cup of chili. Even better is when it only takes 30 minutes to make. Stay in ketosis and fill-up on all the good stuff—grass-fed beef, bone broth, garlic, and tomatoes.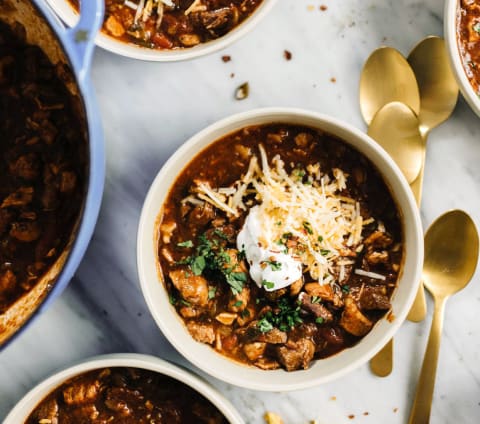 Image by Cameron Whitman / Stocksy
4.
Nacho cheese cauliflower tots
Nachos are pretty much a must on Superbowl Sunday. These cauliflower tots are a great way to satisfy your craving without kicking yourself off the keto train. They only take 15 minutes to make and are dairy-free, gluten-free, and paleo (the list goes-on!). Here's to healthy snacking!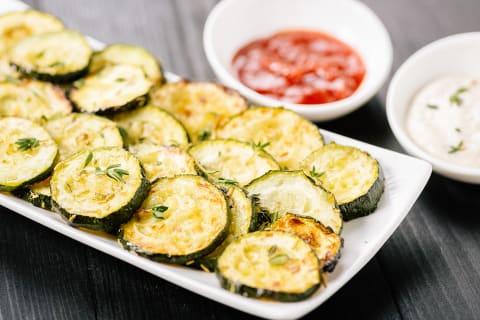 If you're always craving fries (like we are) you'll want to give these zucchini fries a try. Zucchini is known to detoxify and aid digestion so you won't get that typical post-fry food coma we know so well.
6.
Coconut marinated short ribs
These coconut marinated short ribs and kale will take you straight to keto heaven with a marinade featuring one of our favorite keto ingredients—coconut milk. It's the perfect way to add in a boost of healthy fats not to mention coconut is known to support glowing skin, fight an overgrowth of candida, and help lower blood pressure.
8.
Bacon cheeseburger skillet casserole
A Super Bowl gathering would not be complete without a cheeseburger—make that a keto-friendly bacon cheeseburger minus the bun. The secret behind this goodness? Spaghetti squash. Feed the whole family and some with this hearty and healthy casserole. No bun, no fun? Not this time.
9.
Prosciutto and arugula cauliflower crust pizza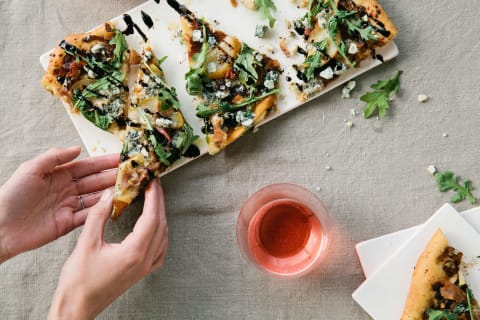 Image by Ali Harper / Stocksy
These dairy-free, gluten-free, paleo, keto chicken wings are smoked with garlic and chili powder, oregano and parsley, for a light, delicious, snack. They're the perfect addition to any lineup and you'll keep going back for more.
These keto meatballs are easy-to-make and even easier to serve! They're the perfect appetizer or side—all you have to do is pop a toothpick in these tangy and slightly sweet marinated meatballs.
It can be hard to find a good fish taco and especially one that's keto-friendly. We're excited to share this taco with blackened salmon and cucumber, avocado salsa. It's packed with healthy, high-quality fats, topped with a delicious spicy mayo, and wrapped in lettuce. Your taste buds will be thanking you!
If you thought enchiladas were out of the question, think again! These beef and green chile enchiladas feature a creative keto-twist so you can indulge in an all-time favorite.
15.
Roasted tomato and garlic soup
This light tomato and garlic soup is not only keto-approved, it's also perfect for those who are dairy-free, paleo, and Whole30. It'll keep you warm this weekend and features tomatoes (anti-aging and disease-fighting) chicken broth (helps with digestion), and apple cider vinegar (aids weight-loss).
These broccoli cheese bites are the perfect game-day snack and will keep for days, that is, if they are leftovers. While both are low-carb, you can also swap the broccoli rice for cauliflower rice if you're not a fan of broccoli. Eat them cold or hot and you've got yourself a yummy half-time snack.
17.
Ground turkey meatloaf muffins
18.
Buffalo cauliflower nachos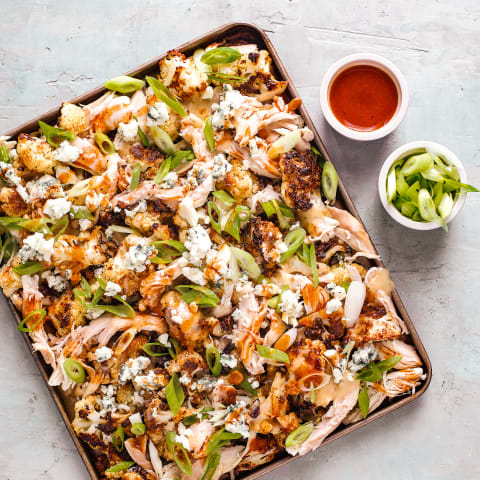 Image by Becky Winkler / Contributor
Loaded nachos, with a low-carb twist. Nachos tend to be the biggest hit in terms of game day snacks, and with these roasted buffalo cauli-nachos, you'll have your game day fix without sacrificing a healthy diet.
These tofu fries are the ultimate french fry alternative. They have enough salt and fat to trick your brain into thinking you're indulging on something unhealthy, all while offering a protein-packed snack. No matter what you dip you choose to pair them with, these fries will not disappoint.
This fried chicken is so crunchy, you'll forget that it's 100% keto-approved. There's a reason we've dubbed this recipe the "new KFC."
21.
Cauliflower breadsticks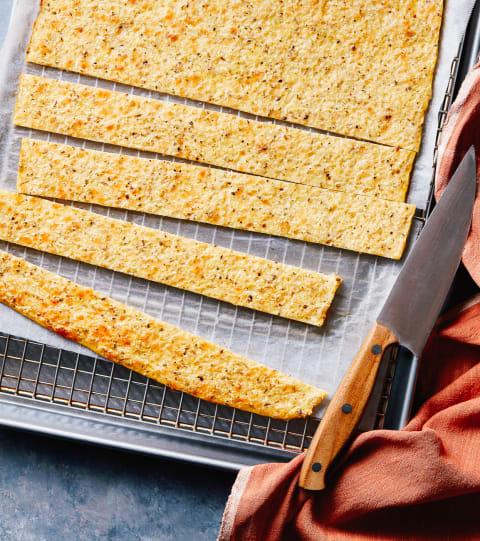 Image by Ghazalle Badiozamani
In terms of finger food, breadsticks are an easy win. Now keto people can have their breadsticks an eat them, too with this low-carb cauliflower version. Cheesy and soft, these breadsticks will be a huge hit on your game day spread.
22.
Chicken crust taco pizza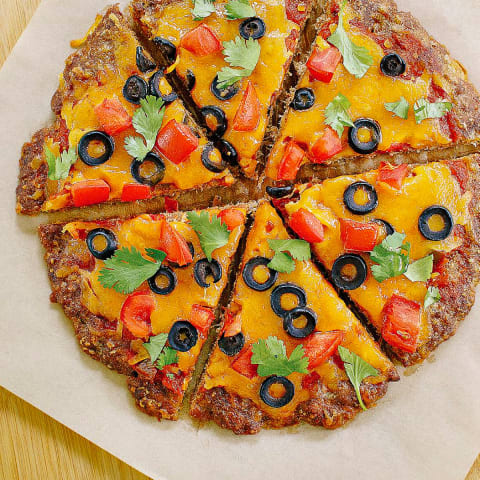 Yes, you read that right. Each bite of this dish incorporates all the flavors you could ever want in a game-day recipe, combining three courses into one, crunchy and satisfying plate. You will never look at pizza the same.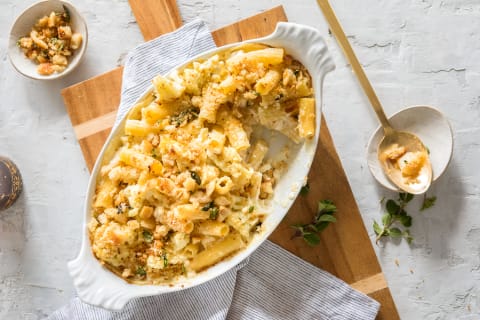 Image by Ivan Solis / Stocksy
A classic mac n' cheese is a fan favorite, no matter your age. This version with cauliflower and cashew "cheese" is sure to be kid-approved and healthy. It's the best of both worlds, if you ask us.
Want to turn your passion for wellbeing into a fulfilling career? Become a Certified Health Coach! Learn more here.

Caroline Muggia
Caroline Muggia has a B.A. in Environmental Studies & Psychology from Middlebury College. She received her E-RYT with Yoga Works and is a graduate of the Institute for Integrative Nutrition. A writer and environmental advocate, she is passionate about helping people live healthier and more sustainable lives. You can usually find her drinking matcha or spending time by the ocean.