Chicken Crust Taco Pizza: Yes, It's A Thing & It's Keto-Friendly
Tacos on pizza in one delicious, high-protein dish? Plus, it's grain-free and keto-approved (!!!). It sounds too good to be true.
While you can get creative with the toppings on your chicken crust taco pizza (wow, that is quite literally a mouthful), each bite is sure to have a kick of that seasoned taco flavor.
Whether you make this recipe for your next holiday get-together or for a dinner to devour all on your own, you'll have a balanced, healthy meal that somehow incorporates three courses into one.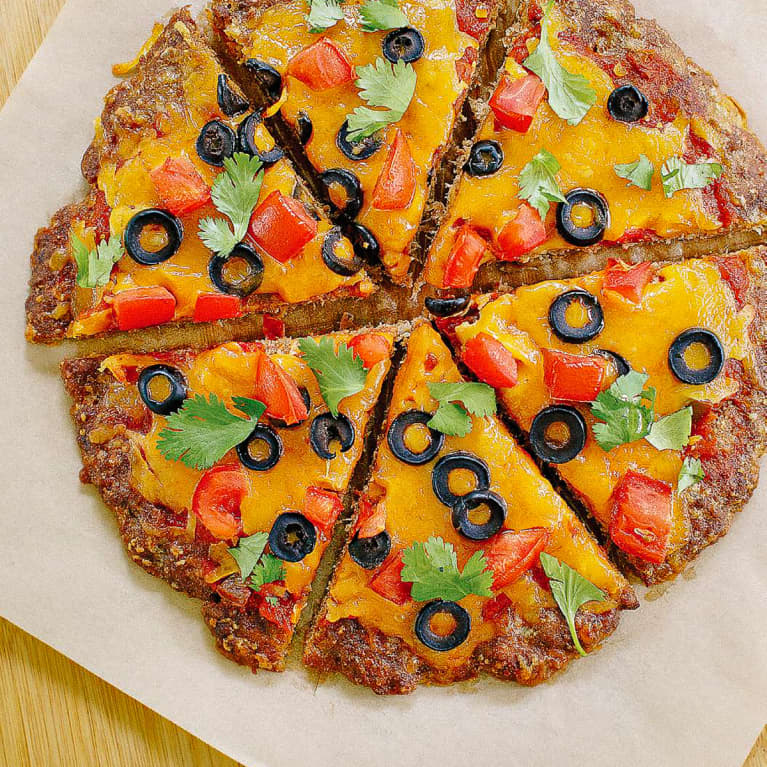 1 pound ground chicken thigh
½ cup grated Parmesan
½ cup shredded mozzarella
1 tablespoon chili powder
2 teaspoons ground cumin
1 teaspoon ground paprika
¼ teaspoon ground black pepper
¼ teaspoon garlic powder
½ cup salsa
¾ cup shredded mild Cheddar
⅛ cup sliced black olives
½ Roma tomato, seeded and chopped
2 tablespoons chopped fresh cilantro
Preheat the oven to 375°F. Line a large baking sheet with parchment paper.
In a large bowl, mix chicken, Parmesan, mozzarella, chili powder, cumin, paprika, pepper, and garlic powder.
Wet your hands to prevent sticking, and press the ground chicken mixture out into a 14-inch round. Bake for 20 minutes.
Remove the pan and pour salsa over the chicken crust. Top with Cheddar, olives, and tomato, then continue to bake for an additional 15 minutes or until cheese is bubbling and brown and the crust is fully cooked to at least 165°F internal temperature.
Garnish with cilantro and let cool for 10 minutes before serving. Feel free to add your favorite taco toppings or dip in sour cream. Serve warm.
Excerpted from Keto Comfort Foods by Sam Dillard. Copyright © 2019 by Simon & Schuster, Inc. Photography by James Stefiuk. Used with permission of the publisher, Adams Media, an imprint of Simon & Schuster. All rights reserved.
And do you want to turn your passion for wellbeing into a fulfilling career? Become a Certified Health Coach! Learn more here.