11 Proven Ways Coconuts Heal (Just About) Everything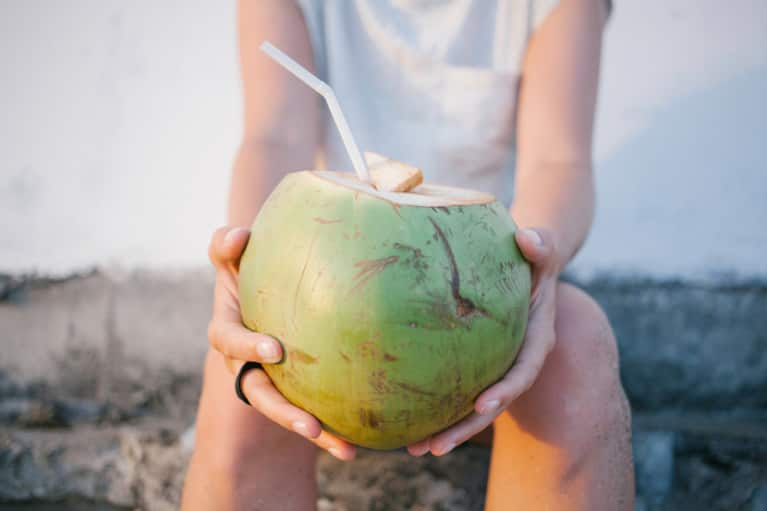 Our editors have independently chosen the products listed on this page. If you purchase something mentioned in this article, we may
earn a small commission
.
Coconuts used to be exclusive to the hot and humid tropics. Enjoying the beverage under the cool shade of a coconut palm was the well-deserved reward for climbing up the tree, opening the hard shell. and pouring out the fresh water.
Fast-forward to today. Like me, you're probably more likely to be in an office than a tropical paradise. But fortunately, everything coconut is now within our reach. It's suddenly sold everywhere, in every form.
You've probably heard coconut water hailed as Mother Nature's own sports drink, thanks to its potassium, vitamins, and antioxidants. But if you're familiar with this tropical fruit, you know that it can also do more than just refresh you. The jelly-like "meat" in young coconuts and the hardened white kernel from which coconut oil is pressed are also very delicious. Plus, coconut oil has emerged over the years as a shining example of the food as medicine concept, with its unique combination of fatty acids, antioxidants, and anti-inflammatory properties.
Scientists around the world are now revealing more and more health benefits of the coconut — including its shell, fruit, oil, and water. Here's what the research shows:
1. They help beat high blood pressure.
A new study in Brazil showed the potential for combining coconut oil with exercise to successfully reduce hypertension by decreasing oxidative stress.
2. They could keep your brain young.
An international study led by the National Institutes of Health suggests that a high-fat diet featuring medium-chain fatty acids from coconut oil can postpone signs of brain aging.
3. They improve oral health.
The antimicrobial compounds in coconut help fight common oral pathogens. In fact, a study by Indian scientists concluded that "its use can contribute to oral health to a great extent." Separate research out of India also revealed that swishing coconut oil in your mouth could be an effective procedure in decreasing plaque formation and plaque-induced gingivitis.
A study from the University of California at San Diego showed that a natural product found in coconut oil — lauric acid — shines as a possible new acne treatment.
5. They could improve memory.
A small study by Spanish researchers discovered that coconut oil could have a positive influence on the cognitive level of patients with Alzheimer's. Scientists from New Zealand and Australia also suggest that coconut oil may be beneficial to people with memory impairment.
6. They're a natural moisturizer for dry skin.
You may already be using it on your skin, but in case you need proof: researchers with the Department of Dermatology at the Makati Medical Center in the Philippines found that coconut oil is effective in improving skin hydration when used as a moisturizer for severely dry skin.
7. They help fight Candida.
A new study led by researchers at Tufts University found that adding coconut oil to our diet could become the first drug-free way to help control the overgrowth of Candida, the most common fungal threat, in the GI tract.
8. They could improve arthritis.
Indian researchers discovered the potential beneficial effect of polyphenolics from virgin coconut oil on arthritis, thanks to its antioxidant and anti-inflammatory properties.
9. They help slow bone loss.
Researchers in Japan found that young coconut juice has a positive effect on bone metabolism and thus could be a possible intervention to slow bone loss after menopause.
Related reads:
10 Cool Facts You Didn't Know About Pomegranates