A Plant-Based Meatball Recipe With Heart-Healthy Benefits, From An RD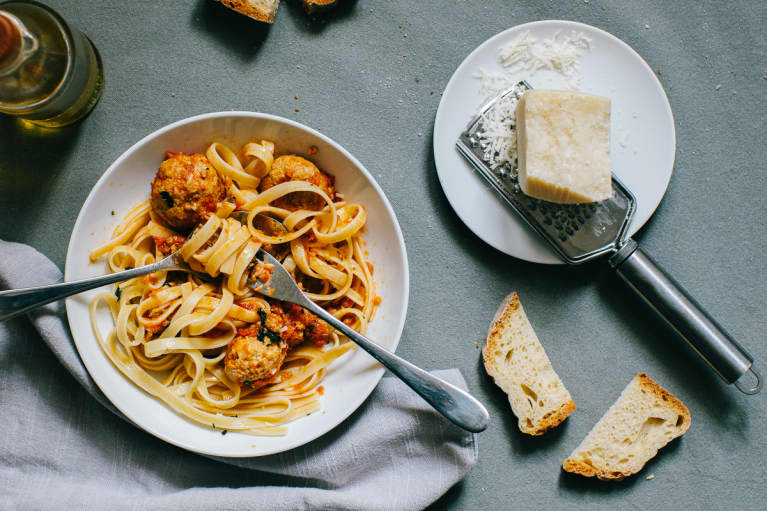 Plant-Based Meatball Recipe
Makes 16 1-inch meatballs
12 oz. extra-firm tofu
7 oz. white mushrooms
1 medium onion
6 cloves garlic
1 tablespoon vegetable oil
1½ cup gluten-free quick or instant oats
¼ cup nutritional yeast
1 teaspoon salt
2 tablespoon Italian seasoning
½ teaspoon black pepper
Preheat the oven to 425˚F.
Place paper towels under and on top of the tofu. Place a cutting board on top of the tofu and a heavy object to squeeze the moisture from the tofu. Let the tofu sit for 30 minutes.
While tofu is being pressed. Add mushrooms, onions, and garlic to a food processor to puree.
Heat oil in a frying pan over medium heat. Add the pureed mushrooms, onions, and garlic and cook for about 8 to 10 minutes, until excess liquid is removed.
Crumble pressed tofu (by hand) into a large bowl. The texture should resemble feta cheese.
Combine cooked veggies, crumbled tofu, oats, nutritional yeast, Italian seasoning, salt, and pepper; stir and mix well. Use hands to roll into 1-inch balls.
Place on a baking sheet and bake for 20 minutes. Add to your favorite recipes that use meatballs!
These heart-healthy meatballs are rich in vegetables, plant-based protein, and whole grains. The recipe makes 16 meatballs at a time, and they're a simple yet delicious meal-prep option. Trust me; you won't even miss the meat.