This Goji-Tomato Marinara Is The Perfect Low-Sugar Pasta Sauce
Contributing writer
By Julie Morris
Contributing writer
Julie Morris is a Los Angeles-based natural foods chef, on-camera personality, and New York Times best-selling cookbook author. Julie is also the founder of Luminberry, the world's first online superfood cooking school, where she leads unique culinary courses on how to use cutting-edge ingredients and wellness techniques for optimized health.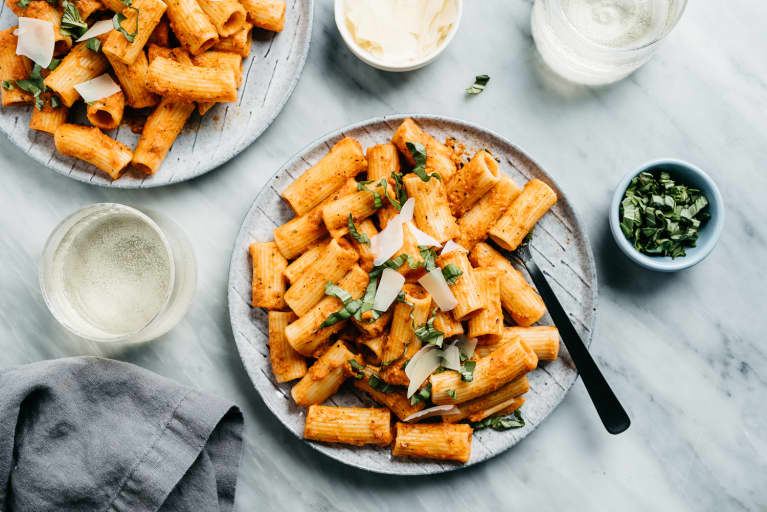 Our editors have independently chosen the products listed on this page. If you purchase something mentioned in this article, we may
earn a small commission
.
My favorite flavor pairing for goji berries is actually a savory one: tomatoes. And what better way to utilize this combo than in a marinara sauce, where the inherent sweetness of antioxidant-rich goji berries takes the place of sugar (which is commonly added to some marinara recipes).
As a bonus, goji berries also help absorb a bit of the extra liquid from the tomatoes while the sauce is cooking, so you can put together a massively beneficial (not to mention delicious) sauce faster than ever. Use this versatile marinara in all kinds of pasta dishes, mixed with roasted vegetables and quinoa, or as a dip for baked sweet potato fries.
2 (28-ounce) cans whole plum tomatoes, preferably unsalted
½ cup dried goji berries
2 tablespoons olive oil
1 medium yellow onion, finely diced
Sea salt
2 tablespoons garlic, minced (about 5 or 6 cloves)
½ teaspoon dried oregano
2 tablespoons fresh basil, minced
Place the entire contents of the canned tomatoes, including the juice, into a blender, along with the goji berries. Blend briefly—you can leave the sauce a little chunky or puree it until it is completely smooth, depending on the texture you prefer.
In a large heavy-bottomed pot, warm the olive oil over medium-low heat. Add the onion, a big pinch of salt, and sauté for 7 to 10 minutes, until the onion is golden brown.
Add the garlic and oregano, stirring frequently, and sauté for about 1 minute, until the garlic is fragrant.
Pour the tomato-goji puree into the pot. Bring the sauce to a simmer, and cook it over low heat for 20–25 minutes, uncovered, stirring occasionally, to reduce and slightly thicken the sauce.
Stir in the basil and add a generous amount of salt to taste (usually around 1 teaspoon or more if you're using unsalted tomatoes, and about ½ teaspoon if you're using salted tomatoes).
If you want a smooth sauce, you can return the mixture to the blender and fully puree it. Or just leave the marinara chunky if you prefer a more textured sauce.
Tip: You can mix 1 tablespoon of lion's mane powder or reishi powder into the sauce after cooking for an extra superfood-boost.
Recipe Adapted with permission from Smart Plants © 2019 by Julie Morris, published by Sterling Epicure.