This Healthy Dip Trio Is Perfect For Any Party You Throw This Fall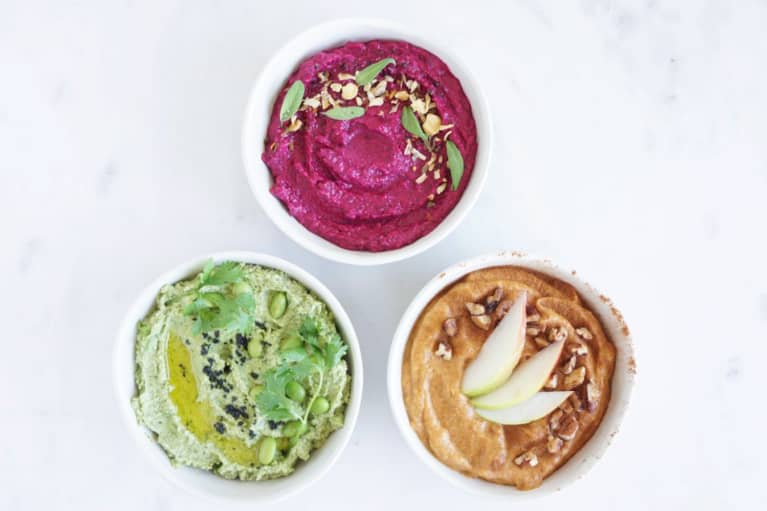 With the first signs of fall creeping up on us, it's time to transition our favorite recipes to match our cool, fall palettes and crazy schedules once the air turns crisp. Here, I've developed an assortment of healthy fall dip recipes you can pair with specific vegetables and snacks that are easy to make for all the exciting events that accompany the upcoming season—football games, busy school schedules, harvest festivals, the list goes on...
Check out these three dips below for a healthy, quick, and vibrant snack to add to any party platter. These recipes are so easy, you'll never want to venture to the supermarket for readymade dips ever again.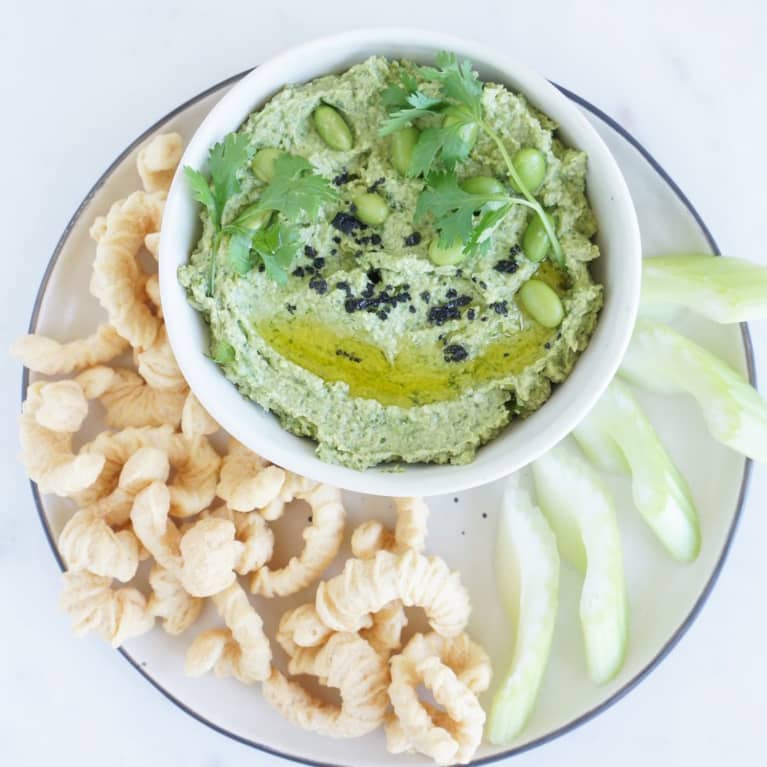 This dip has a rich, dense consistency due to the skins of the edamame, yet it is balanced with a creamy mouthfeel from the avocado. The cilantro and zesty lemon give it a fresh and aromatic flavor profile. You should make extra because this will go fast. It's a good source of plant protein as well as vitamin K and folate. Garlic provides an excellent source of sulfur, which is essential for the production of one of the most potent detoxifying and anti-inflammatory compounds in the body, glutathione.
½ large avocado
½ cup edamame beans
3 tbsp. tahini
2 large cloves garlic
Juice of ½ lemon
A handful of fresh cilantro (stems and leaves)
½ tsp. cumin
Salt and pepper to taste
2 to 3 tbsp. water
Directions:
Pulse all ingredients (except water) together in a food processor. Add water 1 tbsp. at a time to desired consistency.
LesserEvil Egg White Curls: Boost your plant protein even further with this high-protein, crunchy snack.
Veggies: Celery, carrots, snap peas, and bell peppers would all be great accompaniments.
Breads: Artisanal whole wheat bread, crackers, and chips are perfect with this versatile dip.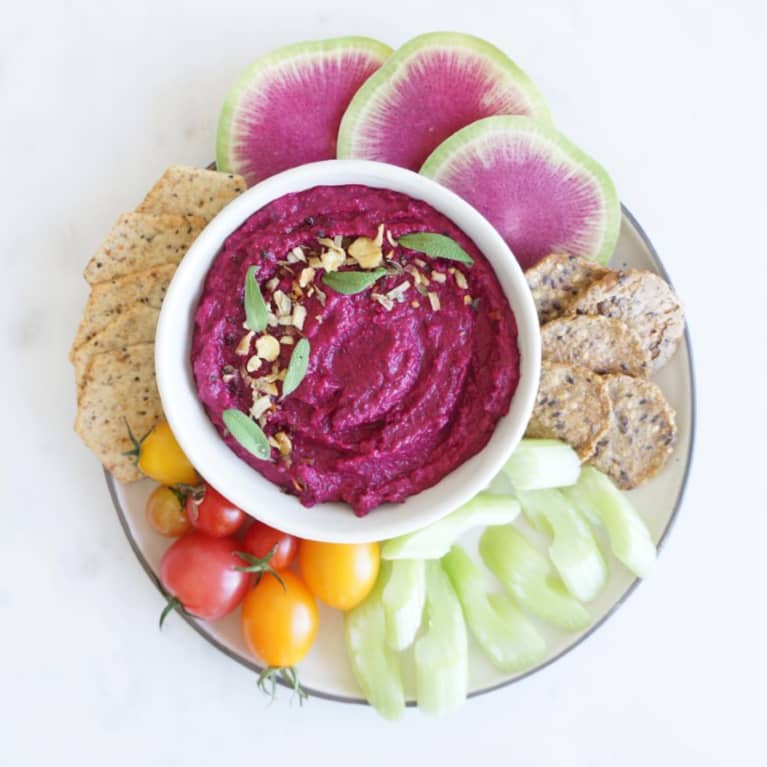 This absolutely gorgeous beet dip has a slightly coarse texture and a flavor profile that is flavorful, earthy, and slightly sweet from the roasted beets and garlic. It's satisfying and nicely balanced by the combination of cannellini beans and fresh sage. This dip is full of powerful compounds called betalains that act as strong antioxidants and give beets their beautiful color. It's also a good source of potassium and protein and is rich in vitamin C and fiber.
1½ medium beets, cubed, roasted
1 can cannellini beans, drained and rinsed
3 garlic cloves, roasted
½ tbsp. avocado oil
2 tbsp. tahini
Juice of ½ lemon
10 fresh sage leaves (can use 1 tbsp. dried if fresh not available)
1 tsp. paprika
Salt and pepper
Directions:
Preheat oven to 400F. Place cubed beets and garlic on a baking sheet and toss with oil. Roast for 20 min. Pulse all ingredients together in a food processor.
Crudites: carrots, cauliflower, celery, radish, daikon
Breads and crackers: baguette, toast, pita
Roasted vegetables: roasted yams, potatoes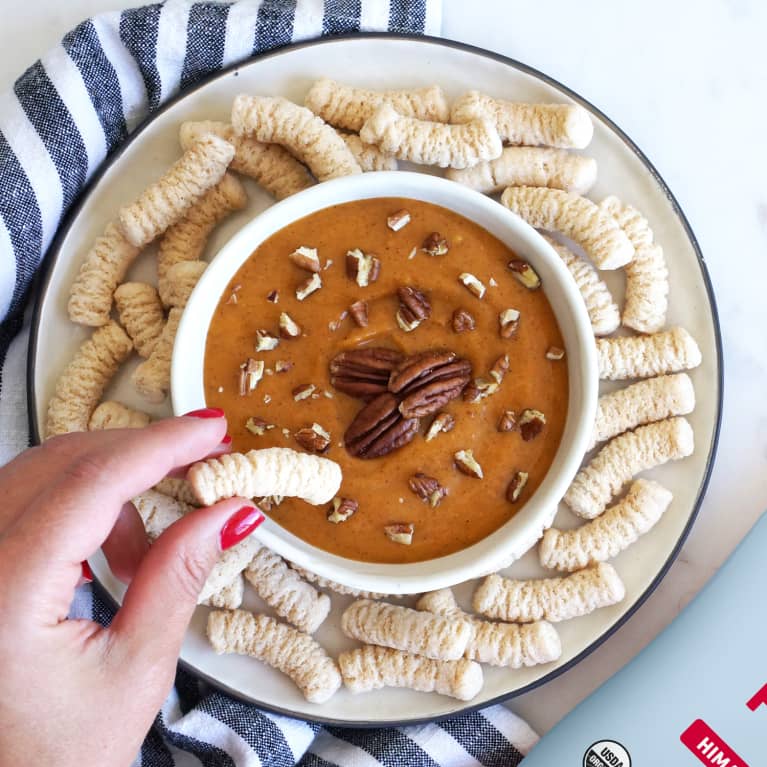 Pumpkin Spice Vegan Creamy Dip
This perfect-for-fall dip has a texture that is silky and creamy with a slight, nutty crunch from the chopped pecans. The flavor is sweet and creamy, and cinnamon adds a wonderful kick. It's rich in vitamin A and is a good source of potassium and probiotics. I love Kite Hill yogurt because of its velvety texture from homemade almond milk and the same culturing techniques used in dairy yogurt. This dip is perfect with seasonal fruits like apples and pears, or you can add it as a healthy topping to your breakfast pancakes, waffles, or oatmeal!
⅓ cup pumpkin puree
¼ cup nondairy vanilla-flavored yogurt (I used Kite Hill Vanilla)
½ tbsp. Vietnamese cinnamon
Pinch of sea salt
3 tbsp. chopped pecans
Directions:
Mix all ingredients together in a bowl. Adjust seasonings (cinnamon) as needed. Mix in chopped pecans.