A Plant-Based Grocery List Of Vegan Essentials
mindbodygreen Editorial Assistant
By Sarah Regan
mindbodygreen Editorial Assistant
Sarah Regan is a writer, registered yoga instructor, and Editorial Assistant at mindbodygreen. She received her bachelor's in broadcasting and mass communication from SUNY Oswego, and lives in Brooklyn, New York.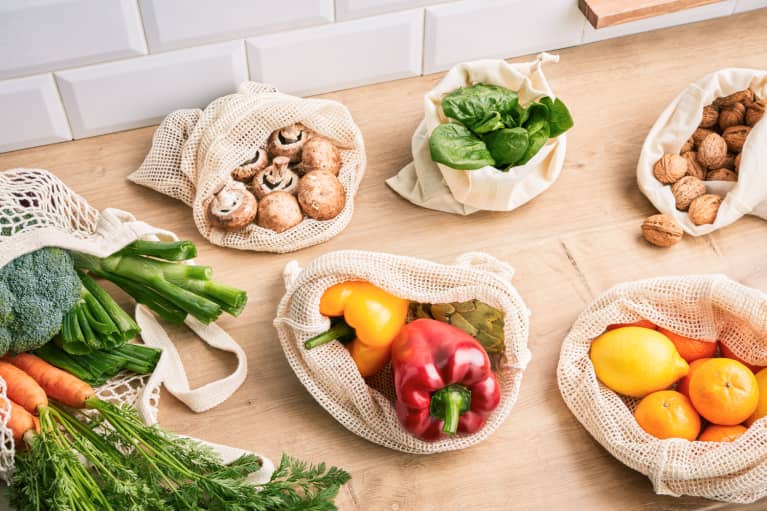 There's something inspiring and exciting about wandering the aisles of your favorite grocery store, with recipes and food prep fantasies running through your head.
Unless, of course, you find yourself shopping and have no idea where to start.
If you're new to veganism, or perhaps you're simply in a cooking rut, this could be all too familiar. So we put together a master list of pantry essentials to help you nail your grocery shopping, plus, enough meal inspo for a week of plant-based eating.
All the vegetables
Leafy greens (spinach, kale, lettuce, etc.)
Cucumber
Broccoli
Cauliflower
Bell peppers
Mushrooms (technically a fungus, but here we are)
Artichokes or artichoke hearts
Squash (butternut, spaghetti, summer, etc.)
Onion
Garlic
Green peas (frozen are great to have on hand)
Snow peas
Sweet potato
Fresh herbs
All the fruits
Apples
Bananas
Blueberries
Oranges
Grapefruit
Watermelon
Tomatoes
Grapes
Dates
Protein
Tempeh
Lentils
Beans (any: black, pinto, cannellini, etc.)
Chickpeas
Seitan
Nuts and seeds (almonds, walnuts, pepitas, etc.)
Grains
Brown or wild rice
Pasta (whole grain or made from rice, chickpeas, etc.)
Sprouted, whole-grain bread and wraps
Oats (rolled or steel-cut)
Polenta (cornmeal)
Snacks
Hummus
Quinoa or bean tortilla chips
Popcorn (Make it on the stove and add your own seasoning!)
Pita chips
Edamame
Trail mix
Rice cakes
Nondairy yogurt
Salsa
Miscellaneous
Nut butter (almond, cashew, etc.)
Dried coconut
Chia seeds
Goji berries
Cacao powder or nibs
Flaxseeds
Oil of choice (olive, avocado, sesame, etc.)
Balsamic vinegar
Vegetable stock
Dried herbs and spices of choice
Hot sauce of choice
Drinks
Nondairy milk of choice (oat, cashew, soy, etc.)
Kombucha
Coconut water
Herbal tea
Coffee
There are a ton of great options on the market today that are plant-based and healthy—just be sure to check the label. "Vegan" doesn't always equal "healthy," and ultra-processed foods should still be eaten sparingly.
Before you head to the store, think about what you'd like to eat. Having an idea of your upcoming meals will make sure you're not left with a fridge full of groceries but no idea what to cook. Check out Fridge to Table for recipe ideas based on particular ingredients!
In the meantime, these seven breakfast, lunch, and dinner recipes will get you started on a week's worth of plant-based eating.
And of course, these groceries and recipes are just a jumping-off point if you need some inspiration. There are lots of brands offering great vegan products that didn't make this list, so get familiar with your store's health food section!
For more vegan inspiration, check out these 10 things you should know before diving in, as well as tips to keep you on track.