Registered Dietitians Share 6 Unexpected Ways To Eat Frozen Peas For Every Meal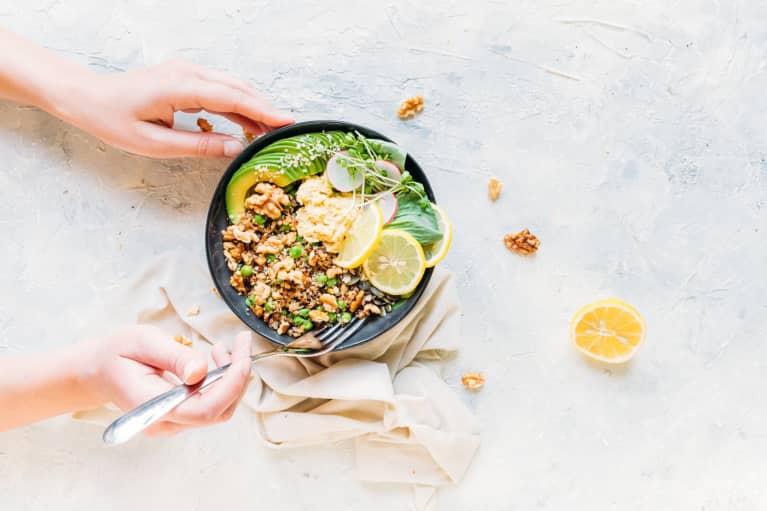 Our editors have independently chosen the products listed on this page. If you purchase something mentioned in this article, we may
earn a small commission
.
Frozen peas: everyone's got 'em in their freezer, but when was the last time you actually did something interesting with them? Or when was the last time you even ate them? Believe it or not, a bag of these nutrient-packed legumes is great for a whole lot more than soothing sprained ankles and bug bites. In fact, frozen peas are one of the least expensive ways to up the health cred of any meal.
"Peas are a great source of calcium, potassium, and magnesium, all vital minerals that work to keep our bones healthy, promote heart health, and alleviate anxiety and promote mental cognition," says Brigitte Zeitlin, R.D., registered dietitian and owner of BZ Nutrition in NYC. Not to mention, they're a great source of plant-based protein, with 8 grams per cup. Bonus: Frozen peas made the Environmental Working Group's 2019 Clean Fifteen list—meaning, even if you don't spring for organic, you're not being dosed with pesticides.
We asked some of our favorite registered dietitians for their go-to budget-friendly recipes featuring frozen peas. Here are their unique (and totally delicious) suggestions.
What's better than traditional guac? Pea gauc (trust us). "This dish was on full display for my Game of Thrones-premier girls' night," says Zeitlin. "Adding in some mashed peas to traditional guac ups the potassium factor (which helps to fight bloat) and the fiber factor, making this a seriously satisfying app or snack." Pair it with crudité or whole grain crackers—or even cook up a cauliflower crust and cut it into chip-sized pieces for dunking.
2.
Protein-packed green smoothie
Get this: You don't even need to thaw peas to reap their potent nutritional perks. "Still frozen, they're great to add to a smoothie to add some protein, fiber, and a smooth texture," says Jess Cording, R.D., registered dietitian and mbg Collective member. "I love pairing them with frozen banana and berries, frozen riced cauliflower, and fresh or frozen greens. For liquid, you can use water or your favorite milk. For healthy fats, you can throw in a tablespoon of your favorite nuts, seeds, or nut butter."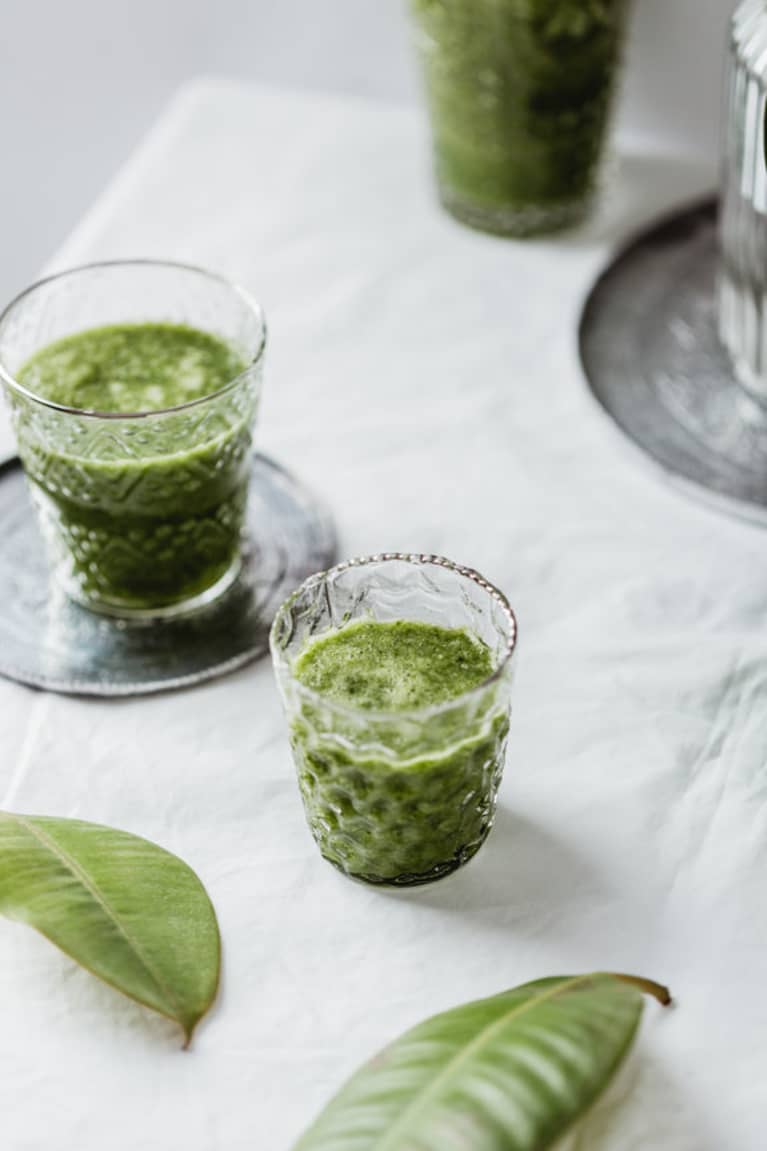 3.
Veggie curry with peas
"One of my favorite pea-containing meals to prepare is a vegetable curry," says Jessica Bouchard, R.D., registered dietitian and owner of Wellness Provision. "Frozen peas are a great addition to the curry because they add an extra punch of plant-based protein and fiber. This combination of nutrients helps with maintaining blood sugar levels and satiety throughout the day. Not only is it a quick, budget-friendly meal, but it's healthy and delicious!"
How to make it: "I chop up a variety of vegetables such as a bell pepper, tomatoes, carrots, onion, and garlic. I sauté the veggies in coconut oil and add canned coconut milk and curry powder. A hint of cayenne pepper can also be added for spice," says Bouchard. "Next, I add spinach, chickpeas, and frozen peas and let is simmer. Once thickened, serve it over quinoa or brown rice."
4.
Veggie-loaded frittata or scramble
Eggs and peas are a nutritional power pair if we ever saw one—and the dietitians we spoke with agreed. "I bake them into a frittata with greens and goat cheese for an easy option that's great for breakfast, lunch, or dinner," says Cording. Tossing them into your scrambled eggs works great, too. "Adding peas to my scrambled eggs gives my morning an added texture and bite that I really love. I pair this with a slice of whole wheat toast," says Zeitlin. "Or add two poached eggs on top of some sautéed peas, onions, and spinach for a weekend morning."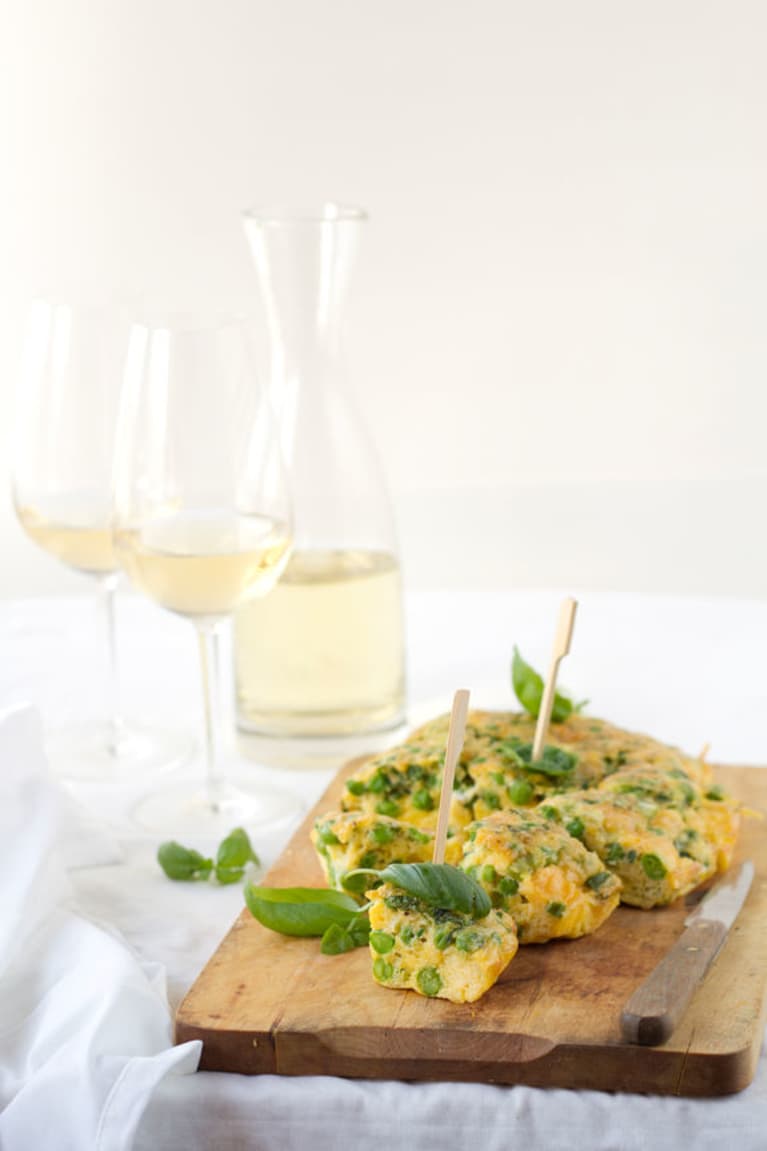 5.
Chickpea pasta with peas
For an ultra budget-friendly meal that makes for super convenient leftovers, this is a winner. "Adding peas to my pasta dishes immediately gives them that fresh springtime vibe with a big boost of stress-fighting magnesium—and we can all use some added stress release as we wind down over dinner after a long day," says Zeitlin. "I sauté cherry tomatoes, peas, red pepper flakes, and olive oil, then toss it together with some al dente chickpea pasta."
6.
Simple veggie stir-fry
Need dinner in a hurry? "Stir-fries are my weeknight go-to's because they're super fast to throw together, delicious, and have no real directions to follow," says Zeitlin. "I toss in spinach, tomatoes, red peppers, zucchini, and frozen peas, but you can mix in any vegetable that you have in the fridge or freezer. Cook it all together in some olive oil for a super fiber-rich, filling dinner." For added staying power, you can add some chicken or steak, or keep things totally plant-based with three tablespoons of hemp seeds, which deliver 10 grams of protein.