Here Are 6 Delicious Ways To Make Oatmeal Way Less Boring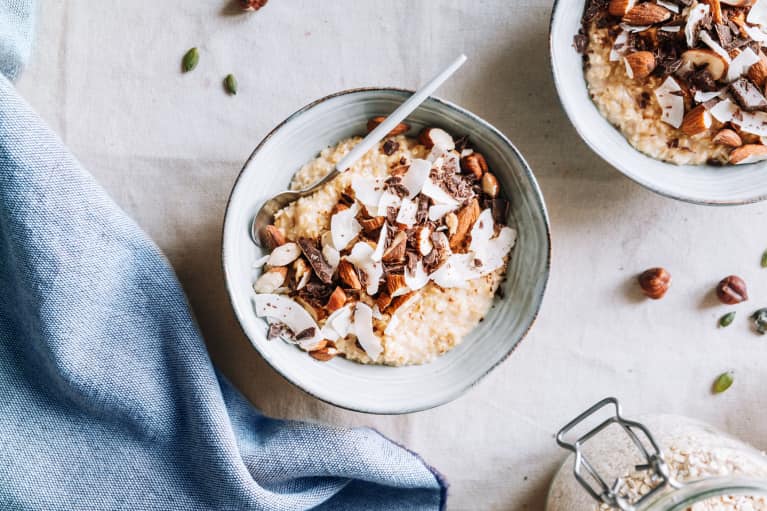 Gone are the sticky days of summer, blown away by a crisp, foliage-filled fall breeze. It's a time of turtlenecks and cozy days spent reading—and, of course, it's the beginning of oatmeal season. The ultimate comforting breakfast, oatmeal is a cool-weather staple, beloved for its high quantities of fiber and rich, hearty texture. But it can also be a bit, well, boring. Here are six ways to shake up the beloved morning breakfast.
First of all, make your oatmeal.
The basic oatmeal ratio is two parts liquid to one part rolled oats. To make oatmeal, simply combine the oats and liquid (you can use milk, alternative milk, or water) in a small saucepan, then add a pinch of salt and bring it to a boil. Reduce heat to simmer, then cook, stirring occasionally, until the oatmeal is thickened, about three to five minutes. Remember that while oats are inherently gluten-free, they're often processed in a facility where they can be exposed to wheat. If you can't tolerate gluten, look for a trusted brand that has a gluten-free variety—we love Bob's Red Mill.
1. Try a savory Asian spin.
Oatmeal doesn't always need to be sweet. Mix in a bit of tamari to your water before adding the oats, and then stir in a spoonful of miso when it's done cooking (doing so earlier will damage the probiotics in the miso). Top with sliced green onions and a drizzle of hot sauce to spice it up.
Make a pumpkin pie oatmeal that's as easy as, well, pie—simply add ½ cup of canned pumpkin purée to each serving's worth of oats, and use a creamy milk (like coconut or oat) when cooking. Add in 1 teaspoon of pumpkin pie spice and a generous dash of vanilla extract while cooking, then top with a drizzle of maple syrup and some crunchy pecans (for that pie-crust-like vibe) for a dessert-worthy start to your day. Apple pie oatmeal is similarly achievable—just add chopped or grated apple to your initial oat mixture before cooking. Toss in a pinch of cinnamon and some vanilla, and you've got a dish that tastes fresh from the orchard, especially if you top it with a dab of ghee and some coconut sugar.
Registered dietitian Jessica Cording swears by this hack, which makes the resulting oatmeal thicker, creamier, and more protein-packed. "Eggs, when whipped into a liquid and cooked slowly, actually turn into custard, which will make your eggs creamy, rich, and super delicious," she says. Snag her go-to recipe here.
4. Consider the crunch factor.
Topping your oatmeal with seeds like chia, flax, and hemp adds plenty of health benefits, but it also offers a bit of much-needed crunch. In fact, considering varying textures is a huge key to take a bowl of mush to a gastronomically satisfying dish. You can top oatmeal with granola—we love the Purely Elizabeth granolas (the probiotic Maple Walnut variety is especially good for fall), and the Wildway Snack Mixes are great for topping oatmeal on the go (the Salted Chocolate Truffle flavor is a must-try). Other go-to's include chunked apple, nuts and seeds, or seed-filled berries—anything that provides variety in every bite will boost your overall satisfaction. You can even top it with a healthy cereal, like Nature's Path Gorilla Munch, for extra crunch.
5. Lean into the dessert-like elements.
Who doesn't want dessert for breakfast? You can make oatmeal taste like a decadent post-dinner treat easily. Mexican Hot Chocolate oatmeal comes from a spoonful of raw cacao with some cinnamon, a pinch of cayenne, and a splash of vanilla extract. That same cacao mixed in and topped with some fresh or frozen strawberries makes a quick Chocolate-Covered Strawberry oatmeal. Top your oatmeal with some bananas that are sliced and sautéed in ghee or coconut oil with a bit of coconut sugar for a Bananas Foster oatmeal. What's your favorite dessert? Play around; there's definitely an oatmeal version of it.
6. Consider oat alternatives.
You can make an oatmeal-like breakfast with different grains and seeds, all of which offer different flavor profiles and health benefits. You can cook quinoa with the same 2:1 ratio for a delicious, protein-rich porridge that can be taken in any flavor direction you choose. Millet is another wonderful option; it's a smaller grain that tends to be creamier when cooked (think skillet cornbread or mashed potatoes). Use a 2.5:1 ratio for optimal results. Want to avoid the hassle of deciding how to mix it up yourself? Quaker makes a blend that comes premixed with buckwheat and flax, and another that utilizes quinoa.